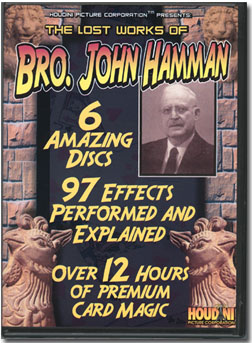 Secrets Unearthed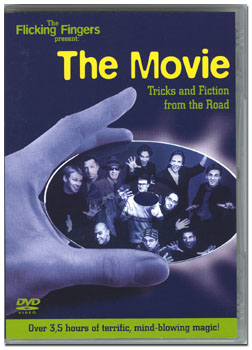 Foreign Film Festival
OH, BROTHER -- The first "magic convention" I ever attended was a one-night get together in my Little Egypt home town, for which the DeVoe's Magic Den guys must have driven down from St. Louis. Except for a brief visit to Martinelz Magic Mart in Florida, it was the first time I had laid eyes on professional apparatus. I recall my purchases of that evening: a "Chinatown Silver Dollar" (for a whopping $7.50) and Bro. John Hamman's "Micro Macro." The latter was the coolest thing I had ever seen done with a deck of cards, and just about still is. (It would become a feature of Ron Wilson's Magic Castle act.) Bro. John's career yielded highly popular gaffed card miracles (Have four cards ever been more gaffed than those in "Hal-Deuce-Ination? We have double facers, double enders, strippers, and rough-and-smooth; what kind of mind comes up with this?) and the vaunted LePaul Presents The Card Magic of Bro. John Hamman S.M.. Joe Stevens also captured Bro. John in his Greater Magic video series. In 1989, Richard Kaufman published Bro. John's magnum opus, The Secrets of Bro. John Hamman. And now, to the extreme benefit of those who never chanced to see Bro. John perform his creations, Geno Munari has released the six-DVD compilation, The Lost Works of Bro. John Hamman. One encounters the slow, innocent, utterly disarming style of a master performer as well as a master creator. There is no razzle dazzle, just an old smoothie frying you with his impossibilities. But this is more than a wonderful visual record of nearly 100 great card tricks. It is also a revealing back stage look at how Richard Kaufman created one of his better tomes in a long line of great tomes. Richard spent a week at the Catholic Brothers' residence in Kirkwood, Missouri, in 1988, where he captured every nuance needed to later translate the material to print. It's fascinating to watch Richard doing this with his now-dated 80s' technology. Upon receipt, I quickly turned to two of my favorites, "The Signed Card" and "The Invisible Card," and I couldn't have been happier. This set is attractively packaged as an album of six DVDs, decorated in Indiana Jones fonts as though it were the "lost find" that indeed it is. First with the Michael Skinner footage and now with this, Geno Munari has done magic a service not only by releasing the material, but by doing so at a most generous and attractive price. The material is an essential part of any magician's education. But note that this is anything but work to be praised only for historical interest. Geno also markets the major gaffed cards that Bro. John Hamman created, and with these gaffs, these videos, and with Richard's book you can perform this material for 21st-century audiences. If you want to be the next big deal (the next David Blaine, the next ...), it doesn't get any better than this. See you in Forbes. $59.95 plus $4 shipping, introductory price.
DATELINE CHICAGO -- Simon Aronson made the front page of the Sunday edition of the Chicago Tribune (August 24). The piece, "Illusionist icon still has tricks up sleeve," by Rex W. Huppke, details Simon's years of sessioning with Marlo, his inventiveness, and his mental act with his wife, Ginny. John Moehring and John Bannon are quoted in the article. Well deserved!
August 2003
August -- Summer is winding down and it's time to think of the big shows of autumn and winter. Excellent products continue to cross our door and tempt one to add new material to already bulging repertoires. This month the wheat includes Bro. John Hamman, the Flicking Fingers, Duffie and Robinson, Reed McClintock, and (the amazing) Kavalier and Clay. It's all we have time for this month, but for those of you thinking of Halloween shows and are in need of either motivation or material, high ye to Todd Karr's Mystery School, a sumptuous book, reviewed next month.
AT THE MOVIES -- In 1998, Richard Kaufman published a handsomely laid out and illustrated book called The Flicking Fingers Present THE BOOK. This unusual work contained some excellent magic tricks and essays by an ensemble company of young German magicians. It was also a great pleasure to see these fellows shine at a Desert Magic Seminar, where they performed, lectured, and acted out hilarious scenarios. At long last we next have The Flicking Fingers Present THE MOVIE, on DVD, again featuring the same bunch. At over 3.5 hours, there is enough footage to finally get to know them individually and to assess their quite different talents and personalities. The "movie" part follows the gang from city to city, in various real and imagined situations. (The audiences are certainly real and populated with some great Euro-babes one would like to know better. They look more interesting than the ones DC picks out of local audiences.) Among the tricks, I was partial to Thomas Fraps' orange juice production, Nicolai Friedrich's "Fountain of Cards," Pit Hartling's "Back to the Future" (explained by some drunken louts, done with dirtier words at the DMS), Jorg Alexander's "Sympathetic Ten" (performance only, but explained in the book), and Manuel Muerte's "Grandpa's Cigar Box" (especially the build-up). Items I didn't think would look great from the book, but did, were Jorg Willich's penetration of a wine glass with a gummi bear and Helge Thun's "Flip-Flap," a manipulation of a playing card. Also included are five FISM acts and bonus material with amusing cameos by Steve Beam, Tina Lenert, David Williamson, Roberto Giobbi, John Carney, Gene Anderson, Bob Sheets, Guy Hollingworth, and Mike Caveney. But the Flicking Fingers guys are the stars, and all should enjoy their camaraderie and competitiveness as they perform and teach their audience-pleasing magic. $65.
THE PLOT THICKENS -- Card Conspiracy Vol. 2 from Peter Duffie and Robin Robertson picks up where Vol. 1 left off, with 14 new chapters of mutual explorations. As with Vol. 1, most follow the Royal Road model of describing a technique first and then follow with applications. Two of the new chapters are hodgepodges of unrelated effects. Although all is of interest, I found most personal gold in the Kosky Switch chapter. "Compression Agents Revisited" easily allows you to split 8s into 4s into 2s. "Fan Dancing Queens" is a Collectors variant that fooled me when I tried it. "Leipzig Self-Correcting Sandwich" contains a great move to add to your Ambitious Card routines. Elsewhere, "Teenwork" accomplishes a lot for little, in a presentation where the spec guess the age at which you learned the trick. "For Christ's Sake" (which has nothing to do with Andre Kole or Penn Jillett) combines the Fulves Riffle Shuffle Control with a Henry Christ math principle for a satisfying outcome, and the "RSC-MS Reversal" is a great way to reverse four of a kind. Finally, "Jumping Jack Flash" causes a card to jump from "about 13 down, spec's estimate" in one half the deck to exactly 13 down in the other half. The numbered steps, the J.K. Schmidt drawings, and the clever thinking take me back to the glory days of receiving Pallbearers Review in the mail. $30. I got mine from H&R Magic Books.
LOOSE CHANGE -- There is an old risque joke. Two gay men are seated at a bar, and a beautiful lady walks by. One of them whistles. "Hey," his friend says, "don't tell me you are going straight on me." "No," says the other, "but when I see a woman that cute, I wish I had been born a lesbian." I don't do coin tricks, but the new DVD by Reed McClintock makes me wish I did. Reed McClintock's Coin Ovations contains only four routines: "Elbow, Neck, and Knee" sort of describes the effect. "13 Coin Matrix" extends the Gertner's "That's Ridiculous" with a cool load of the final big coin. "Scream Fly" will change your existing Three-Fly routine, and "International 3-Fly" achieves the usual flights with coins of different nationalities. Reed has scary-ass arms. That is, his arms are colorfully and beautifully and completely tattooed, a la Ray Bradbury's Illustrated Man. In contrast, his hands are "clean" as are the moves, and I found his presentations (which you can emulate) most enjoyable. Rank him up there with Goshman and Kurtz and Kenner and Chad Long, some of my favorite coin workers to date. Very nicely produced and taught, attractively packaged with a retro cover that looks like the title to an old Doris Day movie. $29.95.
MAGIC SHOW -- Although I am quite late in making my acquaintance with it, the Pulitzer prize-winning The Amazing Adventures of Kavalier and Clay, by Michael Chabon, is a treat. From Nazi-infested Prague to dream laden New York City to the extreme reaches of Antarctica, this book creates a Sterankoworld of sleight of hand, escapes, and comic books. Magicians will love the inside visits to Tannen's back room and to Houdini's grave site, and romantics will adore the heroine Rosa Saks and her comic book alter ego, Luna Moth. She is drawn as "a woman with the legs of Dolores Del Rio, black witchy hair, and breasts each the size of her head." In a true feat of magic, Mr. Chabon brilliantly establishes verisimilitude through copious footnotes, some real, some fictitious. A most enjoyable 636 pages.