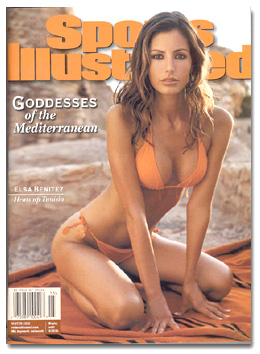 Honest, dear, I'm buying it for the S&R article!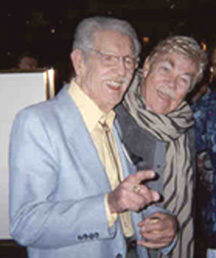 Don't make me laugh!
LIONS AND TIGERS AND BABES, OH MY -- Superstar magicians Siegfried and Roy scored a six-page article called "Cats Entertainment" in the current Swimsuit issue of Sports Illustrated. The piece is by Franz Lidz and constitutes a brief bio of the boys, culminating in the bizarre urban legend that Roy died and has been replaced by his brother Ray. ("Here, kitty, kitty. Just think of me as Roy.") For those of you who aspire to the fame David Copperfield and David Blaine have attained by dating supermodels, the issue also features numerous swimsuits that might look swell on your girlfriend.
ON THE TUBE -- There is plenty of magic coming up on TV soon, starting with Lance Burton Master Magician: Young Magician's Showcase on the Fox Family Channel on March 17. Lance's personal special, Lance Burton Master Magician: On the Road will air March 31 on the same channel. In that one, Lance will levitate Ali Landry, "the Doritos girl." April promises David Copperfield on April 3 (CBS) and Hocus Pocus -- It's Fielding West also in April (date unknown). Copperfield will top David Blaine's standing in a block of ice by standing in a tornado of fire. I'm not making this up!
March 2001
Belated Happy Valentine's Day wishes to loyal readers, and apologies for no February issue. Your scribe was off touring the beaches, jungles, and shopping malls of Brazil through February, and there was little time to think of magic or of web sites. (Columbine looked sooo fetching in her Brazilian-scale thong bikini. When in Rome ...) But it's good to be back and to look forward to the magic on the plate for the coming months. For those who have bothered to even look here to see if there would be a March installment, obrigado!
AND THE WINNER IS -- Although we once posted the Magic Castle award winners a week ahead of time, we'll refrain from that this year to quell any suspicions that we have dark powers. But we do note that the 33rd Academy of Magical Arts Awards will be presented at the venerable Wilshire Ebell Theatre in Los Angeles on April 20. And what a stunning array of nominees this year. For Lecturer of the Year choose from Aldo Colombini, Doc Eason, Lennart Green, Paul Green, and Whit Haydn. For Close-up Magician of the Year, try Lennart Green, Andrew Goldenhersh, Whit Haydn, T.C. Tahoe, and Steve Valentine. In the Parlor category it's Brian Gillis and Sisuepahn, Andrew Goldenhersh, Handsome Jack, Martin Lewis, and Earl Nelson. And for Stage Magician, it's Ed Alonzo, John Carney, Mike Caveney, Dimmare, and T.C. Tahoe. OK, you guys, send my gifts and bribes to the usual address.
VINTAGE LAUGHS -- I'm re-using this heading title from the last (January) issue to call attention to the photo at the left of Billy McComb and Rip Taylor, which I snapped at the recent World Magic Seminar in Las Vegas. You don't get much funnier than these guys.
THE POETRY CORNER -- Every so often, I get the insane urge to start rhyming things, which I can usually suppress. When Richard Kaufman asked me to contribute something to the millennium (January 2001) issue of Genii, I knew that others were compiling lists, and a poem therefore seemed a decent and inevitable alternative. Five days later I sent him the poem that finally appeared, "A Millennium Night's Dream." The poem chronicles a fictional all-night party at the Magic Castle, where most of the magicians you've ever heard of ring in the millennium. Richard suggested the excellent and appropriate title. For you Hard Core Losers who don't subscribe to Genii, the poem appears here for the first time. Just click on the title. But I advise you to get to Richard as soon as you can and purchase the back issue, as it contains extraordinary articles by Richard's usual columnists, especially a look at 1000 years of magical literature by Jamy Swiss.