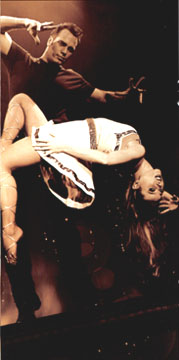 Brett Daniels charms a Southern belle
ISLAND MAGIC -- Carl Andrews, Jr., has parlayed his estimable skill with cards, coins, and spring raccoons into a life in paradise, having spent most of the current decade entertaining audiences on Maui. He shares his secrets of how you too can aspire to the good life via two new offerings: a video titled Making a Living Performing Close-up Magic ($33 pp) and a book titled Making a Living Performing at Restaurants & Hotels ($23 pp). Carl has done both, with class. Check our Favorite Links for ordering information.
May 1999
SOUTHERN NIGHTS -- Between losing bouts of Video Poker and Caribbean Stud, I managed to slip away on a recent Saturday evening, in most enjoyable company, to Tunica's Gold Strike Casino Resort, to witness Magique, the newest edition of Brett Daniels' resident magic show. Brett has retired numerous signature effects in favor of a show that features 17 new illusions, some never seen before anywhere. He plans to similarly overhaul the show annually, in consideration of his repeat audiences. Brett's 800-seat Millennium Theatre, located just minutes south of Memphis, is the place to be for entertainment in the nation's third-largest casino complex.
COOL AT LAST -- Entertainment Weekly's May 14 edition ran a two-page spread declaring magic to be hip at last ("Now That's A Trick"), with a nod to the Magic Castle, David Blaine, and magic's hippest fan couple, Drew Barrymore and Edward Norton (Drew and Edward visited the Castle in January, and were recently sighted peering into the glass coffin of New York's sleeping beauty, the amazing Mr. Blaine). The piece, titled "Hocus-Pocus," contained one tantalizing scoop: Ricky Jay is headed for Broadway next spring with a new show.
BUZZ -- Writing in the internet's hot Salon magazine, Cintra Wilson raised the hackles of rank and file magi (whom she called "historically a sorry-assed lot, who keep company with flame-retardant midgets and frog-swallowers") with her May 5 piece, "Survival of the Cutest." On the premise that it takes sex to sell magic these days, she dismisses Ricky Jay as a "bearded fat guy" who is "unf*ckable" while swooning over that "hot little bucket of spooky" David Blaine, whom she calls "a cock-rock Copperfield for the Generation Y crowd." (Despite her worst intentions, she couldn't bring herself to dislike David C, even while trashing Claudia.) I haven't seen this much zip and energy in a piece outside of Jon Racherbaumer's stuff. At least the Davids have her "panties melting and running down the leg" of her "dirty riot-grrrl jeans." Ah, I know that's why I'm in magic.