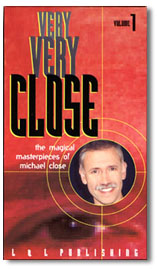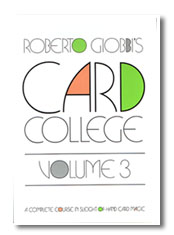 September 1998
September means back to school time, and if magic school is in your plans you can do no better than the learning materials shown on this page. Details below.
UP CLOSE AND PERSONAL -- Mike Close is on a marathon farewell lecture tour of the Midwest and the East. Why farewell? He wants to take some time off from his heavy involvement with magicians to recharge his creative batteries. In the meantime, he leaves an enormous legacy, in his Workers series, his current lecture tour for those lucky enough to attend, and, perhaps most importantly, a new four-volume video library from L&L Publishing, titled Very Very Close. The three volumes of close-up magic and one volume of stage magic contain some of Mike's strongest routines, including "The Pothole Trick," "The Frog Prince," and a hilarious performance only of "Stupid Travelers." The videos are currently available only through Michael. Catch him at his lectures to pick up a set for a low $100, including the lecture notes.
JUNIOR YEAR AT MAGIC U. -- The much-awaited Volume 3 of Roberto Giobbi's Card College is in the hands of eager students. With 50 more pages than the first two works, the latest will extend your knowledge of controls, double lifts, false counts, riffle shuffle technique, the multiple shift, faro shuffling, advanced palming, color changes, and the side steal, among others. I immediately turned to and discovered new takes on the bluff pass and the Zarrow shuffle. From Hermetic Press, 1500 S.W. Trenton St., Seattle, WA 98106-2468. $38 pp.
FALL PREVIEW -- The fall preview issue of TV Guide lists upcoming magic specials by Davids Blaine and Copperfield. Also on the schedule is The Mysteries of Magic, on The Learning Channel, on November 29, including discussions with Teller and Lance Burton.
GREATER MAGIC AND MORE -- Roger Angell, reviewing a new biography of Stephen Crane [The New Yorker, September 7], surprised me with this sentence: "Thin and slightly seedy, with long, nicotine-stained fingers, unkempt blond hair, and striking, almond-shaped eyes, Stephen reminded a newspaper collegue, John Northern Hilliard, of another beau ideal of talented infirmity, Robert Louis Stevenson." One forgets, or fails to realize, that many of the names familiar to us through magic had lives perhaps even more eventful and fruitful than those of which we are aware.
FLYDINI'S FAVS -- The Great Flydini, who inhabits the lay world as a fellow named Steve Martin, has been publishing quite regularly of late in the "Shouts and Murmurs" humor page of The New Yorker. His most recent [September 21] casual bears the title "The Hundred Greatest Books That I've Read," a compilation of the real and the loopily absurd. Of the real titles, those placing fifth and thirteenth, respectively, were Robert Orben's Patter for Magicians and Dariel Fitzgee's Showmanship for Magicians.