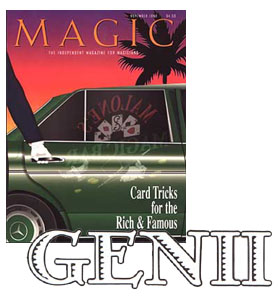 Changes in the magic press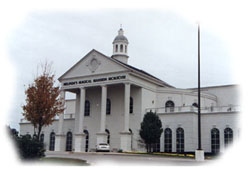 Melinda's Magical Mansion
November 1998
Happy Thanksgiving! The tardiness of this monthly web site is a direct function of how busy I've been with other activities, mostly magic. Stay tuned, as Pete Biro might say, for further developments. Despite our tardiness, magic has much to be thankful for this year, not the least of which are featured in the following news blurbs:
SHAKEUPS IN ZINELAND -- Major changes are afoot with magic's top two independent magazines, MAGIC and Genii. Having bulged to a staple-bursting 132 pages, MAGIC has gone to a new format, with perfect binding and a slick new glossy cover. The magazine looks like one of the upscale magazines you'll find at better newsstands. I'm particularly pleased and flattered that the cover art (see left) and teaser ("Card Tricks for the Rich and Famous") are for my article on Bill Malone's magic bar at the Boca Raton Resort & Club, where my family and I enjoyed a terrific vacation this summer. Meanwhile, over at Genii, Richard Kaufman is up to his neck in new responsibilities, having acquired magic's longest-running independent magazine and one with a daunting monthly publication schedule. Not to worry: Richard's sidekick in this endeavor is layout artiste and journalist extraordinaire Amy Stevens, plus Richard is keeping a core team intact with Jamy Ian Swiss, Eugene Burger (with a new column), Danny Orleans, and Gordon Bean. Jeff Sheridan will have a new column, and Richard will write the trick section. (See ordering info below for both magazines.)
MOUNTAIN MAGIC: MELINDA AT BRANSON -- Melinda's current popular show in Branson is her strongest illusion show yet, with 13 major illusions, zombie, and two variety acts in the first hour alone. The second hour delivers her signature illusions, including "The Drill" (awesome in person) and "Fireflies." It's a delightful assembly of magic, with more Melinda and more magic than in any of her previous Las Vegas productions. The Branson show is written and directed by Gary Ouellet. At Melinda's Magical Mansion, through December 31, Tue-Sun at 3:00 and 8:00. (417) 33-MELINDA
WGM 5 -- The World's Greatest Magic V premiered on Thanksgiving Eve and sizzled with numerous surprises, with such newcomers as Magic Unlimited (I predict the stunning 17-year-old Mara will displace Peter Pit as Holland's most memorable dancing magician) and the nearly indescribable Phelton Jones, plus seldom-seen (on TV) favorites as Mike Caveney and Goldfinger. Michael Ammar killed in the close-up spot and Mac King, as usual, got to work with all the great babes. The show included brief highlights from WGM I-IV. All in all a terrific addition to the series.