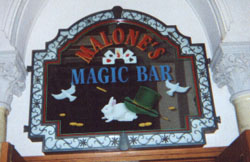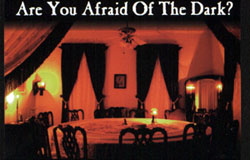 August 1998
It's August already, and we hope your tans are coming along nicely.
WHAT I DID ON MY SUMMER VACATION -- Summer took us to Boca Raton, Florida, well south of the big fires, where we visited Malone's Magic Bar, and then on to Key West, where we got goosebumps, despite the 109-degree heat index, inside Tim Glancey's Historic Hauntings seance. Then over to Key West's Schooner Wharf bar to watch Frank Everhart, Jr., do "Sam, the Bellhop" and other first-rate card magic. A big thanks for a great time to Bill and Barbara Malone, Kevin King, Cory Allen, Mark Yeager, Jeff Rutenburg, Brett Wolf, Carlos, Frank Everhart, Mike Drasher, and Capt. Bill Grosscup. Check the photos at the left.
THE AGONY AND THE ECSTASY -- Bill Malone was aboard the Carnival cruise ship, the Ecstasy, when a fire started in the laundry room and the ship had to be towed to port. There is no truth to the rumor that the fire was started by a cigarette butt found in a metal thumb tip.
WEDDING BELLS -- Best wishes to Amy Stevens and the very lucky Barry Gordemer who will tie the knot in England on August 21.
MATH TRIX -- The indefatigable Martin Gardner is back in the August 1998 issue of Scientific American, with a retrospective on recreational math. Two favorite staples of mathematical magic, the Kruskal Principle and the Gilbreath Principle, are revisited.