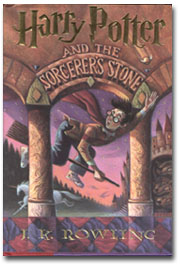 Harry Potter plays quiditch, a sort of soccer on broomsticks.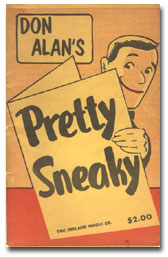 Enough great magic to make a career of, all for two bucks back in 1956.
NASHVILLE CATS -- On April 10, Ed Williams of Nashville, Indiana's Funtyme Magic sponsored his first annual Family Magic Day. This one-day convention featured four lectures, a close-up show, a big public show, and two hours of bar magic in the Seasons resort's real bar, an inspired idea. Standouts for me included Geoff Lloyd in close-up, Trinity and Terry Veckey in the bar, Steve Hart's great emcee bits and the funniest rabbit puppet I've ever seen, and multiple-threat (close-up, lecture, stage) headliner Steve Bargatze. A joyous day, and I saw things I'd love to steal if I weren't such a paragon of virtue.
April 1999
Although it's too late to say April Fool, this installment is nonetheless dedicated to all of you who fool around with this strange preoccupation we have. Hope you enjoyed your day.
MAGIC 101 -- Magic in fiction continues this month with the spotlight on Harry Potter and the Sorcerer's Stone. This delightful Roald Dahlesque children's novel has ensconced itself on the New York Times' bestseller list, and deservedly so. Summary: Rescued from the outrageous neglect of his aunt and uncle, a young boy with a great destiny proves his worth while attending Hogwarts School of Witchcraft and Wizardry. Magicians everywhere will wish they had attended this magic boarding school. By J.K. Rowling, a Scottish struggling single mother.
ALOHA, MR. MCWETHY-- Don Alan, who made close-up magic a household word with his Ed Sullivan appearances and Magic Ranch series, passed away on April 15. He influenced my generation of magicians more than any other close-up artist. A copy of Pretty Sneaky never left my bedside throughout high school, and it's still very close at hand. I hope that his family allows his reputation to expand via the Racherbaumer text. Meanwhile we can content ourselves with his previous books from Magic, Inc., his marketed effects, his Joe Stevens video, and the wonderful Magic Ranch series.
BASTILLE DAY -- Rumors have been abounding across the internet that Dominique Duvivier may have to serve jail time in France, for charges vaguely attributed to "concubines" and "love slaves." I'll leave it to magic's print media to sort out the veracity of the charges and the sentences, but I can attest that M. Duvivier is currently creating a sensation in the U.S. with his performing and lecture tour. He recently worked all six nightly shows at the Magic Castle, where Pete Biro declared him the best to work that room since Goshman.
OOO LA LA -- Speaking of young French girls, I'm not sure whether to cast The Great Stage Illusions of James Hodges as a set of illusions or as more of a Kama Sutra of magic. Nude young women are drawn in more positions than you might think possible, all to fit into a variety of boxes designed to help the next Copperfield or Coby do miracles. I must throw away my deck of cards and hire some nubile assistants. A lavish two-volume set, published by Georges Proust, and available from Stevens Magic Emporium for $195.