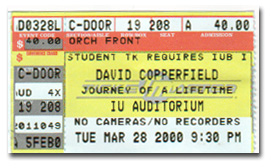 David Copperfield in the heartland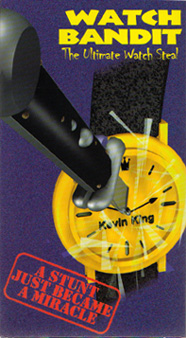 Thou Shalt Not Steal ... without Kevin King's technique
KEEP YOUR EYE ON YOUR ROLEX -- FBI computers are noting a surprising rise in the theft of valuable timepieces, possibly a gang-related phenomenon given that the disappearances have been linked to organizations of suspicious characters known as "IBM Rings." Insiders in magic of course attribute the crime wave to the popularity of Kevin King's new video, Watch Bandit/The Ultimate Watch Steal. King would no doubt argue that, despite any monetary losses, the victims were at least being highly entertained by his killer card stab routine (the switchblade elevates the crime to armed robbery) and a balloon gag Bill Malone says is worth the price of the tape. Indeed, Kevin gives all the touches on styles of watches, the steal, practice tips, strong magic, time misdirection, and spectator conditioning so that the volunteer never remembers being touched at all. A fine teaching tape in the tradition of Money Morph. Produced by Kevin King with exciting cover art by Brett Wolf. $20. Check ordering details at www.kevking.com/reelmagic.
COPPERFIELD IN CYBERSPACE -- The better web sites are invoking stylish uses of Flash, and David Copperfield's latest internet incarnation is no exception. His site currently advertises a special on CBS on April 26 (this appears to be a compilation of his past escapes) and a completely new special on tv in Fall 2000. If you are Flash-ready, by all means visit David's site and click Rumors to access his blunt and extremely witty responses to questions re his breakup with Claudia, the supposed "contract" with Claudia, whether David is gay, the status of Magic Underground, and the story on the Russians' holding his equipment hostage.
April 2000
March 28 through April 1 constituted an extraordinary five days of magic for the folks here at Little Egypt Magic central, when we witnessed live performances by David Copperfield (and Chris Kenner), the Amazing Johnathan (and Billy McComb), and Brett Daniels (and Dana Nelson). All superb magic shows, all strikingly different from each other. We'll cover David and Company below -- both his live show and his awesome new web site -- and save the others for another forum. Also in this issue: a look at Kevin King's new video and at a prop that looks too real to come from a magic shop.
COPPERFIELD IN INDIANA -- David Copperfield appeared at Indiana University on March 28, with two shows to packed houses. David performed casually in a light blue shirt, open over a white tee, and in black slacks. He seemed in excellent spirits as did his comedic co-performer, Chris Kenner. Of special interest to me: Watching how David staged two illusions that, on tv, have relied on lookalike girls, with only one girl in this show. A new vertical light box. The vanish of 13 members from the audience, preceded by teleporting another audience member to Hoover Dam. The latter was most effective and played well against the idea of "camera tricks." Kenner killed as always with his State Prediction routine, a Shamu gag, Professor Cheer toilet paper, and his velco suit prediction. (After donning the suit, Chris did the splits! Ouch!) Whereas some magicians perform over 20 illusions in a show of this length, David performed only eight, the rest of the time filled with Webster the Duck bits, a four ace routine, a sketch pad prediction, the Air Coppers ring on shoelace, and an interactive card trick. David is selling David, not props, and he sells that product very well. He ended with a quiet walkoff, a very different and also effective alternative to the orchestrated standing ovations that used to accompany "Flying" and "Snow." A highly enjoyable show.
STICK IT TO YOUR FRIENDS -- And especially your enemies. Take a photo of someone you don't like, send it to Jay Marshall at Magic, Inc., along with $57.50 including postage, and you'll receive Michael Schwabe's "Voodoo Puppet Puncture," a hand puppet that looks more like a dangerous religious instrument than a magic prop. While wearing the puppet (during which you make the thing as lifelike as your puppetry skills allow), you stick a long threaded needle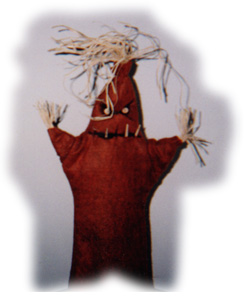 The Blair Witch hand puppet
through both the character's heart and your palm. The spekkies can feel your hand inside the puppet before and after the penetration, and they can continue to hold onto the puppet (and feel your hand inside) as you pull the thread all the way through. Easy and amazing. The version pictured here is the spitting image of one of my most loathesome acquaintances. On advice of my legal staff, I won't divulge where I inserted the needle.