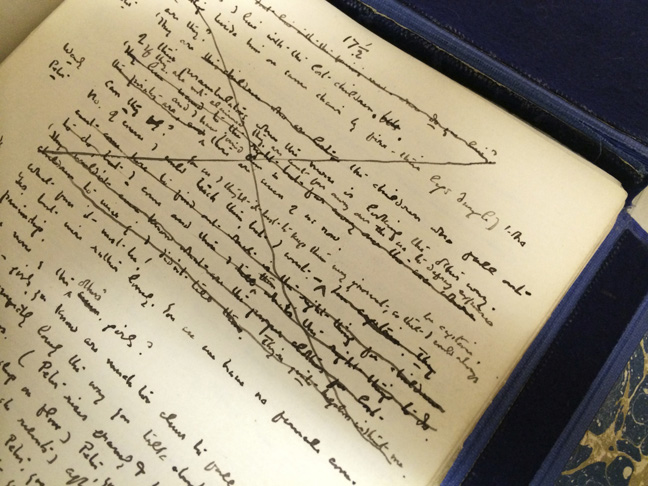 A surprise hit emerges from the summer reading list.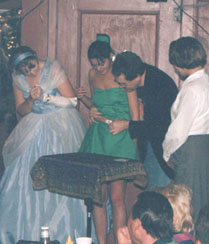 Halloween: A card appears on Tinker Bell's navel ring as Cinderella looks on.
EIGHT DAYS A WEEK -- The amount of time one must put in and the attention to detail required to become a superstar, in any facet of entertainment, is incredible. I've lately been enjoying a 654-page bio, Paul McCartney/Many Years from Now. Consider this brief passage, where Paul discusses himself and John Lennon as young teenagers:
We literally once went across town for a chord, B7. We all knew E, A, but the last one of the sequence is B7, and it's a very tricky one. But there was a guy that knew it, so we all got on the bus and went to his house. 'Here tell there's a soothsayer on the hill who knows this great chord, B7!' We all sat around like little disciples, strum strum. 'How's he doing it?' And we learned it.
The passage reminds one of the story of Dai Vernon and Charlie Miller tracking down the Kennedy center deal.
GET READY, WORLD -- Readers of MAGIC may have noted an ad for a new book, Joshua Jay's Magic Atlas. I've had an advance peek at this work and it's terrific. At just 17 Josh has come up with a formidable array of new ideas, moves, and magic. Buy it! Also check his new web site on our Favorite Links page. Copperfield and Siegfried and Roy are going to be jealous.
October 1999
Belated Halloween wishes to one and all. The tardiness of this sheet, never excusable, owes to the considerable time I invested in a live Halloween performance. It's the curse of the season.
BOOK LOOK -- Thank your lucky stars that there is a Stephen Minch. With Richard Kaufman busying himself (most successfully!) with Genii and Louis Falanga more fascinated these days with videotape than with ink, the recent glut of quality magic books is quickly becoming a dearth. (Mike Caveney's lovely entry from Guy Hollingworth is the notable exception.) Hermetic Press recently surprised us with Barrie Richardson's Theater of the Mind, and Stephen has two more advertised, Kort and Magic in Theory. Although hawked as a book of mentalism, the Richardson book touches on glass of liquid productions, coins and keys in bottles, a bill in lemon, an Ellis ring effect, math stunts with quarters, and much more (including traditional mentalism). My own interests lie in card tricks, and I'll mention two worth the cover price. In "Do You Want to Continue?," a devilish presentation is used in a coincidence effect. Any card is named. Cards are turned up from two decks. No pairs appear until the named cards match. In "Gestalt Vision," two spectators receive about 20 shuffled cards. Each makes a random selection. The packets are shuffled fairly and traded. Without any fishing, magician names both selected cards. The methods will delight you. 320 pp, $40 postage paid.
NIGHTMARE ON 8TH STREET -- It was my pleasure to present a selection of scary card tricks at Smith and Groves tavern in Little Egypt at the bar's annual Halloween party. The staff outdid themselves in providing a new stage and sound equipment. The encore effect was new, with a signed, torn card reappearing impaled on a girl's belly button ring (photo at left). Complete performance details will appear in The Little Egypt Book of Numbers, my column on Joe Stevens' GeMiNi web site.
IT'S NOT MAGIC BUT -- My favorite part of Mike Close's review column in MAGIC bears this title. Almost in time for Halloween, Tim Burton's Sleepy Hollow will appear in theaters in just a few days. If you'd like to catch up on the original version of "The Legend of Sleepy Hollow," you are invited to check out my verse take on the story at Steve Bryant's Ode to Sleepy Hollow. Boo, and keep the lights on.