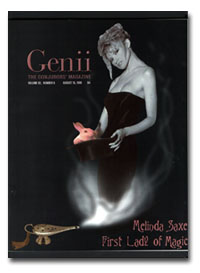 Rub the lamp! Make a wish!
MIKE ROGERS HAS BALLS -- But you knew that: Most of you have been playing with Mike's baseballs for years. Mike's latest offerings are true family jewels -- sparkling little crystal balls that, when turned just right, allow a spectator to see an eerie outline of an ace of diamonds, magnified by the wonders of optics. Each comes in its own little red drawstring bag, only $10 from dealers everywhere.
DEPARTMENT OF FINE BOOKS -- One of the finest volumes yet out of Pasadena is Mike Caveney's production of Drawing Room Deceptions, by Guy Hollingworth. The 311-page tome's looks and language are as elegant as the author's after dinner attire. Those who've been waiting for the lowdown on how to tear and restore a card will not be disappointed, but this is only one example of Mr. Hollingworth's extensive range of creative and entertaining material. Generously underpriced at $35.
VIVA LAS VEGAS -- August took me to Las Vegas for a whirlwind weekend that included shows by Lance Burton, Mystere, Siegfried and Roy, and the Everly Brothers. Lance's one-liners are superb: He and Michael Goudeau regaled the sold-out Thursday night audience, including many up-late children. Mystere is my favorite show in Las Vegas and the best I've seen it. S&R's new (to me) closer is a shocking mid-air vanish of a large cat, plus Roy, with both reappearing in a glass case on the runway. The boys' new brochure is gorgeous and must have cost a mint. And the Brothers? If you grew up on Don and Phil as I did, you know you are in for a great evening. Also greatly enjoyed the Bellagio's art exhibit, the Mandalay Bay's wave pool and restaurants, and The Venetian, which recreates the magic of Venice, with canals, gondolas, the Bridge of Sighs, and a Geno Munari magic shop. Best line of the weekend came from Don and Phil: "Remember all those people who hated rock and roll when we started out? They aren't with us anymore."
August 1999
COVER GIRL -- The August issue of Genii features one of the 60-year-old magazine's hottest covers, and the lavish 12-page spread of text and photos on cover girl Melinda Saxe should more than satisfy Inquiring Minds Who Want To Know everything about Melinda but have never had the opportunity to ask. I did ask, and I hope readers enjoy Richard's beautiful layout along with Melinda's responses to a broad range of questions.
What is she like? One of the parenthetical asides that didn't make it into the magazine addressed that topic: "I am left with a host of impressions of Melinda Saxe. I find her thoughtful, dedicated, grateful, sweet, aware, courageous, unselfconsciously religious, devoted to family, persevering, eminently likable, and, of course, very very pretty. That part is no illusion. Melinda and David are in the age range of my own children, and it's a privilege to see these two working together so diligently, so successfully, against the odds, really, to create something special in magic."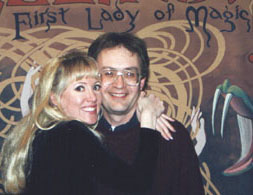 Interviewer has trouble concentrating.
I had asked Melinda what she wanted others to think of her 100 years from now. When I noticed that the question stumped her, I offered the same facetious multiple choice answers I offered Brett Daniels. (1) She made the most money. (2) She retired young and moved to the south of France with Brad Pitt. (3) She ... "That one!" Melinda cried. "I like that Brad Pitt answer." Brad was nearby that weekend, 30 minutes away in his hometown of Springfield, for the opening of Meet Joe Black. It was in the context of that question, and with Melinda's poodle, Louie, resting his head on my leg, that we conducted the following mini-interview.
Melinda -- Up Close and Personal
Q: What is your favorite stage trick (yours)?
A: "The Drill."
Q: What is your favorite stage trick (others)?
A: "The Fan."
Q: Who is your favorite pet?
A: Louie.
Q: What is your favorite magic book?
A: Anything by Gary Darwin.
Q: What is your favorite movie?
A: Meet Joe Black.
Q: What are your hobbies/interests outside magic?
A: Cooking.
Q: Who is your favorite male magician?
A: Only one? I love Gary Ouellet, and Andre Kole. I'll go with Gary. David's favorite is Amazing Johnathan.
Q: Who is your favorite female magician?
A: Princess Tenko.
Q: What is your magical pet peeve?
A: Rehearsals!