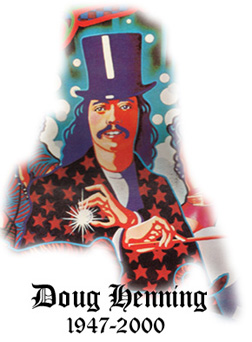 A legend passes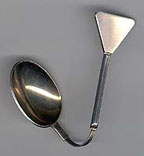 The ultimate spoon bending effect
TWIST AND SHOUT -- Guy Hollingworth has taken a single gaffed card and plumbed ten astonishing tricks from its depths. Acting on Richard Kaufman's and Jamy Swiss's advice in the February Genii (and what an issue!), I quickly purchased Quartet, Guy's title for the nicely produced pamphlet (gaff included) that describes these effects. My favorite to date is "Transposition." Four aces are placed under a card box, and four face-down kings are in your hand. One at a time, each king becomes an ace of the same suit. All the aces are now in your hand, and the kings are now under the box. Cool! The twists, turns, and displays Guy has invented and routined to make everything look fair will thrill you.
JAVA JIVE -- Start your morning with a cup of coffee and a trip down memory lane, thanks to new mugs from Nielsen Magic that feature vintage magic posters. Choose from 44 different images. $12.50 each plus postage.
CATCH 22 -- Professional bookworms Richard Hatch and Charlie Randall have issued List 22 from H & R Magic Books. That's the good news. The Catch is that you can't read this list without wanting to buy something. Among the 18 pages of new stuff you'll find plenty of items you haven't seen advertised elsewhere. $3 from 3839 Liles Lane, Humble TX 77396-4088.
February 2000

More hearts are broken than are singing this Valentine's season, and we appreciate how Charlie Brown must feel at times. The sad news of course is the passing of Doug Henning on February 7 and the passing of Charles Schulz on February 12. In both cases, more than a little magic has gone out of the world.
Note: For all the products mentioned below, check the appropriate site on our Favorite Links.
ADIEU -- He was a waif, a sprite, a believer in magic, an Age of Aquarius child People recently called "more hippie than Houdini." Doug Henning transformed magic, opening doors to golden possibilities. He was the first of any era to elevate the status of a magician to that of a movie or rock star. A few personal memories:
The thrill of seeing Doug's bare hand vanish of a nickel, the trick that opened his first tv special.
Traveling to New York, one of my first thrilling visits to that city, to meet with a friend and watch Doug star in Merlin. Elliott Gould was in the audience that afternoon, and he brought five children with him. I felt so hip.
Watching his full evening show at the Fifth Avenue in Seattle. It's hard to imagine a more beautiful illusion than his fire and water levitation of a girl.
Like the Beatles, Doug vanished for a spell behind the mystic curtain of TM. Sadly, unlike the Fab Four, he didn't emerge until late in 1999, full of promises of new magic. But it would be too late for us to re-experience the childlike wonder with him. He was lost to magic long before his untimely death, a victim, perhaps, of his own innocence.
SHAZAM -- When Uri Geller first achieved fame by bending teaspoons, my engineering friends and I speculated on the idea of constructing spoons of two metals, with different coefficients of expansion. But we didn't envision the wonder of Shape Memory Alloy, or Nitinol (for Nickel, Titanium, and Naval Ordnance Lab, where it was discovered). Dip this straight spoon into hot coffee and it violently reverts to its bent, locked and remembered shape. $40 pp from Grand Illusions, one of many wonders available from that most interesting web site. The site features a "Carbon Dioxide" stunt I guarantee you'll perform the next time you're at a bar. Check the new listing on our Favorite Links.
DUFFIE DISTRIBUTED -- For several years now, Peter Duffie has supported himself by producing small printed collections of card tricks, all of his usual high caliber. The manuscripts typically sell for about $20. Recently, Peter has taken the bold step of making his works available by direct download over the Internet, for the reduced price of $14. I sampled this forward-looking distribution system by purchasing Area 52. This virtual book arrived the next day, in Word format, with a navigable table of contents and color headers. Most impressive. The contents are equally impressive: I especially enjoyed "Automated Diamonds," which achieves Elmsley's "Diamond Cut Diamond" effect with no moves and no touching the deck. See Favorite Links, as usual.