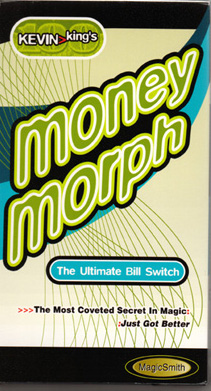 Boys! Get rich at home folding ones into hundreds!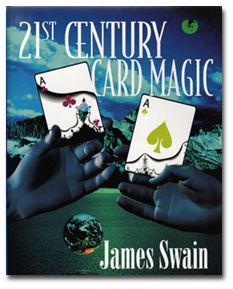 James Swain's third book is a hit.
CARDS AS WEAPONS -- Ricky Jay's catchy book title has caught on as the real thing in the Sword and Sorcery kiosk at your neighborhood shopping mall. Check out Throwing Cards, beautifully made playing cards on heavy metal stock with razor sharp edges. The perfect response the next time some drunk heckles your act. A set of four goes for fifty dollars here in Indiana.
December 1999
Merry Christmas! 1999 was a terrific year for more reasons than I can say here, but let me at least extend thanks to Melinda, Brett Daniels, Frank Everhart, and Tim Glancey, for their patience and trust; to Joe Stevens and Richard Kaufman for the encouragement and space that have allowed me to have a life beyond The Little Egypt Gazette; and to Kahuna, for my wonderful performing venue in Little Egypt. Best wishes to all for a magical Year 2000.
MIDAS TOUCH -- Kevin King's Money Morph has been hailed as the finest method extant for turning one bill into another, and it is. Kevin's video, which teaches "The Ultimate Bill Switch," is also one of the finest teaching videos around, full of all the insights and viewing angles and subtle tips that will enable you to perform the switch almost as magically as Kevin does. The video is also laced with humor, and, if you stick with it to the bitter end of the credits, you'll have visual proof that this is a switch you can practice and perform anywhere. Speaking of Kevin, he has recently ended his long, successful engagement at Malone's Magic Bar and is hard at work on Something Completely Different. Watch for him in 2000 and pray that the world is ready.
ACTS WE WISH WE'D SEEN -- In his recent review of the Andy Kaufman biopic, Man on the Moon, Roger Ebert mentions a one-man show he once attended in a small theater in London. Called "Is It Magic -- Or Is It Manilow?" the show featured "a bad magician who did a bad imitation of Barry Manilow." The performer alternated these two facets to the astonishment of the 12 audience members who turned out. According to the literature, the star was once voted "most popular entertainer on a cruise ship out of Goa."
WHERE HAVE ALL THE BOOKS GONE? -- Barely a year ago we were complaining of too many books on the market. This year has seen one major publisher turn his attention to Genii magazine and another devote a much larger portion of his time to video production. Fortunately, Stephen Minch is still publishing on a regular basis, and Richard Kaufman has just released J.K. Hartman's Trickery Treats. From the independent presses, I've just read James Swain's 21st Century Card Magic, and it's full of material you'll want to use. Stay tuned for more on this fine collection in Y2K.