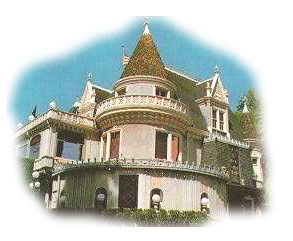 The Magic Castle, Hollywood, CA
NAME DROPPING -- On September 16, Joe Stevens hosted his first Gemini Gala at the Magic Castle, an intimate one-day close-up convention featuring yours truly and Jon Racherbaumer as lecturers, with additional magic supplied by Roger Klause, Geno Munari, Joe Stevens, Dennis Marks, Aldo Colombini, and Randy Wakeman. Wonderful for me to get to hang out with Racherbaumer and watch him hold court, not only during his lecture that attracted the likes of Max Maven and Bruce Cervon, but wherever we chanced to land: Jon is a magnet for all that is fine in magic. Kudos to Joe Stevens for thinking to host this at the Magic Castle, where we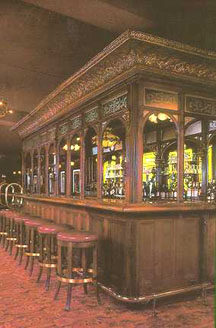 Favorite watering hole, Magic Castle


encountered extraordinary hospitality from Dale Hindman, Ron Wilson, Mark Wilson, and the rest of the Castle crew. During a few days' stay I witnessed superb magic by Aaron Fisher and Bill Goodwin, Norman Gilbreath, Gordon Bean, Steve Silverman, David Regal, Bruce Cervon, James Lewis, Jim Patton, Mr. Mysto, George Millward, Murray and his lovely assistant (my notes say, "Zowie!"), and Brian Gillis and Sisuepahn. Also major fun to meet new folks and/or hang out with old friends such as John Lovick, Robert Neale, Tone Picasso, Andrew Goldenhersh, general manager Tony Wilson, Martin and Susan Lewis, Tom Noddy, Trixie Bond, Monte Smith, and Steve Valentine and Joycee Beck. Celebs in attendance included Norm and Lupe Nielsen, Goldfinger and Dove, and Carl Ballantine. All this and all the Castle chili you could eat for only ten bucks. Penny for penny the best deal I've ever encountered in a magic convention.
October 2000
Happy Halloween!
Halloween is fast approaching, with our own efforts toward a Halloween show being to blame for the tardiness of this sheet. Check out the schedule at Nightmare on 8th Street. This issue catches us up on last month's visit to Hollywood and this month's Genii special on Tony Andruzzi, along with a major product announcement from The Little Egypt Gazette.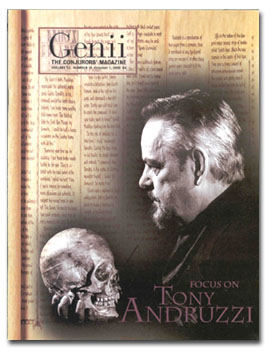 October Genii
THEN WHO THE HELL WAS MASKLYN YE MAGE? -- Richard Kaufman surprised us with a terrific Tony Andruzzi theme issue of Genii, a perfect fit for his October time slot. Fascinating reading, especially the bit about Tony's relationship to the Kennedy assassination aftermath. Those of you who enjoyed the issue may also enjoy our own last memories of Tony, originally published as Invocational 90 in The Little Egypt Gazette. Pay attention to the hidden captions. Now, for those of you who haven't seen the issue, I must ask why. I've been harping since day one of The Little Egypt Gazette that Genii and MAGIC are indispensible ingredients of any magician's life, and Genii has become even moreso under Richard. Richard is currently trying to catch up to Bill Larsen's circulation of 8500, and you could do yourself a favor to help him reach that. The magazine is up to 88 pages and contains some of the best in magic journalism, even the issues that don't contain any of my articles. (Tongue is in cheek here; I thank Richard for the space that allows me a life beyond the Gazette.) The following did make me feel good, however. While visiting Hollywood Magic recently, I noticed numerous copies of Stan Allen's MAGIC on display, but none of Genii (last month contained my article on Amazing Johnathan). "Where's Genii?" I asked. "It's sold out," was the reply. (Of course, AJ may have bought them all, but it was still nice to hear.)
COMING ATTRACTIONS -- Due out soon are Kevin King's production of Roger Klause's "Whisper," with Roger's handling of "Cap and Pence," and Eugene Burger's Mastering the Art of Magic, from Richard Kaufman. The former includes a new gimmick and 60 illustrations. $40 -- See Kevin King on our Favorite Links. The latter, containing re-typeset and illustrated versions of Eugene's early seven booklets, constitutes some of Eugene's finest advice, the material that made him famous. Richard is taking orders now -- $45 pp, at (202) 319-9418.
MAJOR PRODUCT ANNOUNCEMENT -- For years folks have been asking for access to Volume I of The Little Egypt Gazette, which contained original trick material, the Erika Larsen interview, and much more. Both volumes are now available on CD, which means you can load them onto your hard drive for instant access to over 700 pages of material, including 32 magic tricks, 9 interviews, 22 book reviews, 20 convention/show reviews, 22 feature articles, 4 poems, and more. No more waiting for those slow graphic downloads. A 9-page table of contents facilitates your access to any feature you wish to peruse, including new features that reveal all the password answers, the Favorite Links photo quiz answers, etc. Only $24. Check our Bookstore for ordering details. All other products are now sold out. Thanks for all the orders!