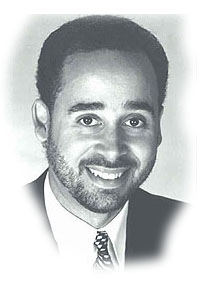 Island magic
KAHUNA -- In Hawaiian, kahuna is the word for priest, sorcerer, magician, wizard, expert in any profession. On Maui, the premier kahuna is Carl Andrews, who performs expert close-up magic at ritzy resort hotels. Carl has been visiting Indiana recently, and it was a delight to attend his lecture this month in Brown County. Carl teaches how to make a living doing close-up magic -- info, as he says, he wishes he had 20 years ago -- and he teaches several excellent magic tricks with which to make such a living. The info is astonishingly useful and candid, including specific fees. If you aspire to a living working restaurants or by creating your own Mysteries Theater at some swank hotel, this is the lecture to catch, either in person or via Carl's video (see our Favorite Links). My favorite moment: a front-row lecturee asked about how to perform for all the Japanese who visit Hawaii. Isn't it necessary to do magic that can be performed silently? "Or," Carl began, and then he repeated a coin trick in fluent Japanese. Ah, these professionals. Carl will soon release a new video on strolling magic. Watch for it from MagicSmith (also in our Favorite Links).
HP4 -- Harry Potter, fictional creation of Scotland's J.K. Rowling and the world's favorite wizard-in-training, will reappear July 8 in Harry Potter and the Doomspell Tournament. Our crystal ball tells us that Harry will fall in love, a favorite character will die, and the Quidditch World Cup will transpire. Let's hope there are no more Dementors. Shivers!
June 2000
June provided a nice visit with Carl Andrews, great reviews on Penn and Teller's NYC show and Hollywood movie, excellent book offerings (great for beach reading with Columbine), and hot news out of Las Vegas.
BAD BOYS ON BROADWAY -- Penn and Teller opened at the Beacon Theatre in New York on June 6. Genii columnist Matt Field generously shared a first-night account with Gemini and Second Deal readers, citing such wonders as a needle through a balloon filled with stage blood, a Powers of Darkness knife-throwing exhibition, an accident with a bunny and a wood chipper, and an American flag being burned inside a copy of the Bill of Rights. Teller's own take on the opening appears in his essay "Opening Night in NYC" (on P&T's usual site -- see Favorite Links).
BAD BOYS ON THE SILVER SCREEN -- Disney's Fantasia 2000 has expanded its run from Imax theaters to your neighborhood theater, and it's a worthy update of the original classic. Fantasia 2000 features seven new sequences plus the original "The Sorcerer's Apprentice." The new segments are introduced by Steve Martin, Itzhak Perlman, Quincy Jones, Bette Midler, James Earl Jones, and Angela Lansbury. Penn introduces Mickey as the Apprentice while Teller does extraordinary magic at his side.
SENIOR YEAR -- Later this month, Hermetic Press will release Volume 4 of Roberto Giobbi's Card College series. This comprehensive course on card magic will stand alongside Erdnase and the Hugard works as required reading for anyone taking up the dark arts. This final volume will contain a complete index for all four volumes.
CLASSICS REDUX -- Two of Richard Kaufman's best works, Darwin Ortiz's Strong Magic and Paul Gertner's Steel and Silver, have been reprinted. Strong Magic (a text on presentation) is a companion volume to Darwin's Cardshark; the former contains highly commercial presentations for card tricks to be found in the latter. Both the Ortiz books and the Gertner book are sources for some of my favorite routines and serve as fertile sources for future repertoire development. Don't miss out this time around. Speaking of Richard, Jamy Swiss's article on David Ben in the June Genii is must reading.
SIN CITY RUMOR MILL -- Unconfirmed rumors out of Las Vegas claim that Melinda married early this month and that she may be going into the C2K show at the Venetian. I hope both stories are true, and congratulations and best wishes to Mindy. Rumors confirmed(June 19)! Melinda married Mark Evansvold earlier this month, and she opens at The Venetian on July 14. Confirmed out of Las Vegas is that Mac King has been renewed for three more years at Harrah's. Big congratulations to Mac on the coolest of day jobs.