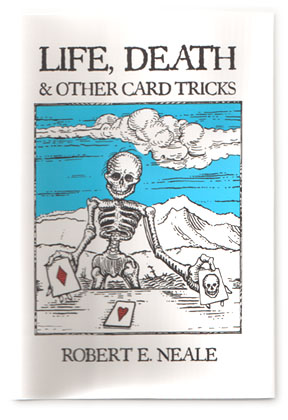 What more could you want?
STORY TIME -- Fans of Rene Lavand may wish to emulate his delicate fictions, but may find his evocations of Spanish-speaking authors and their short stories a tad unfamiliar, despite their beauty. Not to worry. Approximately 60 such effects, all with more North American cultural references and all in English, are now available from Robert Neale in his new book, Life, Death & Other Card Tricks. Two of the effects fairly leap off the pages. In "W.C.'s Hand," a Six-Card Repeat/Poker Hand effect is performed to hilarious lines lifted from W.C. Fields movies. If you can impersonate The Great Man, you'll have an effect worthy of a World's Greatest Magic appearance. In "The Probability Pack," some legitimate mumbo jumbo about probability accompanies one of the strongest demonstrations you will ever perform with a deck of cards, and it's completely self-working. I've been doing this constantly, to the delight and befuddlement of such knowledgeable spekkies as card players, bartenders, scientists, National Merit Scholars, and world-class illusionists. If you are looking for an effect they will talk about after you leave, this is it. The book is wonderfully enhanced by macabre art from Greg Webb. $40 pp from Hermetic Press.
May 2000
May afforded me yet another trip to Memphis, to enjoy Brett Daniels' terrific new Journey into the Unknown, and it marked the first time I've ever performed magic inside a wrestling ring. Just call me Stone Cold Steve Bryant. Only in Kentucky! My thanks to the graduates and their parents at Ballard Memorial High School. This month -- a hot new book from Stephen Minch, a hot offer from Kevin King, a surprise appearance by the Amazing Kreskin, an important convention announcement, and great news from Jon Racherbaumer.
HITTING ON AUNT FRITZI -- On May 1, while daydreaming about ice cream cones, buzz-headed comic strip girl Nancy hears an off-panel voice telling her what's on her mind. "Who do you think you are, Kreskin?" she says. And in the next panel it is Kreskin, brandishing an ace of spades and making a most rare appearance in Toon Town. Check our Kreskin interview and show review in the October 1997 issue of The Little Egypt Gazette.
BOYS! EARN BIG MONEY IN TELEVISION! -- Fresh off the success of Money Morph and Watch Bandit, Kevin King is searching for new video projects for his production company, Reel Magic. If you have a completely original routine that you'd like to teach via video, you could be in for a win win situation with Kevin. Check it out via our Favorite Links page.
WHEN YOU WISH UPON A STAR -- Although not all our dreams have come true, at least two have this month. If you harken back to our 1997 Christmas poem (click Poetry 101 above), a couple of items on our Christmas wish list were "Lorayne's hardbound Apocalypse" and "The overdue Don Alan tract." Volumes 1-5 of Apocalypse are on the street already ($80 pp from L & L Publishing), and Jon Racherbaumer has just announced that In a Class by Himself: The Legacy of Don Alan will be out shortly, also through L & L. The legal hurdles have finally been cleared, and now it's all up to Louis.

CASTLE CHILI AND HOT DOGS, OH MY -- Speaking of Mr. Racherbaumer, the Rock and I will share lecturing honors at Joe Stevens' first Gemini Day at the Magic Castle, on Saturday, September 16. The Castle is the coolest place on the planet, and this is yet another of many fine reasons for you to become a Gemini member. Let's see, the last time Joe Stevens started a small close-up convention, it turned into ...