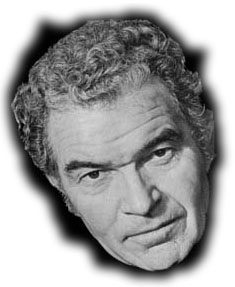 Wizard of the North(west)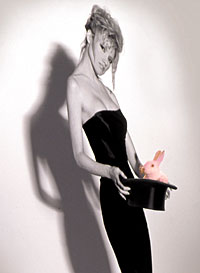 Pat the bunny
JERRY REDUX -- Chazpro, the guys who brought you The Raven, Card Swami, and all sorts of PK miracles, are about to bring you the best of Jerry Andrus. They've signed a deal to redo and redistribute Jerry's classic works and props, and the first is perhaps the best: Andrus Card Control, due out August 7. If you are new to the Jerry Andrus oeuvre, let me both tantalize and warn you: Jerry's methods are unlike anything you have encountered in card control theory before. This extraordinary compendium of Jerry's thinking on card magic comes in two volumes. Volume 1 (of my signed, numbered 1976 edition) contains the text, and Volume 2 contains 1048 line drawings. $45.
ROMANCE STRIKES HOGWARTS -- Harry Potter is making millions believe in magic. The new title, incorrectly reported here last month, is Harry Potter and the Goblet of Fire. The American edition runs 734 pages. A young friend today asked which character from the books I'd most like to meet. Ah, that's easy. Any of the veela.
SON OF A GUN -- Watch your mail for new product announcements from L & L Publishing. By the first week of August you should be able to order a two-volume Eddie Tullock video set, a hardback Fantasio book, and, highly awaited from here, Son of Simon Says, the new hardback from Simon Lovell. Simon's stuff is as commercial as it gets.
July 2000
July has started off spectacularly, especially down in Little Egypt, though I must postpone accounts of my visits there until another piece in another journal. (You guys are getting Genii aren't you? As well as MAGIC?) We do report this month a reborn Jerry Andrus and Melinda, followup on Harry Potter 4 and Giobbi 4, a link to an in-depth Ricky Jay article,and tidbits from Dodd Vickers and Joe Stevens and Louis Falanga. Hope your summer is going well.
MELINDA DOES VEGAS -- Vegas.com is touting the return of Melinda, First Lady of Magic, to the Las Vegas strip. Melinda is now performing at the splendid Venetian, in the C2K theater. S&R are the best with cats, and Lance is the best with doves, but no one looks as good spinning around on a giant industrial drill bit as Melinda. Ticket prices run $24 (12 and under), $39 (side seating), $59 (general admission), and $79 (special seat, line pass, autographed photo with Melinda). Ah, but this is the Venetian. How much for a gondola ride and a kiss under the Bridge of Sighs? (No more speculation! She's married!) Don't miss out on what Melinda calls "the world's hottest magic show."
GROSSE KARTENSCHULE, BAND 4 -- As promised, Roberto Giobbi's Card College Volume 4 has shipped. Our supreme thanks to Richard Hatch and Stephen Minch for rendering this book into English and into our hands. Why do we need it in addition to Erdnase, to Royal Road, to Expert Card Technique? Precisely because it not only compiles the best of what has gone before, but also the best of modern card magic. For example, the new volume contains such contemporary strategems as Larreverse and the Green Angle Separation. $38 pp from Hermetic Press.
MAGIC NEWS GOES MOBILE -- Originally "merely" a directory of web sites and news of occasional televised magic specials, Dodd Vickers' The Linking Page has evolved into the leading source for virtually daily magic news updates. Dodd's new service has gone mobile and is now available to devices running Palm OS, Windows CE and web enabled cell phones. Email palming@linkingpage.com with "Palming" in the subject to learn how to receive this information.
MORE SECRETS OF THE MAGUS -- Thanks to a tip from Peter Duffie, we found the terrific New Yorker length (and caliber) article on Ricky Jay by LA Times columnist Max Jacobson. Check Searching for Ricky Jay, soon! The article reveals that Ricky is working on a new show with David Mamet that will play to larger audiences than does 52 Assistants, that Ricky is working on a book based on his Jay's Journal of Anomalies, and that he is living with a "gentle, willowy producer" girlfriend and a puppy(!). Ricky garners the best press in the business.
A JOE STEVENS SUMMER -- The Summer 2000 issue of Stevens Magic Emporium's Merchandise Catalog is in hand, featuring cover boy Kirby Van Burch of Branson, along with articles by Randy Wakeman and by Joe Stevens. Tons of nice stuff as usual, especially those Johnson Cups and Balls. Excuse me as I wipe the drool off my chin.