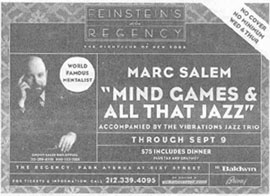 Marc Salem knows what you're thinking
Monday Night Magic's fantastick home
HEY, TINA, WHERE ARE WE GOING TO PUT ALL THIS STUFF? -- Joe Stevens reports, via his Gemini web site, that Mike Caveney and George Daily have just purchased the Egyptian Hall Museum, which constitutes "probably the largest purchase of antiquated posters and magic artifacts ever." Those with musty copies of Genii in their garages can look up a wonderful series of Egyptian Hall articles by David Price that began in January 1960. Price bought the materials in 1953 and housed the museum near Nashville, Tennessee. Joe's rumors value the purchase as larger than the purchase of the Mulholland Library.
Mike Caveney has confirmed the purchase but stipulates that any talk of price is pure conjecture, as part of the agreement was that the price would never be revealed. He and George are 50-50 owners, and sale of some of the materials is being considered. Mike and George are currently sorting through the treasures, whose principal value lies in the lithographs.
IT'S MAGIC! -- Milt Larsen has set this year's It's Magic! at the Alex Theatre in Glendale, October 25-29, and what a lineup it is. Fielding West will host, bringing on such talent as Dimmare, Roy Davenport, Omar Pasha, and the Passing Zone. The rest of the show will be turned over to Ayala and Lilia. Ayala is one of the most exciting illusionists working today. Earlier samplings of It's Magic! will appear at the Long Beach Center for Performing Arts (October 7), the Pepperdine University Center for the Arts (October 13), the Norris Theater for the Performing Arts (October 14), the Thousand Oaks Civic Arts Plaza (October 15), the Santa Barbara Lobero Theatre (October 21), and the Palm Desert McCallum Theatre (October 22). Whew. When I think of going to a "magic show," It's Magic! is the standard I have in mind.
August 2000
August has us thinking of New York (where friends will be appearing at Monday Night Magic) and LA (where we will soon be visiting the Magic Castle), as well as patiently waiting for copies of Son of Simon Says and The James File to arrive. Talk about your summer beach reading!
NEW YORK NEW YORK -- The Fantasticks is the longest-running show in New York, holding forth at the Sullivan Street Playhouse, in Greenwich Village, six nights a week. "Fantastick" might be a more appropriate name for what transpires at the Sullivan on the play's dark night, when Michael Chaut's Monday Night Magic takes over. Each week, this 150-seat venue offers a melange of magic featuring the likes of Simon Lovell, Peter Samelson, Jamy Ian Swiss, Todd Robbins, and Rocco. The "biographies" section of the MNM web site reads like a who's who of modern magic. Our friend Kevin King will appear this fall, and Max Maven will be the special guest on November 6. This month, as part of the New York International Fringe Festival, two MNM regulars are presenting one-man shows. "Jamy Ian Swiss -- the Honest Liar" is appearing in six shows at the Kraine Theatre, and Todd Robbins is presenting "Carnival Knowledge" at the Present Company Theatorium, with seven performances.
Elsewhere in New York, fresh off tv appearances with Regis and Roseanne, mentalist Marc Salem continues his popular Mind Games & All That Jazz, at the Regency. Wrapping up this little peek at Big Apple theater, I'm pleased to pass along the news out of Little Egypt that home town (mine) star Christopher Jackson has signed to take the lead as Simba in The Lion King, at The New Amsterdam. It's not magic, but it's magical.
SURF'S UP -- Have you been surfing some of the other magic web sites lately? It's getting tubular out there. A few items of note: Dodd Vicker's Linking Page has become an almost indispensible source of magic news. I've added a click to it on my browser's tool bar. If you have a T1 line or similarly fast connection, Brian Gillis's 10-minute video is not to be missed. I frequently watch Brian's Carson appearances for pleasure and inspiration; this video is his best yet. Gary Ouellet has a new internet series. Check his free "Hollywood Double Lift" in pdf format. Jon Racherbaumer weighs in with a cutting edge site featuring tricks, essays, biography, and a full-service online catalogue. And, just in time for Halloween, check the eerie visuals of The Ghastly Griffith. All are available from our Favorite Links page.
THE GEMINI GALA -- Jon Racherbaumer and yours truly are scheduled to lecture at Joe Stevens' first Gemini Gala, at the Magic Castle on September 16. It's open to Gemini members only, but it isn't hard to become one and you'll be thrilled that you did. Joe serves up great columns weekly on his site, along with lively internet chat and monthly shopping specials that more than repay your pittance of a signup fee. Hope to see many of you next month at the Castle.