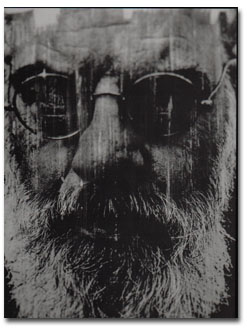 Mastering the Art of Magic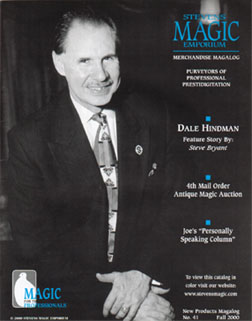 Dale Hindman, Magic Castle prez
EUGENE REDUX -- The spooky visage above (Mr. Burger, not Mr. Hindman) graces the cover of Mastering the Art of Magic, a beautiful hardcover reprint of all seven of Eugene Burger's early booklets/monographs. These are the books that put Eugene Burger on the map, handsomely re-rendered with Earl Oakes illustrations, new photos of Eugene in action, and new commentary by Eugene. I treasured the early books for their advice and had forgotten how much great performance material they contained. You'll find many of Eugene's classics here, including "Sponge Balls," "Seance," "Corner in the Glass," "A Voodoo Ritual," "The Impossible Force," and "The Invisible Turning Cards," among my favorites. 228 pp, a must buy. $45 from Richard Kaufman.
MR. UBIQUITOUS -- In the words of Mark Wilson, "Dale Hindman is a unique blend of successful magician (regular performer at the Magic Castle), prominent banker (Executive Vice President, Bank of America), theatrical producer (produces and manages major magic shows throughout the country), fearless leader (second term as president of the Academy of Magical Arts/Magic Castle, which requires timeless energy and extreme patience), and a really nice guy. The most amazing thing is how he finds time to do it all." It was my pleasure and privilege to profile Dale for the winter edition of Joe Stevens' catalog, now available. Check Joe's site on our Fav Links page if you aren't already receiving this excellent quarterly catalog/magazine.
CHILLY WILLY -- "Some say the world will end in fire/Some say in ice." David Blaine will risk ending his with ice, the hook for his impending ABC special, David Blaine: License to Chill, airing Wednesday November 29. David continues to fuel the most impressive publicity machine since Houdini, with major media attention (where he has been dubbed for this special as "The Human Popsicle" and "Frosty the Showman") and a hot, state-of-the-art web site (see our Fav Links). This impressively cool stunt notwithstanding, I'm more impressed with what David does with fire: the guy continues to date supermodels. As always, others are having waaay more fun with magic than I am.
November 2000
Uugh! Too much turkey. We hope everyone is looking forward to a lucrative holiday season. There is promise in the air, with a wintry new special from David Blaine, a wintry trip to Las Vegas for a January edition of the World Magic Seminar, and a wintry Stuff-Your-Stocking special price on The Little Egypt Gazette: The CD. Meanwhile, we're keeping warm here in the boonies with memories of how well the Halloween show went (she really was naked!) and with all the nice words we're hearing re the Dale Hindman story that made the cover of the new Joe Stevens catalog. And: there are some really special issues of Genii coming up, so get your subscription order into Richard if you are not already a subscriber.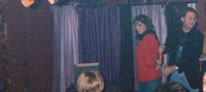 Tying up the subject for the Spirit Cabinet
TRICK OR TREAT -- Per the invitation we posted last month, our annual Halloween show at Smith and Groves, deep in Little Egypt, transpired as advertised. On the program were a color-changing silk routine, Obituaries (see the October 96 issue of the Gazette), a needle through hand, a card-in-lake trick with a terrifying climax, a hand chopper routine, a practical method of doing Tom Mullica's Card in Apple, a very sexy Spirit Cabinet routine, and the surprise production of two scary puppets. Re new material, I spent a lot of time with the Elmsley newspaper tear (thank goodness for Minch's Elmsley books and Kaufman's Ron Wilson book, without which I could not have learned this). I love it and now think it much better than the Anderson tear, which is also lovely. A big thanks to my assistants, Ms. Sullivan and Mr. Brinkmeyer, for making it special.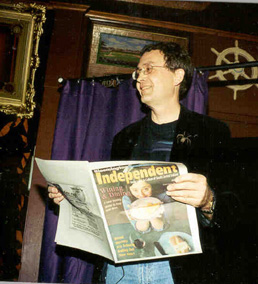 A common ordinary newspaper ...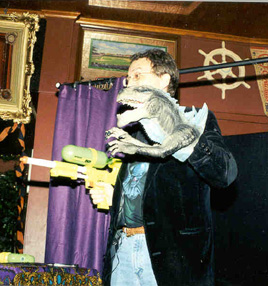 Strange interlude in Card to Apple
STOCKING STUFFER SPECIAL -- For years folks have been asking for access to Volume I of The Little Egypt Gazette, which contained original trick material, the Erika Larsen interview, and much more. Both volumes are now available on CD, which means you can load them onto your hard drive for instant access to over 700 pages of material, including 32 magic tricks, 9 interviews, 22 book reviews, 20 convention/show reviews, 22 feature articles, 4 poems, and more. No more waiting for those slow graphic downloads. A 9-page table of contents facilitates your access to any feature you wish to peruse, including new features that reveal all the password answers, the Favorite Links photo quiz answers, etc. Normally only $24. But -- from now through December 24, only $20 pp for all orders received by then. Check our Bookstore for standard ordering details. All other products are now sold out. Thanks for all the orders!