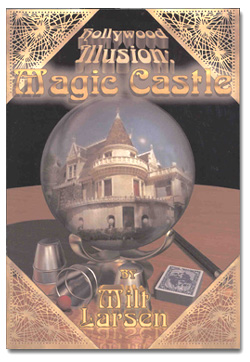 The new souvenir book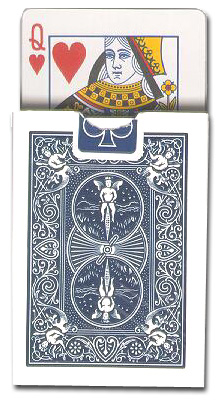 Gary Plants' Rising Cards
CASTLE MEMORIES -- Just in time for Christmas is a new Magic Castle souvenir book, Hollywood Illusion: Magic Castle. The book grew from Milt Larsen's weekly ramblings in the Friday lunch menu, with over 150 titled entries spread over eight chapters, including Pre-Opening, Happy New Year 1963, The Second Floor, Growing Pains, Memorable Magicians, Shrum's Greatest Magic Trick, Castle Personalities, and The Next Million Years. Children love bedtime stories, the same one over and over. It's like that with magicians too, and one I can't hear often enough is the incredible story of the Magic Castle. And no one tells it better than Milt. Physically, the book is a companion volume to Milt Larsen's Magic Castle Tour (a fabulous photo tour of the Castle). Each is $25 soft cover and both are must reading.
THE ASCENSION -- Gary Plants' new Rising Cards is one of the coolest methods yet for this effect, and one almost guaranteed to fool anyone unfamiliar with the method. I had first heard rumors of this effect on The Second Deal, and jumped to buy it based on Mike Close's recommendation in MAGIC. Two cards are selected. The spectator shuffles them in a small packet and places the packet into the card box himself. You then cause either card to rise, on request. The spectators remove their own cards. No threads or any of the usual gadgetry. Very nice! $50 plus $3.20 from Gary. Email cardman1@att.net for details.
December 2000
Season's Greetings to all loyal followers of this sheet and any new folks who might have stumbled in. The staff at The Little Egypt Gazette was ecstatic over the nice words Mike Close had to say re our CD in the November issue of MAGIC, and we hope they will encourage you to take advantage of our Christmas special. Mike's column is always the first I turn to, and I've been making a lot of happy purchase decisions based on his advice (one of which is highlighted in this issue). It's shaping up to be a white Christmas as I type these notes, though I'd happily trade that option for the Maui Christmas I expect Carl Andrews will enjoy. Whatever your weather, I hope it's warm and full of magic.
VIVA LAS VEGAS -- For many of us, Las Vegas will come early this year via a January edition of the World Magic Seminar. This year's event honors Carl Ballantine and will transpire at the Rio Casino Resort, where all the rooms are suites. A nice way to start the new millennium. I'm particularly looking forward to catching friends Mike Close at the Monte Carlo, Mac King at Harrah's, and Melinda at the Venetian, just a few of the bonus opportunities added since last year. Give Rich Bloch a call at (202) 686-0800 and join the party.
THE WORK IS DONE -- If you have any interest at all in the movies, I highly recommend the books by screen writer and novelist William Goldman (Butch Cassidy and the Sundance Kid, The Princess Bride). His latest, Which Lie Did I Tell?/More Adventures in the Screen Trade, contains a couple of knowing references to magic: "There is a magician's expression I like -- I've already mentioned it -- and it is this: the work is done. Again the explanation: magic tricks fall into three parts. The illusion of the trick -- how it looks to us, the audience. The preparation of the trick -- that's all the stuff the magician has to do to get ready before he begins, pinning things inside his magic suit, crimping cards, everything he needs to create the spell. Now if the preparation has been done properly, magicians feel that sometimes -- it could be halfway through, it could be even before they start -- the work is done. It is inexorable. You keep going forward and nothing can stop you." It's a delicious feeling.
CARD TRICKS OF THE MILLENNIUM -- With the real millennium upon us in only a few days, the magazines are running lists of various magic tricks, magicians, shows, and so on. I offer this list to ponder: what are the five best card tricks you have ever seen, tricks that still linger in your imagination, tricks that stirred you to the core? My fab five is as follows, in no special order: (1) Bob Sheets' rendition of the Malini card stab (for me this trick put The Brook Farm Inn of Magic on the map), (2) Doc Eason's Card on Ceiling through Ceiling Fan (I've only seen this on video, but wow!) (3) Ricky Jay's Queens' Soiree (from the Doug Henning special; how bold of Doug to allow such a strong performer on his special), (4) Tony Giorgio's Three Card Monte (great magic plus great acting), and (5) Jim Cooper's dealing himself four aces from a spectator-shuffled deck, and yes the aces were really in the deck. Runners up? Larry Jennings' Open Travelers. Guy Hollingworth's Reformation. Everything Lennart Green does.
STOCKING STUFFER SPECIAL -- (Repeated from last month.) For years folks have been asking for access to Volume I of The Little Egypt Gazette, which contained original trick material, the Erika Larsen interview, and much more. Both volumes are now available on CD, which means you can load them onto your hard drive for instant access to over 700 pages of material, including 32 magic tricks, 9 interviews, 22 book reviews, 20 convention/show reviews, 22 feature articles, 4 poems, and more. No more waiting for those slow graphic downloads. A 9-page table of contents facilitates your access to any feature you wish to peruse, including new features that reveal all the password answers, the Favorite Links photo quiz answers, etc. Check our Bookstore for standard ordering details. All other products are now sold out. Thanks for all the orders!