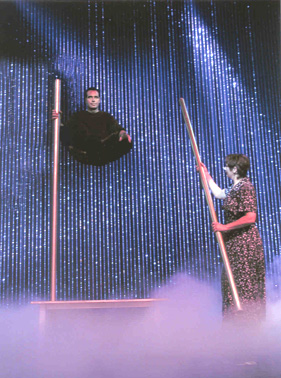 Brett Daniels and spectator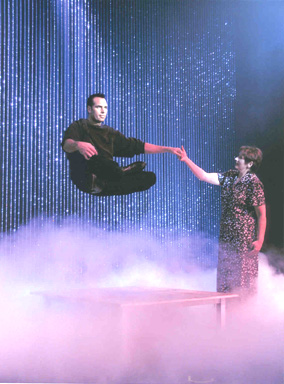 Flying, up close and personal
BRETT HAS LEFT THE BUILDING -- Just as Memphis rock and roll fans miss the King, Memphis area magic fans will no doubt mourn the departure of Brett Daniels' full evening magic show at the Gold Strike in Tunica. Following a superb three-year run, Brett performed his final show on January 31, 2000. We regret that our third installment on Brett's three-year run failed to see print before now, but you can catch it here at last. Just click on Journey into the Unknown. Brett himself is fine -- we just saw him in Las Vegas hanging out at the World Magic Seminar -- and we expect huge things from him in the future.
January 2001
Happy New Year, and welcome to the real millennium. We celebrated it by attending an all-night party at the Magic Castle, which seemingly countless magicians attended with us. Or did they? If you enjoyed our past Christmas poems, do read "A Millennium Night's Dream" in the January 2001 issue of Genii. Along with this marathon party piece you will find fantastic articles by Genii's reviewers, especially a look at 1000 years of magical literature by Jamy Swiss. This edition of Little Egypt Magic continues with an overdue review of Brett Daniels' third full-evening show in Tunica and with highlights from an early World's Magic Seminar in Las Vegas.
WINTER WONDERLAND -- For the first time in 24 years, the World Magic Seminar (formerly Desert Magic Seminar) transpired in January, in its new venue at the Rio. That Penn and Teller were performing in the Rio's Samba Theater was a spectacular bonus. A few highlights for me:
Best celebrity show: Penn and Teller
Best dealer item over $500: Dirk Losander's floating table
Best dealer item under $500: Dean Dill's box
Best place to see close-up magic: Mike Close at Houdini Lounge, Monte Carlo (with awesome presentation of Dean Dill's box)
Best movie of the week: O Brother Where Art Thou?
Best impromptu magic performance: Allan Ackerman
Best magic show value in town: Mac King's Comedy Magic Show, Harrah's. (Delete the word value and the accolade is still deadly accurate.)
Best emcee: Mike Caveney
Best new face: Bebel, from France
Best lecture: Johnny Thompson
Funniest kazoo act: Derek Scott
Best pro act: Shimada's parasol/dragon act
Second best pro act: Shimada's dove act
Biggest mystery: Why there was a small window from our bedrooms to our showers
Best new hotel since last year: The Aladdin (over a mile of shopping)
Funniest spoken line: "Hello, my name is Teller and this is my partner, Penn."
Best breakfast gathering: San Diego Ring 76's breakfast for Carl Ballantine (sans Ballantine)
Best meal: Seafood gumbo at the Rio's Voodoo Cafe
Best non-magical show: The Rio's De La Guarda
VINTAGE LAUGHS -- The day after WMS, I stopped in at the Magic Masters in Caesar's Forum Shops to watch the demos. As usual, hilarious renditions of Rising Cards, Sun and Moon, Scotch and Soda, Oscar, and of course Rocky. Owner Ken Fletcher was on hand, laughing as much as I at the jokes and routines he wrote 27 years ago. It's great to see that these shops in the upscale malls throughout the country have proven to be an enduring concept. I drooled over a lovely set of nesting boxes. Only $75 and a great effect.
FINDING TOM MULLICA -- One of the surprise treats in Sean Connery's new movie, Finding Forrester, is a walk-on role by Tom Mullica. It's a straight acting part, not a "magic" role, with good close-ups.