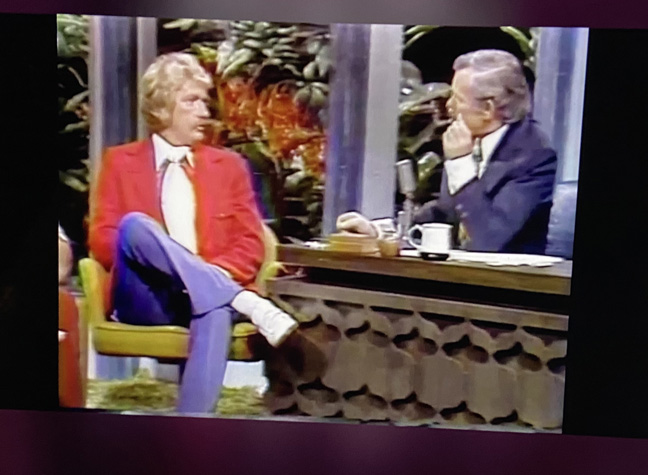 Michael Skinner Part 3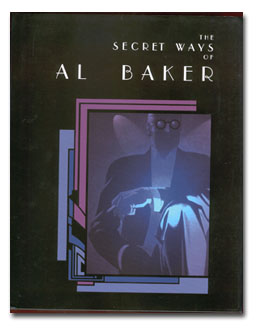 The Al Baker Anthology
BE LIKE MIKE -- Back in January 2002, I had the pleasure of reviewing two Michael Skinner videos put out by Geno Munari ("Thanks for the Memories"). Those two volumes contained around 60 of Michael's classic mysteries. Geno has now completed the trilogy with The Legendary Repertoire of Michael Skinner Volume 3. The new volume is a DVD with 56 items accessible by menu, plus an additional DVD containing an hour of extra footage, divided between a performance by Michael and a tag-team lecture by Michael and his friend Roger Klause. The three volumes together are a treasure trove of material that almost certainly contains most or all of Michael's legendary no-trick-repeated week at the Magic Castle. In addition to more excellent card material, Volume 3 contains such small apparatus items as "Linking Pins," "Cut and Restored Rope," "Ring on Pencil," "Ball and Vase," "Brema Nut," "Winged Silver," "Steel Ball and Tube," "Sponge Bunnies," "Sponge Balls," and the "Left Handed Hank," among others. To watch Michael perform was to witness grace at the close-up table. Those who have ever seen Michael perform in person, plus serious students who want to see what magic looked like in the golden early days of the Magic Castle (and later at Michael's Golden Nugget stint in Las Vegas), would have acquired these videos at any price. Fortunately, Geno has made them available at an extraordinarily generous price of $29.95 each. Take these videos, combine them with Michael Skinner Classic Sampler (L & L Publishing) and the November 2000 issue of Genii, and you have a complete course in how to be like Mike. P.S. The Roger Klause material on Volume 3 is an unadvertised treat. He teaches a standup coin vanish that elicited a hearty expletive from me when he did it. I had no idea. Fortunately he teaches it, but it's not just the devilish secret, but all the little touches Roger incorporates that really suck you in. Yes, worth the price of the video.
ROAD TRIP -- Anyone who knows Monte Smith can't be all bad. Fortunately, Lee Asher and Paul Wilson not only know Monte, but a huge gang of my favorite friends, acquaintances, and heros in magic, along with a few talented newcomers. As a result, the new DVD Hit the Road is flat out the most fun I've had watching a DVD in a long time. Specifically, Lee's and Paul's trip takes them to Los Angeles, Las Vegas, and San Francisco. Let me take a deep breath and drop a few names: Monte Smith, Dean Dill, Jim Patton, Joe Porper, Chef Anton, Gordon Bean, Bruce Cervon, Jules Lenier, Adam Grace, Earl Nelson, David Regal, Ashford Kneitel, Alain Nu, Dave and Dan Buck, Allan Ackerman, Steve Beam, Steve Forte, Bob Kohler, Bob Fitch, Cary Durgin, Rod the Hop, Nathan Kranzo, and Aaron Fisher. Hope I didn't leave anyone out. Some of these guys merely chat with Lee and Paul, and many (as well as Lee and Paul) perform. I simply watched it through, as I advise you to do, and only after figured out that this was also a teaching tape. My favorites among the items taught were Dean Dill's "Mish Mash Matrix" (uses any four small objects; possibly the best Matrix routine ever), David Regal's "Lucky Seven," and Allan Ackerman's "LJ Meets BJ" (a combo of the Visitor and Signed Card plots). Among the hosts' magic, I quite liked Lee's "Resistance Is Feudal" and Paul's "Uprising" and "Punch Too." Paul also demos a rare and amazing item from the Vernon Chronicles series. (Warning: Bruce Cervon, Rod the Hop, and Aaron Fisher do not reveal how they do what they do.) But this DVD is not really about card tricks. It's about having fun, and it beautifully captures the personalities of some of my favorite friends in magic. There are also some very funny moments, including David Regal showing off the perks of being a big-time comedy writer, Lee eating a doughnut while Paul teaches a trick, and an Alcatraz "prisoner" responding to one of Paul's card tricks. The video is very professionally produced and written, looks great, and genuinely gives you the feel of going along with these guys on a road trip. Oh, they will also take you to a few places you'll wish they hadn't, but they give fair warning. I received this late in May and was going to save mentioning it until the June posting, but this is too good to be kept under wraps. $29.95.
May 2003
How late is this issue? This issue is sooooo late that ... it's even later than Erika's June Magic Castle Newsletter. Let's just say May lasted 38 days this year here in Indiana. Another fat writing project needed completion, plus I have been inundated with some fascinating new books, tricks, and DVDs. What I've chosen to review this month is, so far, the best of the best. More to follow next month.
FAIRYLAND -- I've no doubt my first awareness of Al Baker was through Annemann's Practical Mental Effects. In my own first publishing effort, I included a modest reworking of Baker's "Three-Billet Trick" from PME (I eliminated the billets and a hat). I used to close with that trick, and it's still one of the finest card tricks ever, not because of my personalization, but because of the extraordinary economy with which Baker discerns the values of three selected cards. I was hooked from the getgo. A few years later, Lee Jacobs sent me a copy of Baker's Mental Magic. The book came in a vintage cardboard box, labeled "The World's Keenest Book on Mental Magic," complete with a dotted outline indicating where a sender should affix an eight-cent postage stamp. Over the years, Eugene Burger has kept Al Baker in our thoughts (and our repertoires) with his work on such Baker numbers as "The Impossible Force," "The Card in the Hat," and "The Pack That Cuts Itself." And now, in what must be appreciated as a monumental work of love, we have a Baker omnibus that laughs at eight-cent postage stamps, the 912-page The Secret Ways of Al Baker.
This ambitious, meaty volume contains all five of Baker's books (including the famous Magical Ways and Means and Pet Secrets along with my treasured Mental Magic), plus Baker's published manuscripts, contributions to other books, published trick instructions, extensive items from the notebooks of Eugene Bulson and John Northern Hilliard, letters to and from him, profiles of him, and generous and insightful pieces by prominent magicians influenced by him.
The magic trick I anticipated most was Baker's "Rising Cards," and my hopes were rewarded. This item was also high on John Carney's list of favorites, and you can see its influence in his own excellent rising card trick in The Book of Secrets. It's a completely practical feature platform magic trick. Other tricks that captured my interest on a first serious skimming of the book were "A Prediction" (sneaky use of a Svengali deck), "The Obedient Snake" (excellent snake basket routine; note that the rising "action" could also be used in Baker's "Rising Cards"), "Bill in Borrowed Lemon" (the bill is also borrowed and signed), "Finesse with the Dye Tube," "The Al Baker Lightning Pull" (anticipates Neff's rope cut routine), "Envelope As an Accessory" (perfect with the lemon trick above), "Al Baker's Stacked Deck" (anticipates Steranko estimation?), "The Baker Chewing Gum Trick," novel moves with "The Linking Rings," and "Cutting a Card in Half." But there is so much more, with cards, money, magazines, books, silks, memory, slates, and even illusions. The feeling of beholding a book of this scope and quality must approximate how our magical fathers and grandfathers must have felt upon first beholding Greater Magic.
Baker's wit shines through--I was reminded of James Thurber--in numerous passages, from straightforward contributions to magazines ("Brother H- was next with card tricks... When he did the back-hand palm, the way he waved his arms, you'd think he was going down for the last time.") to commentary within trick descriptions ("And when the [dye tube] steal is made [badly], I often find myself groaning so loudly that people around me look nervously for the nearest exit, thinking the theater must be haunted."). Baker is also elegant when dispensing serious advice: "I always tried to bring them fairyland and not to scare them with the fear of the devil, and I never tried to convince them that I was smarter than they were. If they thought that I was after the show, that was their business."
I won't delve here into the extras, such as the profiles, letters, and testimonials, except to note that I found the correspondence from Annemann to Baker, provided by Max Maven, to be fascinating. Max's introduction to this material also contains the biggest laugh in the book.
Physically the book is a wonder. It's huge. One of my pet peeves lately is books that are lavishly produced and illustrated and full of wonderful magic, but which have not stood the scrutiny of a capable editor and/or proofreader. (In two recent important books, the blurbs thanking the proofreader contained misspellings. Argh.) That is not the case here. Editor Todd Karr has done a superb job of taming this mountain of text, and the entire product is very classy. He knows his stuff. Katlyn Breene gets the illustration credits, including a striking cover illustration. There are Dai Vernon silhouettes of Baker's contemporaries, and there are plenty of photographs, with quite a number pairing Baker with his ventriloquist dummy, Dennis. (I must say looking at this dummy creeps me out. To think that it could also talk gives me the shivers.) But there are also plenty of Baker with his real friends of the era, my favorite being one of Baker with S. Leo Horowitz, Cardini, Jacob Daley, and a young Charlie Miller and Dai Vernon. (How interesting it would be to get that gang into a room with some of today's young hotshots. Or simply to be able to hang out with them at a convention or the Magic Castle.) It didn't say it on the large cardboard box on my doorstep, but this is undoubtedly the "world's keenest collection" of Al Baker magic. Highly recommended. $150.