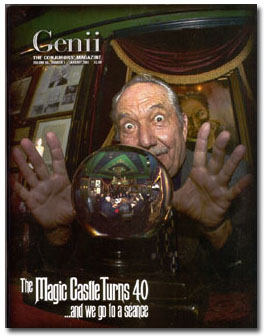 Milt Larsen sees all.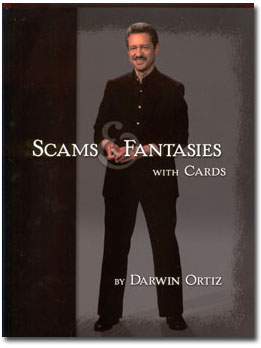 New card miracles from Darwin Ortiz.
HAUNTED MANSION -- The January issue of Genii is showing up in mailboxes already, featuring a staggering 34-page tribute to the Magic Castle on its 40th birthday, specifically a tribute to all the spooky fun that has enlivened the old place since Milt first opened the doors. Kudos to Pete Biro for a brilliant photo spread and to Liz Kaufman for a beautiful layout, as well as to Richard for gamely squeezing my text into 34 pages (I still think he should have dropped some ads to squeeze even more in, but Richard seems to think Emma needs food on the table). As it stands, there is a history courtesy of Bill Larsen, an interview with Milt, an interview with James Williams, an interview with resident medium Leo Kostka, a description of the seance, a visit with Jules Lenier and Alma Carey, and a "trick section" in which Leo Kostka teaches you how to haunt a house. All this plus Mac King paper dolls! I'll wish the Magic Castle a happy birthday next month, but meanwhile any remaining non-subscribers (shame shame shame) out there should get to your magic shop to pick up a copy. For anyone who loves the Magic Castle, this is going to be a collector's issue.
BRRRRRRR -- If you've ever wanted to give a cold reading with scalpel-like precision, Ian Rowland's The Full Facts Book of Cold Reading is a master course on the subject, quite the best I've ever read. The first two editions sold out, and the third and largest edition has just become available. Ian carefully considers every contingency so that subjects will consider your readings remarkably accurate. The book comes with high praise from the likes of Martin Gardner, Banachek, Derren Brown, Randi, Marc Salem, Larry Becker, and many others. It's one of those books that, when you read it, you will feel empowered and will wish that no one else should have access to it. 238 pages, approximately 50 dollars U.S., available only at www.ian-rowland.com.
December 2002
Happy Holidays to one and all. I just returned from visiting my daughter in Chicago, where the department stores are gussied up for Christmas like those stores in old movies or in Christmas song lyrics. This has put me in a Christmas mood, so ho ho ho. Some of you may be wondering how I managed to cause an entire month (November) to vanish. Anything is easy once you know the secret. I posted the October issue quite late (well into November as I recall), and the only item of magical interest for me during November was the opening of the Harry Potter movie. That opening is covered below. Other items to share include looks at the January issue of Genii, Darwin Ortiz's new book, David Solomon's new DVD, and Ian Rowland's latest course on cold reading. As for next month, I hope to see many of you at WMS.
SOLOMON'S MIND - THE MOVIE -- In 1997, David Solomon released an excellent book of card tricks (42 items) called Solomon's Mind, written by Eugene Burger. Now along comes Solomon's Mind the DVD, with 10 items from the book plus 3 new items. If you are new to the world of David Solomon, I would of course counsel buying the book first, partly because I am a book lover, and partly because you get more routines. The DVD is excellent as well and makes a fine companion to the book. I had not seen David perform before, and I think it's fair to describe his persona as that of a congenial uncle who knows some really great card tricks. If you already own the book and are wondering whether to buy the DVD, the new item that was the standout routine to me was David's "Mexican Poker." Most versions of "Mexican Poker" involve sticking the mark with a Jonah card (repeatedly), with the magician always eking out a hand just strong enough to beat his opponent. In this new routine, the cards are dealt just once, and the spectator always gets a full house with the magician always getting a straight flush (and often a royal). The procedure is extremely fair, the effect is self-working, and the finale took me by complete surprise. I liked this enough to feature it in a Christmas show yesterday. $35 from David Solomon (www.davidsolomon.net).
BACK TO THE CARD TABLE -- After a long wait (with some waiting very impatiently), Darwin Ortiz's Scams and Fantasies with Cards is here, and Darwin's fans should be quite happy with it (this fan included). As usual, Darwin will do whatever it takes to beat you, including perfect faros, memorized decks, and uncanny skill, but there is plenty in the book for those of us with more mortal card skills as well. Likewise, there are new scams (In "Raw Deal," the card shark literally deals a royal flush from a genuinely shuffled deck) along with interesting takes on such standards as Daryl's "Psychological Joker Assembly," "Ambitious Card," "Cannibals," "Oil and Water," "Follow the Leader," and so on. What makes Darwin's card routines so much fun to read (and do) is the careful analysis he applies to make each one effective. For example, in an "Any Hand Called For" poker deal, a three of a kind is inherently less impressive than a royal flush. Darwin teaches how to make the weaker hands play as strong as the more vaunted four aces or royals. This is a big, meaty book, illustrated by Tony Dunn and handsomely produced by A-1 Magicalmedia. $40, give or take a nickel. (My copy arrived with an additional sheet containing a very funny and commercial routine with the Bounce No-Bounce balls, apparently excluded from the book because it has nothing to do with playing cards. Thanks to Darwin and A-1 for a great routine.)
SOPHOMORE YEAR -- I'm not sure what you call the second year at a British boarding school (actually I believe the students are simply called Second Years), but Harry Potter is back on the screen with his second hit movie, Harry Potter and the Chamber of Secrets. The special effects are truly awesome this time around, and the cast is superb, with Alan Rickman terrific again as Snape and Kenneth Branagh a grand addition as the insufferable Gilderoy Lockhart. The kids again are excellent, with Harry convincing as he faces more menace, with Ron's voice squeaking "brilliantly," and with Hermione "entering early babehood," to quote Roger Ebert. There is, of course, more magic than you can shake an Ollivanders wand at. One hopes the new year will bring us Book 5 of this fascinating series.