More from the Mac King School of Magic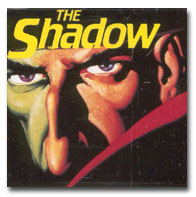 A new magazine emerges from the shadows.
CRANIAL CONJURING -- If you'd like to regale, disgust, or bewilder folks with a common everyday object, go straight to your favorite bookstore or to Amazon.com and procure a copy of Tricks With Your Head, by Mac King and Mark Levy. (The book retails for $11, and Amazon offers it for a nice bargain price of $8.80.) There are some 52 items in the book created by Mac and many of his friends. (At the back of the book Mac thanks more guys than would fit into a Little Egypt Gazette Christmas poem.) One of those contributions is "Samurai Rubber Band," right out of Michael Goudeau's awesome juggling act in the Lance Burton show. Michael must have lost a bet to release this. Every item is wonderful, and it's hard to pick a favorite among "Cat Chiropractor" and "Boomerang Gum" and "Thumb Through Ear" and "Bread Snot" and "Dog Jaw." No book on head magic would be complete, of course, without Mac's world famous "fork in the eye" trick titled "Eyescream." There is something deeply satisfying about such instructional prose as "... pull down the skin of your left cheek with the tines of your fork, revealing the red inner lining of your eye. This alone will skeeze people out." Oh to have had this book in my boyhood. This 203-page softbound book is a big-time publication from the Crown Publishing Group, a division of Random House, and delightfully illustrated by Mac's cousin, Bill King, a commercial artist in Chicago. For head tricks that were just too gross for a big-time Random House type publication, check the five items Mac contributed to the April issue of Genii. I'll never again look at Jennifer Sils without thinking of matches.
March 2002
It's March Madness (aka NCAA basketball tournament time) here in Indiana, and things are really crazy with the home town Indiana Hoosiers heading to the Final Four in Atlanta. Bobby who? I miss the days when I could combine basketball thrills with magic thrills by attending the Desert Magic Seminar in March, when the games played out on those giant Las Vegas tv screens and the sports books paid big money as your teams moved up the brackets. As to the month's magic topics, we have treats from Mac King, Gordon Bean and William Goodwin, and Geno Munari. Meanwhile, best wishes to Coach Mike Davis and his Hoosiers.
THE SHADOW KNOWS -- Despite the many fine things eventually published in Apocalypse, I was always disappointed in it because no subsequent issue ever rose to the level of its inaugural issue. The Penumbra, the new magazine coming in May from Gordon Bean and William Goodwin, runs that risk, as its inaugural issue boasts Stewart James's long-lost personal method for "51 Faces North" (aka "The Open Prediction"). This is something akin to finding Fermat's own proof to his famous Last Theorem. But what a lovely conceit the magazine promises. "The Penumbra" itself will be a "small secret hotel" whose first-year "guests" will include the likes of Allan Ackerman, Simon Aronson, Lee Asher, Rafael Benatar, Jack Carpenter, Bruce Cervon, Ernest Earick, Steve Ehlers, Bob Farmer, Fenik, Aaron Fisher, Norman Gilbreath, Phil Goldstein, John Gustaferro, Harrison Kaplan, Chris Korn, Ray Kosby, James Patton, Tony Picasso, Mark Setteducati, Allan Slaight, and Roy Walton. The magazine will appear every other month, 12 pages, photo-illustrated, for a $50 annual contribution to Gordon and William. For further details, email thepenumbra@hotmail.com.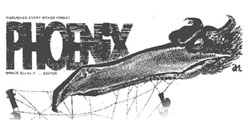 An old magazine goes digital.
THE BIRD RISES AGAIN -- I love magic books, and I prefer them to be books. Of the books residing on my shelves, six hardbacks and two fat softbacks contain the complete run of The Phoenix (and The New Phoenix), the legendary magazine of tricks and commentary published by Walter Gibson, Bruce Elliott, Jay Marshall, and Karl Fulves. I turn to these books often for light reading and heavy magic, and I especially enjoy the Bruce Elliott years. Despite my preference for the physical presence of real books, digital offerings (such as the most excellent Little Egypt Gazette, offered from this source) frequently have much to recommend them, including economy and conveniences such as word and phrase searches. Taking these possibilities to the max, Geno Munari is offering the complete 1200-page run of The Phoenix and the 420-page run of The New Phoenix and Michael Skinner's notes on issues 1-300 on CD ROM for the incredible low price of $19.95 plus $4 shipping. This would be a bargain for the Don Tanner tricks alone. I love my books, but now I can have this entire resource on my computer to delve into whenever the rest of the day suggests a magical diversion. Cool! Check Geno's Houdini's Magic Shop site on the dealer page of our Favorite Links. Geno also promises Volumes 3 and 4 of the Michael Skinner videos this month and Michael Skinner's Notebooks in early June.