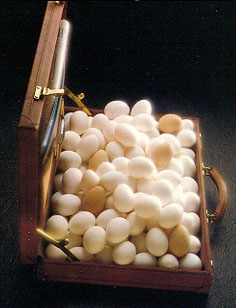 Close-up case for egg magicians
BREAKFAST MAGIC -- Hot off the griddle from Hermetic Press is The Encyclopedia of Egg Magic, by Donato Colucci. This 319-page book features some 270 tricks and routines with eggs. (Of course, it's not complete unless it includes that David Harkey trick of doing surgery on a live chicken to insert a card into its egg.) To whet your (morning) appetites, the "Magicana" section of the March issue of Genii features an entire chapter from the book, with 11 pages on "Kling-Klang." $65 postpaid from Hermetic Press.
MAGI-FESTIVITIES -- Once again, Jep Hostetler and his team of red coats hosted a terrific Magi-Fest (the 71st!) in Columbus, Ohio, January 31-February 2. Highlights for me included John Carney's lightning pull, Carney-Vernon coins and glass routine, and the incomparable Mr. Mysto; Martin Lewis's hilarious egg bag bit and attention to detail (loved a new bit with stack of envelopes); Mike Caveney's telephone number prediction (I played hooky from the big stage show, thanks to an aversion to being herded onto a bus, or would have included Mike and Tina's stage work here too; I know it was unsurpassed); Tim Ellis's and Sue-Anne Webster's "Steve and Terri" (from Animal Planet) takeoff; John Rogers' cigars; enthusiastic contest entries,especially the youngsters including Kelvin Kwong who won the close-up contest with a charm-laden act with small cereal boxes; and Jim Hoy's gag country song titles (ex: "She Was Only a Steel Workers' Daughter, But Boy Could That Pig Iron"). Columbus is a relaxed venue in which to hang out with old friends and meet new ones. It was funny to see Ohio favorite Joshua Jay (very polished in the big close-up show) being touted as one of the "old guys" by the youngsters. An odd trend: magicians dressing either themselves or their audience volunteers up as cows, as in a Gateway computer commercial. Who the heck started this?
SCIENCE FICTION/DOUBLE FEATURE -- Back in the November installment, under "Let's Do the Time Warp Again," we mentioned that Penn and Teller would be hosting The Rocky Horror Show in December. They did, and I'm please to report that Penn has written up the experience for the Penn and Teller web site. Jump to it from our Favorite Links and click on "Wrestler at a Square Dance Penn." The essays that Penn and Teller routinely post provide remarkable insights into the lives of working pros.
SIGHTINGS -- There are several new sites in our Favorite Links this month. By far the coolest for its use of Flash is Jeff McBride's.
February 2002
Happy Valentine's Day to Melinda and Tina Lenert and Princess Tenko and all the other ladies of magic who make our world far more interesting than it would be if it were populated only by all-male card trick geeks. We love you. OK, maybe not as much as we love card tricks, but we love you too. A lot. Honest. This month, join us in considering a book about eggs, a source for wooden cigars, a report on what it is like to face a Broadway crowd in fishnet stockings, more new web sites, the wondrous Columbus Magi-Fest, the Magic Castle election results, the Magic Castle's best magic show in years, and (almost that time again!) Oscar night.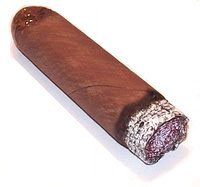 Danger: Habit forming
SMOKIN'! -- From Nate Leipzig to Chris Kenner, the production of cigars has always been a delightful sleight-of-hand interlude. If you would like to tackle this classic with apparently lit cigars and without smelling like a lit cigar, my friend John Rogers can help. He manufactures wooden cigars and cigarettes so real that they are startling. Although each cigar is entirely of solid wood, the ash at the end has a red glow and looks fragile, you can see wrapper lines, and the end looks wet and chewed. John also performs cigar tricks with an aplomb that will make you want a set. While expensive, they cost less than real Cubans, look better, and last much longer. Check WoodenCigars.com for a complete line of props, tricks, routines, and accessories.
AND THE WINNERS ARE -- There's been a lot of interest in the Magic Castle's Board of Directors lately, what with Tony Giorgio suing them and an election going on at the same time. First, the Castle won its defense against Tony's suit. Second, congratulations to the Board winners: Gay Blackstone, Bruce Cervon, Dale Hindman, Lew Horwitz, Irene Larsen, Billy McComb, Monte Smith, Mark Wilson, and Ron Wilson. All best wishes for a quieter, prosperous, and magical year.
RAVE ON -- Raves have been pouring in for the act in the Magic Castle's Palace show this week (It's February 22 as I type), starring "The Nocturnal Trio." For the unaware, the trio consists of Tina Lenert, Max Maven, and Eugene Burger, who have concocted a cohesive act. Regrettably, the Castle reporters are keeping mum so far as to the exact details. I hope someone is taking notes and photos for Genii or MAGIC.
THERE GOES THE NEIGHBORHOOD -- This year's Oscar night will transpire March 24 at the fabulous new Kodak Theatre, one of the anchors of the new Hollywood & Highland development. This new destination site will feature the Kodak, a shopping mall, an expanded Grauman's Chinese Theatre, and the Renaissance Hollywood Hotel. Designed by David Rockwell, who also served as set designer for the 25th anniversary Broadway Revival of Rocky Horror, the complex promises to reinvigorate Hollywood as a theatrical center. From a magic point of view, it's nice that all of this is going up in what is essentially the Magic Castle's front yard. (The Castle stands at approximately the "X" in the accompanying view.) When my fav Renee Zellweger picks up her statue next month, I hope she skips all those other parties and walks over to Milt's place to see some great card tricks.