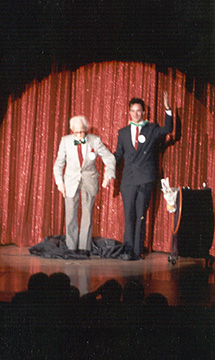 Lance Burton and friend
ON THE ROAD AGAIN -- No it's not Willie Nelson in the bus, it's Lance Burton, one-upping David Blaine by taking magic to the highways in his most enjoyable special to date. Lance Burton, Master Magician: On the Road aired in the hinterlands of tv, at 6:00 on Saturday, March 31, on the Fox Family Channel. (Lance's other special that month, Young Magicians Showcase, aired on the same channel on March 17.) For those who missed it: Lance opened with the production of his huge tour bus on a dry lake bed in Nevada. First stop was his own Monte Carlo theater. A gorilla ran amuck in the audience, ripping off a guy's head and stealing the skirt off his wife. Lance and the gorilla popped the lady into a Crematorium illusion, and she was soon toast. Lance's familiar masked nemesis appeared and condemned Lance to hang for being politically incorrect to the lady (and in cahoots with an endangered species), and Lance cheated the gallows and his roughhouse dancers by reappearing at the top of the theater and deftly sliding down a rope.
Rounding up his crew, Lance boarded the bus and took them to the Magic Castle, which he showcased beautifully. At Vernon's settee, Mac King performed his vanishing head in grocery sack for an audience of Billy McComb and the Professor (played in full makeup by John Thompson), after which Lance impressed the Professor with Thurston's Five-Card Trick. On the Palace stage, Lance performed an extended dancing hank routine (with great lines) and a mondo jumbo rising card routine in which the queen of hearts proved to be of flesh and blood.
Then off to a Florida beach, where Lance performed the multiplying rabbits for a beach couple, along with a nifty arm twisting effect (that would later be performed by Copperfield on his special). Highlight of the Florida visit was floating Dorito girl Ali Landry via the Blaney suspension. As with everything Lance did on this show, it made you want to go out and buy one and "be like Lance" -- just great routines. He then relaxed by doing the rabbits and arm twisting for Ali, and his laughter was genuine and infectious.
The journey continued to Louisville, Lance's home town, where he did close-up for Kentucky Derby personnel and for some kids living in his old family home. At the Kentucky Center for the Arts, Lance performed an exquisite multiplying bottles routine that, had this special reached a wider audience, would have had dealers shipping them out by the dozens. Way cool. Lance closed his Louisville stop featuring teen guest Dylan Ace and a double Mismade Girl illusion ending with comic cross-dressing of his assisting couple (hmmm, Copperfield can make only panties change places).
The tour ended in Boston where, in an attempt to "send the girls home," Lance made his entire bus disappear, an unannounced and rather spectacular mega-illusion. The guys gave each other high fives until they realized they were stranded a long way from Las Vegas. The special closed with them in hitchhiking straits, where Lance produced a bunny from a crumpled road map. The entire special featured excellent writing, beautifully delivered.
April 2001
We intentionally held this issue up to be able to say congratulations to Aldo Colombini, Lennart Green, Ed Alonzo, and Martin Lewis, who on April 20 received Magic Castle awards for Lecturer, Close-up Performer, Stage Performer, and Parlor Performer of the Year. Check the Castle's web site for all the other winners. So much has happened since the last issue, including a long overdue special by David Copperfield, two nationally televised specials by Lance Burton, David Blaine redux (or re-frozen), and getting my hands on Minch's Concertos for Pasteboard, Kohler's "3-Fly" coins, and Duvivier's three-volume video set.
WELCOME BACK, DAVID -- It's a tough life, performing over 500 magic shows a year and trying to keep supermodels happy, but someone has to do it, and we probably shouldn't blame David Copperfield for not having time to do an annual tv special. Nevertheless, David's Copperfield: Tornado of Fire was a welcome whirlwind of high tech magic. (Some critics felt a little too high tech.) Highlights included "The Laser" (an incredible illusion, part of his live show for at least 5 years and lately attributed to Steve Fearson), the "zombie panties" transposition of two girls' panties, two guys on a floating sofa, and "The Voyeur," a sexy vanish and reappearance of two girls dressed for bed. David's trip to Hawaii (or anywhere) illusion is a hit in his live show and featured here a new and unbelievable vanish, though the effect was marred for me by the use of a little boy dressed and coached so "cute" I wanted to squash him, and by the hokey and maudlin reunion of a young man with an absentee father. As to the firey closing, at least David didn't have to be whisked to a burn center, as might have happened on some specials, and I'm pleased all those models out there can breathe easier. My qualms with the writing aside, David's illusions are always first-rate, and this show had a great look and feel. It's nice to close this spot with the good news that David is on Indiana University's theater schedule for 2001-2002 and will be here in Bloomington next year.
THE ICEMAN COMETH, AGAIN -- David Blaine repeated his block of ice special on April 16 with some restored magic footage (omitted first time around because of time allotted to the live stunt). Two pieces worth restoring: David bit the stone out of a girl's ring and caused it to ooze out of his eye socket, and he tore an ambitious card in half, at which point it suddenly burst into flame. Very nice.
IN THE MAILBOX -- It's been Christmas in April with the variety of magic arriving almost daily in the mail. Concertos for Pasteboard, edited by Oliver Erens and published by Hermetic Press, contains 37 card tricks by 29 German and Swiss magicians, all practical and most within range of the average card nut. My favorite is "Bizarre, Bizarre," whose plot involves plucking out your eye and stapling a piece of paper to your head. The other 36 items should appeal to more normal readers. Although I was a big fan of Jon Racherbaumer's Magie Duvivier, I didn't pick up Monsieur Duvivier's video trilogy from A-1 Magicalmedia until a recent generous sale by Mike Maxwell. Duvivier is charming, his daughter who translates and does the Cups and Balls with him is even more charming (way more), and the set contains many effects not in the book. I particularly admired his "Progressive Assembly" and his "Cards to Pocket." And finally: Bob Kohler's "3-Fly" is all it's cracked up to be and worth not only the steep fee but the several months you have to wait to receive your set. The coins are beautifully manufactured by Todd Lassen, and Bob's teaching video is superb.
WELCOME TO THE 21ST CENTURY -- Louis Falanga, whose video sets are becoming must viewing even for us diehard book lovers, has yanked the whole video market into the 21st century by putting out David Regal's new trilogy, The Magic of David Regal, on DVD. This is the only way that video teaching makes sense, especially for encyclopedic sets (which Louis hints he may re-release), so that you may instantly access segments of interest. As to the current set, I met David Regal last September, when he both charmed and fooled me badly, and I proudly hoard his Close-up & Personal. I cannot imagine anyone being disappointed with this material, and its format is the future of magical teaching.