New vision for the Magic Castle?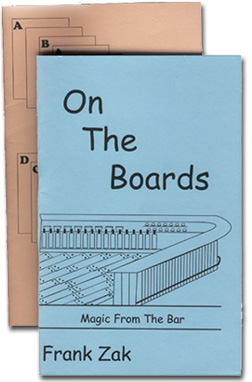 Bar notes
THE CANDIDATE -- I was privileged to have experienced what has been called the golden age of the Magic Castle. I became a member at a time when you could see such greats as Dai Vernon, Slydini, Albert Goshman, Mike Skinner, Ron Wilson, and Tony Giorgio perform on any given night. And so many others. There was some fine stage magic down on the tiny Haunted Wine Cellar stage, but for me the real magic transpired in the Close-up Gallery. A few years ago, under gathering clouds of insolvency, the entire Castle threatened to vanish. In stepped such heroes as treasurer Lew Horwitz and president Dale Hindman, and they turned the Castle around fiscally at a time when their help was desperately needed. It still is. Equally as important as the economic health of the Castle is its magical health, and for this reason Max Maven has recently declared his intention to run for the Board of Directors. You can read Max's "Why I Need Your Help" appeal on the Genii forum or (if you are a Magic Castle member) on Joe Stevens' Gemini web site. His reasons, as you might guess, are far more generous than those of the bogus list to your right. If you are a Magic Castle member and wish to help Max out, or at least are interested in exploring what he wants to bring to the table, check the above sites for details, or contact Max directly at MaxMaven@aol.com. Max also plans to host a "Meet the Candidate" evening in Hollywood on October 2. Again, check the sites or Max (or here with me) for details. I look forward to seeing what ideas Max has for extending the Magic Castle's magical heritage into this new and suddenly dangerous century.
HIDDEN GOLD -- The September 24 issue of The New Yorker is one of the most chilling issues of any magazine ever. It contains the earliest and some of the best prose and photographic reportage of the horrors of September 11. The cover is black on black, the World Trade Center towers in eerie shadow, and the famous cartoons are noticeably absent. Buried somewhere in all this is one bright spot, a glowing review by Ben Greenman of Glen David Gold's novel, Carter Beats the Devil. I've yet to read Gold's Ragtime-like story of Carter the Great (who encounters such figures as Houdini, the Marx Brothers, and President Harding), but am certainly encouraged to do so by what is hailed here as "a magical first novel."
September 2001
One of the activities I loathe most is attending meetings, especially those where contention is likely to occur. For this reason I appreciate the efforts of friends and public figures who attend meetings and champion my views for me, whether it's at the day job, on school boards, or in government offices. I therefore appreciate it that Max Maven has decided to come out of his easier behind-the-scenes role and is running for the Board of Directors at the Magic Castle. Why anyone would sacrifice his time and anonymity to attend meetings is almost beyond me, and it led to the ironic musings in the list below. Max himself summed up his reason simply: "I love the Magic Castle." I love it as well, and I hope Max can succeed in bringing fresh ideas to that esteemed Board. Meanwhile, congratulations to my friend Monte Smith who was recently appointed to the Board to fill T.C. Tahoe's shoes. Other ramblings this month include a look at Bunny Wilson, Carter Beats the Devil, and Frank Zak's lecture notes.
PAYBACK -- For all the guys Max Maven roasted in his "Parallax" lecture at the recent MAGIC Live convention in Las Vegas, we present
TOP 10 REASONS MAX MAVEN IS RUNNING FOR THE MAGIC CASTLE BOARD OF DIRECTORS
10. He wants to pad his resume.
9. He lost a bet with Eugene Burger.
8. He's fronting for Tony Giorgio.
7. He thinks it will impress chicks.
6. He's heard Board members eat free on meeting nights.
5. He thinks the Palace of Mystery should feature more interactive magic tricks.
4. He wants to change the Castle dress code to all black.
3. He's been pulling his hair out over past Board decisions.
2. He's read Dale Hindman's mind, and it has him worried.
1. He feels the Board has been missing something since Cary Grant died.
BUNNY -- Bunny was the childhood nickname, that stuck into adulthood, of famed writer and critic Edmund Wilson. I've no idea if the name had anything to do with magic, but, according to Savage Beauty, the hot new Nancy Milford biography of Edna St. Vincent Millay, Wilson "performed sleight-of-hand and card tricks to calm his nerves." (Don't we all?) When Wilson became infatuated with Millay, a Princeton classmate wrote of him: "Bunny, being under stress & strain, did parlor magic and tricks. Says he does them for hours in front of glass to quiet his nerves, instead of smoking." Savage Beauty also provides extensive insight into "The Ballad of the Harp-Weaver," the poem used by Eugene Burger in his spirit theater seances.
MORE HIDDEN SECRETS -- I was recently criticized, in strong clear language, for tipping the name of a little-known creator of close-up magic. I am about to repeat that sin. Part of my flight home reading from MAGIC Live were two sets of lecture notes by Frank Zak, A Baker's Dozen and On the Boards. Frank lives in Las Vegas and does magic behind a bar, as well as corporate engagements. He has "the voice of a late-night FM deejay," to quote the notes, and he has been a friend for years. What I did not know is that he was hoarding all this neat stuff. The 27 items in these two booklets contain strong commercial magic with clean, satisfying methods that remind me of recent offerings by Mike Rogers. You'll find stuff with cards, dice, business cards, coins, and great stuff with bills. There is also -- and I hate tipping this -- one of the strongest routines I've seen for a Lippincott coin box. In deference to those who like to make secrets hard to obtain, I'll oblige, partly out of necessity. I don't know the prices of these notes or how to purchase them. You'll have to track Frank down yourself. I will add only this: if Frank lectures in your area, attend. You won't be disappointed. [Post pub note: I lied. H&R Magic Books have both sets of notes at $10 and $15 for Dozen/Boards. Check with them via our Favorite Links.]