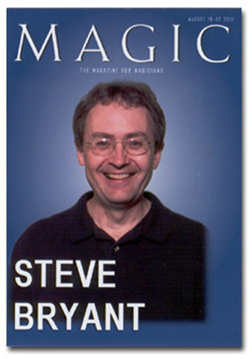 A new addition to everyone's press packet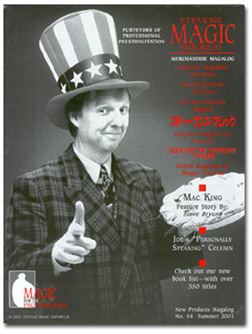 America's Magician
MAGIC Live
THE PARTY -- While most of us spent the Opening Night Party in line to get badged (Mike Close dubbed the theme of the party as "a night at the DMV"), the rest of us were entertained by strolling magicians Cellini and Bob Sheets. I spent all my opportunities watching Sheets, long one of my favorite magicians, doing a hilarious rope routine, the three-shell game, and his incomparable Malini Card Stab, still the best card trick around. The room itself was beautifully decorated with covers of all the issues of MAGIC to date. Among various nice handouts, the new issue of MAGIC itself is a treasure, and a special edition was given to all attendees.
MAX AND MIKE -- Much as he did with MAGIC magazine itself, Max Maven got the convention off to an intellectual high by presenting a live version of his Parallax column, which ran for five years. Neither friend nor foe (nor hosting magazine nor the guy of whom he was a house guest) was spared the heat of his dead on humor. Later in the week, Max would rise to an even greater challenge -- see below. With equally devastating humor, Mike Close brought his Marketplace column to life with a discussion of the very serious task of reviewing. Max and Mike are two of the best monologists in show business, and their contributions made this one of the strongest and most intellectually stimulating conventions ever.
AT THE MOVIES -- In appearances spread throughout the convention, Bill McIlhany presented rare video footage of magic caught on camera. My favorite bits were Veronica Lake performing some excellent magic and Channing Pollock on Daniel Boone. John Moehring also looked great on his Ed Sullivan appearance, of which we saw a brief glimpse.
UP CLOSE AND PERSONAL -- Imagine a close-up Dream Team: it would no doubt include Paul Gertner, Guy Hollingworth, Chad Long, and Bill Malone. They were all here, along with the young Buck twins (whose Dueling Banjos-style card cutting to techno music was characterized by some as "pointless masturbation" and by David Blaine as "the future of magic"). Favorites for me included Chad Long extracting cards from a wall (very weird looking) and everything that Bill Malone did. Bill's guest assistants in my set were Jillian Gotlib and one of Rory Johnston's cute boys, and he had them both laughing throughout. It's almost a contradiction in terms that anyone who studied "under Marlo" could be this funny and this commercial.
LIVE ON STAGE -- When the stage show opens with the Pendragons, you can expect it to be great, and it often was. Highlights for me included everything emcee Mike Caveney did (I have no idea whatsoever how he spins that cup of coffee about), Michael Finney, Anthony Gatto (Melinda's longtime juggler, who entertains by expert juggling, not by comedy), the very artistic Nicholas Night and Kinga, and the bouncy and wacky charm of the assistant (Muriel) to FISM Grand Prix winner Scott the Magician.
MAGIC MOMENTS -- Surprises are what you remember about conventions. When Richard Kaufman introduced Bill Malone, Bill thanked him but complained that he was accustomed to a more lively intro. Accordingly, he asked the "fellow who carries my bags" to do an intro for him, and out stepped Robin Leach, who in his best "Lifestyles of the Rich and Famous" voice introduced "the magician's magician, Bill Ma-Lone." A second big surprise was the announcement that John Moehring will now be the official editor of MAGIC.
QUIZ SHOW -- One interesting evening concluded with Mark Summers of Nickelodeon hosting a trivia contest on MAGIC magazine, with David Charvet perfect as a Don Pardo-type announcer. The results were a tad lopsided (the big prize was a lifetime subscription to MAGIC), but the questions were consistently entertaining. Great fun.
QUEEN FOR A DAY -- Jack Bailey used to host a quiz show in which the most pitiable contestant won the honor of being Queen for a Day. In a World's Worst Magic segment, Mac King and Penn Jillette vied for that honor, Mac telling the story of when he had to do his comedy magic show for a dead boy's memorial service, and Penn telling the story of an MIT buddy who performed a Uri Geller spoon bending stunt on a $250,000 Paul Revere spoon.
CUTEST BABES -- No, I'm not talking about Kinga or that spunky young girl with Scott. I'm talking about the real babes who were present -- Mac King's daughter, Elizabeth, and Michael Ammar's daughter, Savannah. Each is still under one year, but there's a lot of personality and mischief in those faces already. And such cuties.
LECTURE NOTES -- What a wide range of lectures, from Earl Oakes on origami to Tim Glancey on Sports Magic. Glen David Gold gave a great talk on his novel, Carter Beats the Devil (another intellectual high point), and I enjoyed Michael Ammar's lecture on lecturing as well as Michael Diliberto's on marketing. Numerous magic tricks were taught, of which Jon Racherbaumer's Hornswoggled variation struck me as the most effective. (Jim Steinmeyer's Nine Card Problem is the best of the lot, but better presentations have come along than the one he demonstrated.) David Kaye took a cheap shot at Melinda that scored a laugh, a moment that was counterbalanced during Gary Ouellet's lecture, when a video of Melinda levitating out of a chamber of snakes elicited spontaneous applause. David's lecture itself featured how to make three different ages of children enjoy the same trick (a vanishing silk) and was hilarious.
August 2001
I apologize for posting my mug on this site two months in a row. It was the only way I could show you the cool id badge that Stan Allen came up with for his MAGIC Live event at the Orleans this month in Las Vegas. Each attendee received an id with his photo "on the cover of MAGIC." That was one of many touches that had many calling this "the best convention they ever attended." Rather than attempt a complete report, I am listing here only the highlights that made this visit to Las Vegas special for me. Also mentioned below are Other Goings On in Las Vegas, Joe Stevens' New Products Magalog Summer 2001, a cool magic shop, and a movie worth your time.
MAGIC Live, continued from column 1 ...
THE DEALERS' ROOM -- Oops, I meant the Advertisers' Fair. Whatever you call it, it was a place for me to browse the wares of some of my favorite dealers, including H&R Magic Books and John Kennedy Magic. I walked away with a Stir Fry (excellent) and would have picked up a Stealth Retractor had John not sold out of them. His new gaff for Quarters to Glass (called Sonic Silver) is also great, and Impossible Matrix has a great new finish. John's work with coins is, as always, a joy to behold.
OLD GUARD INTERVIEW: LANCE AND CHANNING -- In a charming interlude, Lance Burton interviewed Channing Pollock, the magician who defined for many of us (those approaching geezer status) what it means to be a magician. Lance proved to be an excellent interviewer, and Channing was a gracious and generous subject.
NEW GUARD INTERVIEW: MAX AND DAVID -- All the events throughout the convention were secrets. Neither the subjects of the talks nor the performers' names were revealed until you showed up for the session, and free lecture notes were not handed out until the session officially concluded. This in part accounted for high attendance at all sessions. One of the best kept secrets revealed itself in the final "In His Words" segment, in which Max Maven interviewed David Blaine, the magician who is defining for many youngsters what it means to be a magician. Max of course proved to be an astute interviewer in what was a controversial and revealing interview. David appeared "having not slept for three nights" if one is to believe the announcement, his face hidden in the deep shadows of his baseball cap. He talked of his next project, and of being inspired by Evel Knievel. (The only place he truly ran afoul of my own world view was when he dissed two actors whose work I admire; each, I would argue, has a higher batting average than David.) As to revelations, he mentioned not only attending Tannen's Magic Camp at around 10, but also of having been a camp counselor at 18. The point here is that David knows the world of magic very well and is hardly a newcomer; when he charted his own interesting course, he was aware of what he was deviating from and heading toward. Further revelations included that he has played chess since about age 3 and that he plays basketball. At the conclusion of the lecture, David met one on one with any magicians who cared to speak with him. The youngsters flocked to the stage to do so.
THE REAL CONVENTION -- As Stan Allen noted, the real conventions always occur in the corridors and restaurants. Such it was here. I was delighted to spend time with old friends who rarely attend the Stevens convention (my usual excuse to visit Vegas) as well as those who do. Of the great magic I saw in those moments, I must cite Roger Klause's real work on the bluff pass and tilt, John Lovick's Reparation, Bob Ingalls' haunted key, and numerous sight gags and magical effects by J.C. Doty. I kept bumping into Doty throughout the convention, and he and his wife were delightful.
GROUP HUG -- At the opening party, Stan forced us to get acquainted by trading baseball cards that bore the images of the first 12 covers of the magazine. You began with a set of 12 similar cards; the goal was to end up with all 12 different cards. This may or may not have contributed to the lovefest that closed the convention. Following the final evening's stage show, and with no clear place to congregate (despite Stan's efforts, such a location never really established itself), everyone simply stood outside the theater, for hours, talking, embracing, and posing for photos. It was an unplanned moment of intense camaraderie, a statement that no one wanted it all to end, and perhaps the best tribute Stan could wish for that said, "Nice job. Really nice."
And other random topics ...
OTHER GOINGS ON IN LAS VEGAS -- I arrived early for this convention to introduce my daughter, Sarah, to some of the sights of Las Vegas. Especially interesting were the new Shark Reef exhibit at Mandalay Bay (a walk-through shark experience) and Steve Martin's art collection at Bellagio. We also took in Mystere, Siegfried and Roy's show, the Mac King Comedy Magic Show at Harrah's, and Penn and Teller's show at the Rio. The latter was particularly fun because Sarah was invited on stage to assist Penn and Teller. Her favorite? That would be Mac, but Penn and Teller were really cool.
Tuesday of the convention, with some time to kill, I attended the Orleans' pool party, an MTV-like affair complete with a bikini contest for guys and girls. (I didn't win anything.) Other friends attended Cirque du Soleil's O, where Chelsea and Bill Clinton were also in attendance.
HOUDINI'S MAGIC SHOP -- Geno Munari must have a magic shop in every first-rate hotel in Las Vegas, or so it seems. Geno's demonstrator Julie, at the New York New York shop, blew me away with her latest rendition of U.F.O. She began by spinning a penny in the air, where it floated (flat, like a flying saucer). She held her index finger vertically and passed it around and around the penny to show that it wasn't supported from the sides. Then she held her finger horizontally and passed it up, over, and under the penny, again over and over, to show that it wasn't supported from above or below. I haven't a clue. This, along with the complete Bro. John Hamman line, is a great reason to stop in at Geno's when you are in Las Vegas or to sample his merchandise by post.
THE STEVENS CATALOG -- Joe Stevens' latest catalog, or magalog if you will, contains 62 pages of world class apparatus, books, and videos. I'm partial to this issue because it also contains my acticle on Mac King's show at Harrah's, which I repeatedly enjoyed last January. It's no stretch to argue that Mac's is the best magic show in Las Vegas, period. (But don't tell him this, or he'll need a bigger grocery bag.) For further elaboration, get in touch with Joe at (316) 683-9582 and have him send you a catalog.
CURSES -- The new Woody Allen movie, The Curse of the Jade Scorpion, features Wallace Shawn as an office card trickster and Magic Show alum David Ogden Stiers as Zoltan, an evil hypnotist, along with Woody Allen and Helen Hunt as His Girl Friday-type adversaries. It's set in 1940 and has a magical feel to it. Check it out.