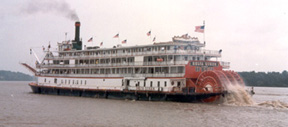 The Delta Queen heads to St. Louis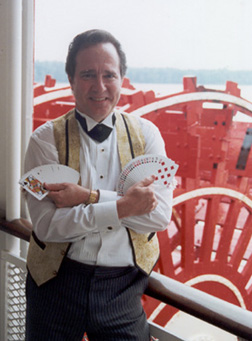 Bodine gets fancy
DEALING FROM THE CENTER -- The May 2001 issue of American Heritage features "The Magician and the Cardsharp," by Karl Johnson, by far the most complete account I've ever read on Dai Vernon's quest for the elusive center deal. Rather than replay the mythology that has surrounded this tale, Johnson has tracked down incredible detail via Allan Kennedy's relatives, and he has produced delightful photos of the Professor and his wife that are new to me. Also included is a fine mini-treatise on the controversy surrounding Erdnase.
TWO CHEESEBURGERS TO GO -- The recent David Mamet comedy, State and Main, finally made it to here in the sticks. Ricky Jay is once again present as part of Mamet's stock company, this time playing a short-order cook and dad of hot-to-trot (with Alec Baldwin) daughter Julia Stiles. The movie is a delightful door-slamming farce, and Ricky is excellent as usual.
ALOHA, RICHARD ROSS -- The word just arrived that Richard Ross died May 19 from a major heart attack at age 55. He won contests with his watch routine, but it was his incredible, silent, slow-motion Linking Ring routine that made him a magician's magician. Watching it, you could believe that steel really could melt through steel. Richard Ross pulled the Linking Rings out of disfavor and into a state of grace. He shall be missed.
May 2001
One of the highlights of growing up in Little Egypt was seeing the paddle-wheel steamboats as they cruised up and down the Mississippi and Ohio Rivers. Last July, I had the pleasure of boarding the Delta Queen (and its sister, the Mississippi Queen) for the first time, to interview the man who is keeping the legend of the riverboat gambler alive, Bodine Jackson Balasco. My notes on my visit with Bodine will appear in the June issue of Genii, and I encourage you to read it. Last year's Great Steamboat Race 2000 marked Bodine's 25th year with the Delta Queen Steamboat Company, and his is quite a story. Also this month: a new look at the Vernon center deal quest, a new Ricky Jay movie, and the loss of one of magic's greats.
BODINE BALASCO -- UP CLOSE AND PERSONAL
Q: What is your favorite magic trick (yours)?
A: My bread and butter is "Card in the Envelope." My favorite is the "Chop Cup." And my next favorite is "Louisiana Poker."
Q: What is your favorite magic trick (others)?
A: I'm going to date myself, but it would have to be Al Goshman's "Coin under the Salt and Pepper Shakers."
Q: What is your favorite magic book?
A: Expert Card Technique.
Q: What is your favorite non-magic book?
A: The Fifth Discipline, by Peter Sengue. My second favorite, the bible for personal development, is Dan Millman's No Ordinary Moments.
Q: What is your favorite movie?
A: Either The Wind and the Lion or Last of the Mohicans. And Valdez is Coming, with Burt Lancaster. I also like The Rainmaker. Wait – that's three.
Q: Who is your favorite stage magician?
A: Lance Burton.
Q: Who is your favorite close-up magician?
A: Daryl. I also like Martin Nash, who is a good friend.
Q: What are your favorite off-time activities?
A: Seeing movies and taking friends to dinner.
Q: What is your magical pet peeve?
A: How much jealousy there is in magic. We have to learn to be happy for other people's success for our own to flourish. And I am stunned that even great magicians don't understand that magic happens in the mind of the audience; it doesn't happen in your hands.