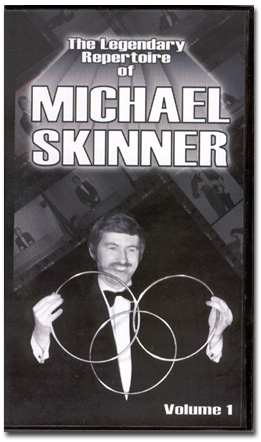 Master Wizard
THANKS FOR THE MEMORIES -- Geno Munari has done the magic world an extraordinary service by releasing two videos of Michael Skinner in his prime, before medication and madness diminished his powers. Although I never saw Michael perform at his celebrated run at the Golden Nugget, I experienced his earlier performances at the Magic Castle, before Las Vegas lured him away. Geno's videos wonderfully capture the magic of that early talent. The material was recorded in informal settings over multiple occasions, with such familiar voices as that of Roger Klause and Richard Kaufman in the background. As everyone in magic knows, Michael's repertoire was extensive, and these videos reflect that. Each is packed with far more routines than you usually encounter. Specifically, Volume I contains (in this order): Rosini Thimbles, Matrix, Thought of Card to Pocket, I Have a Surprise for You, LePaul's Gymnastic Aces, Ambitious Aces, Spelling the Aces, Red and Black Ace Transpo, All Ace of Spades, Gemini Twins, Cards Across, Slydini Knotted Silks, Jazz Aces, Torn and Restored Cigarette, All the Noncomformists, Card and Matchbook (Mona Lisa Card Trick), Push Through Failure, Card from Pocket, Dunbury Delusion, Bullet Trick, Pinochle Trick, Coins up Sleeve, Sleeve Aces, Leipzig Slow Motion Coin Vanish, Skinner Slow Motion Coin Vanish, Woodfield Torn and Restored Card, Elevator Cards, Vernon 2 1 3, Collectors, Ace Production and Vanish, and Invisible Palm Aces. Volume II contains Bro. Hamman's 2-Card Trick, Triumph, Going Fishing, Reset, Hotel Trick, Look - An Illusion, Card from Fan, Ace Production with Erdnase Patter, Sentimental Aces, Instant Aces, Invisible Palm Aces, Endfield Aces, Ambitious Aces, LePaul's Aces, One-Handed Ace Cutting, Vernon's Pseudo Center Deal, 7-Card Assembly, Sleeve Aces, Presto Change-O, Flying Eagles, Rub a Dub Dub Cups and Balls, 3-Card Monte, Phantom Monte, Skinner Cups and Balls, Chink a Chink, Silk from Bill, Gypsy Curse, Jumping Gems, Hot Rod, and Gypsy Thread. Whew. These are performance only videos, which is what video should be used for. Those who need explanations (and that is most of us) are directed to Classic Sampler from L&L and to the glorious Michael Skinner issue of Genii (November 2000), which contains such gems as the Rub a Dub trick and Sentimental Aces. Geno has done a superb job of presenting material that was recorded on dated technology. Only $29.95 each plus shipping. See Houdini's Magic Shop in our Favorite Links.
January 2002
Happy New Year -- Welcome to the first issue of a palindromic year (2002), the first since way back in 1991. This month's meanderings include the terrific Michael Skinner videos (some videos wind up on a shelf; these you will watch over and over), a behind-the-scenes look at the Harry Potter phenomenon, cookies to die for, and a link to photos of the World Magic Seminar in Las Vegas.
THE WIZARD'S SECRETS -- On January 21, A&E Biography premiered a remarkable look at J.K. Rowling, the author (the very photogenic author) of the Harry Potter series. Among other revelations, Ms. Rowling displayed numerous discarded drafts of the first chapter of Harry Potter and the Philosopher's Stone, unusable because, taken together at any rate, they told Harry's entire story. More intriguingly, she held up a box containing the final chapter of book 7, the epilogue that tells "what happens to everyone after they leave school, those who survive. Because there are more deaths, more deaths coming." These are very deep, dark secrets indeed. For secrets exposed, Issue no. 88 of Cinefex contains 42 pages that detail how such wizardry studios as Henson Creature Shop, Industrial Light and Magic, and Imageworks brought Ms. Rowling's first book to the screen, in a movie that has so far earned $300 million. The article, by Joe Fordham, is titled "Sleight of Hand."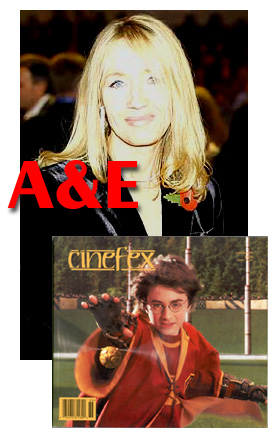 Wizard's Secrets
ROTOGRAVURE -- The 25th installment of the once Desert Magic Seminar (now World Magic Seminar) transpired in early January as scheduled, with many kudos for Gazzo, Brett Daniels, and Tim Ellis, not to mention prize winning card flinger Bin Lin (does Ricky Jay have competition?). For a just-like-being-there photo tour of the event, check out ace photographer Pete Biro's numerous photos at the WMS site (see our Favorite Links).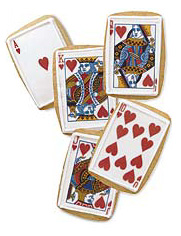 SWEET HEARTS -- Although very expensive and too cute to eat (though delicious!), these exactingly detailed heart suit cookies from Dean & Deluca are the perfect gift for your Valentine sweetie or to serve at your next card (trick) party. According to the ad: "Love is in the cards. Delectable, hand-decorated sugar cookies from Eleni's New York will win all hearts with a royal flush - 10, Jack, Queen, King, Ace. In a ribbon-tied gift tin with red-and-white-checked sleeve." I received a tin over the holidays and couldn't have been more surprised and delighted. I am down to one mouth-watering Jack of Hearts.