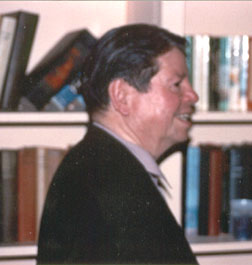 Eddie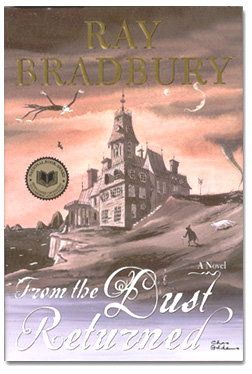 Back to October Country
A FAMILY AFFAIR -- One of the great pleasures of my youth was Ray Bradbury's "Homecoming," the story of an Addams Family type family which included a live normal boy named Timothy. I first encountered "Homecoming" in Bradbury's The October Country. It had earlier appeared in his collection Dark Carnival, and it first saw publication in 1946 in Mademoiselle, along with a two-page Charles Addams illustration. "Homecoming" and several other Bradbury classics have been stirred together into a new novel, From the Dust Returned, and the long-buried Addams illustration graces the cover. Halloween is a lovely time to visit with this quite magical family.
HAUNTED GAZETTE -- Given that this is the Halloween issue of this sheet, it's fitting to point out the existence of The Spook, a gorgeous online magazine (www.thespook.com) devoted to eerie fact and fiction. The October issue contains a fun look at Disneyland's Haunted Mansion. The drawback is that it is in pdf format (hardly my favorite) and takes aeons to download over my telephone line. But gorgeous nonetheless, and it boasts such writers as Joyce Carol Oates.
NOT YOUR FATHER'S BOX TRICK -- Dean Dill has been thrilling convention attendees for the past year with his 21st-century take on "Sefalaljia," aka "Dean's Box." I acquired one recently, just in time for Halloween. "I've no idea what it was built for, but it reminds me of the rooms in those haunted house movies, where the walls retain impressions of violent or unusual incidents. In such an enclosure, anything might happen." And it does, thanks to Dean's craftsmanship and clever routining. This is the most elegant prop I've ever owned, and it's a pleasure to use.
GHOST STORIES -- A popular new series in the mega-bookstores is The Everything ... line. Of these, The Everything Ghost Book, by Jason Rich, will give any aspiring seance or ghost show worker a firm grounding in modern opinions on ghosts, ghost hunters, mediums, near death experiences, and the like. Numerous web sites are listed for further study.
October 2001
BOO HOOEY -- The annual preoccupation with live Halloween performances explains but hardly excuses the tardiness of this issue. Happy Halloween, and I hope you enjoy the following tricks and treats.
NEW MATH -- I don't know if it's a mid-life crisis thing or what, but I keep being drawn to interesting math-based card tricks. The latest that is causing a stir among my audience members is "Triple Humdinger," from Peter Duffie's downloadable book, By All Means. A spek hands you any eight cards. You turn some face up and some face down, then make three specific predictions. The spek now mixes the cards in what he (even you, perhaps) will swear is a completely fair procedure. Everything you have predicted comes true. (Looking for Nostradamus-like fame? Place the eight cards and the procedure, along with your sealed predictions, in a time capsule and baffle some far-future generation.)
LET'S PLAY JAKS -- Few material-oriented magazines have thrilled me as much over the years as Karl Fulves's Pallbearers Review and Epilogue. I forget which is the subscription-title and which are along for the ride, but issues six of Latter Day Secrets, Discoverie, and Charlatan arrived recently from Teaneck. I found Dr. Jaks' "The Dictionary Trick" of particular interest. A sort of forerunner or at least early cousin of "Mental Epic," the mind reader divines (not predicts) a page, a word number, and the word from any of several dictionaries. For those of you familiar with the routine, the following may enhance your presentation. (My apologies if you are not a Fulves subscriber.)
Remove the ace, two, and three of diamonds from the deck. To dispel any notion of duplicates, have each card initialed on its face. Do this in value order. As a spek is signing the three, contrive to mis-arrange the ace and two. Gather all three cards face down in your hand, in two-ace-three order from the top down. The audience should think that they are in ace-two-three order. To reinforce that thought, buckle the bottom card and turn the top two cards up as one. The ace will show. Flip the two cards face down and thumb the top card (the apparent ace) onto the table, to your left. Thumb the next card off to its right, and the third card (the actual three) to the right of all. Now perform the Dr. Jaks effect, recording your impressions on the faces of the cards, from left to right. This is explained in Latter Day Secrets. Feigning disdain at "touching" any of the predictions, pick up the middle card and use it to flip over the card to its left. As you do so, execute a Mexican turnover, revealing the expected ace at the left end. (A monte toss would also serve.) You may then turn the two and the three over without any additional cheating. An apparent miracle is revealed, and the numbering of the cards emphasizes the fairness of it all.
QUIDDITCH, ANYONE? -- The ubiquitous Harry Potter and his friends are soon to take flight in a theater near you, on November 16, to be precise. It should be great fun to see Hogwarts, the school we all should have attended, rendered in full color in Christopher Columbus's $150-million take on J.K. Rowling's tale of magic and wizardry. Annie Leibovitz contributed some glorious stills to the October issue of Vanity Fair.
THE HUSTLER -- The wonderful and colorful Eddie Fields has left us at age 86. I cherish a Chinese dinner I shared with Eddie in Chicago some years ago, along with such other luminaries as Stephen Minch and Richard Kaufman. A few at the table (not Steve and Richard) were discussing subjects they had lined up for future magic books. Not one to tip his hand, Stephen didn't mention that he had already signed up Eddie for a biography, which eventually appeared as A Life Among Secrets. I strongly recommend this thrilling bio, which you can probably still obtain from Hermetic Press. (Gemini subscribers can get it half price this month only, November 2001, from Uncle Joe.) It's nice that Eddie's work lives on in the code work of Brian Gillis and Danny Orleans, plus in the hands of those who have enjoyed Jon Racherbaumer's books on Eddie. For a sample of the bio and of Eddie's remarkable contributions to magic and life, check out our Eddie Fields issue of The Little Egypt Gazette.