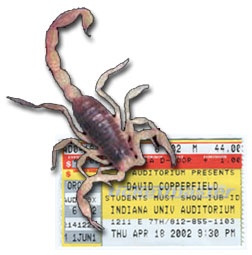 Drop dead card magic

More drop dead card magic
THE THIN MAN -- This month I finally got around to purchasing two excellent sets of lecture notes, John Lovick's The Skinny Lecture Notes (1998) and More Skinny (Lecture Notes) (2001). A bottle production, a bill switch (excellent Pete McCabe suggestion!), and numerous card tricks, along with a little cogent theory, make these notes a sound investment. If you can do the material in these pages (and you can), you'll have a very solid act. Fortunately, you don't have to root around to find them as I did. John has just rewritten and re-issued the material as a single set, called What's the Rumpus? $15 from MagicSmith.
HE'S BAAACK! -- Ricky Jay is back in New York in a new show, Ricky Jay on the Stem, again directed by David Mamet. Previews began April 9 at Second Stage Theatre, and the show will run through June 9 and then from June 18 through July 14. Tickets are $66, $53, and $46. (As this is an April Fool issue, I should probably indicate that the $66 ticket allows you one trip to the bathroom during the show. Everyone else has to hold it as in most Ricky Jay performances.) The Second Stage opened its new space three years ago in what was an old bank building, the box office occupying what was the vault. The newly designed theater seats 299 in steeply tiered seats. According to CultureFinder.com, Ricky will present "ingenious tales of conjurors, cheats, and sideshow showmen against the historical panoply of his native New York City." So far no reviews have appeared, but we wish Ricky and his audiences the same success that attended Ricky Jay and His 52 Assistants.
April 2002
Last month's March Madness in Indiana got really crazy as the upstart local basketball team made it all the way to the final game in Atlanta. It was a magical ride. As to more standard magic, this month's news includes a look at David Copperfield's recent visit, some excellent lecture notes from John Lovick, and high hopes for Ricky Jay's new show in the Big Apple.
THE SCORPION KING -- It's a shame that, at the core of David Copperfield's title illusion "Portal," the subject to be magically whisked to a South Seas island is a pathetic loser sent at the behest of his equally loser father. (The premise is that the public sent in videos begging for a free trip to Bali.) The entire hook is retro-Queen For A Day maudlin hooey. The actor in the role plays the kid as a sullen mute who, upon arrival in Bali, barely displays any surprise or delight at being there or at the magic that sent him. And how is the audience to grapple with this plot? Are we to assume that David has received hundreds of these father-son disfunctional family videos, and that a different pair is reunited each show? Or is the same pair reunited twice a night, like something out of the movie Groundhog Day? No wonder the kid is sullen. It's a shame because the flip side of this downer fake video were some extremely funny (too-funny-to-be-made-up) video sequences requesting the trip, mostly from young women wanting to meet David. It's also a shame because "Portal" is one of David's most astounding illusions, despite the suspension of disbelief it requires. David and the subject vanish from a small platform cantilevered out over the audience, and on April 18 just a few rows from where I sat at the Indiana University Auditorium. I have no idea how or where they went. The two then reappear in video enlargement on Bali. A camera trick yes, but one hell of a camera trick, with numerous convincers. How much nicer, say, if David simply "went" with someone from the audience, such as a young coed. She might be so thrilled to be there she would beam back to her boyfriend, "Charlie? I think I'll stay here a few days. Tell my mom." David might ask Charlie if he'd like to join her. Yes? "Then you'd better buy a ticket to my next show."
Despite my quarrel with this piece of writing, David's appearance at Indiana University was a two-hour tour de force by a master, arguably the best that has ever taken the stage. I've never seen David more relaxed, more cool, more in charge. He wears and exploits his celebrity well. That he can make it look so fresh and easy twice a night, countless nights in a row, is perhaps his greatest effect. As to specific highlights, I enjoyed David's horizontal penetration of a steel plate, the "Back Cracker" (surely an Andre Kole illusion in which David's upper half turns a full 360 degrees while his feet are firmly planted on the floor), the "Swap" of two ladies' underwear, the return of the slow-motion vanish of Webster the duck, and a convincing lottery number prediction, in which the numbers were not only predicted in writing, but which matched the numbers on David's grandfather's ancient auto license plates. Very cool.
The comic highlight was Binky the Clown, a vulgar, annoying creature played by Chris Kenner, apparently even funnier this night because Binky's sponge ball nose kept falling off, which seemed to crack up both Chris and David. David eventually satisfied the audience's wishes for this character by squeezing Binky's head down to about an inch thick. (The brand name on the head vice was Kornhauser.) Who would have thought that Kenner, who signed onto the show as a sleight-of-hand expert, would evolve into a gifted physical comic?
My favorite part of any illusion show is the close-up number, and this night's card trick was a thriller. David introduced a live and very large scorpion. After having a card selected, he spread the cards into a cirular fan held by a large clip. Dangling the deadly arachnid by its stinger, David dipped it into the spread until it emerged with the selected card in its grasp. This is one you won't be copying at your next Ring meeting.
Any disappointments? Yes! We had sixth-row seats, and not once did David's gorgeous female assistants slip into the skimpy, wind-blown nighties they wear for such illusions as "Voyeur" and "Vertical Metamorphosis." Maybe next year. For my friends and me, this was our last event of this year's university theater season, which included various Broadway musicals and such celebs as Willie Nelson. All agreed that the David Copperfield show was, by far, the most enjoyable of the season.