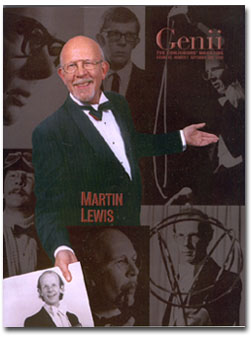 Martin Lewis tells all.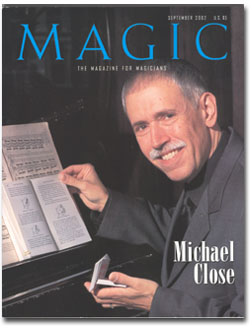 Mysterious maestro.
SNEAKY BASTARD OF THE MONTH DEPARTMENT -- Michael Close doesn't play fair, and because of this he is going to fool you. Badly. When it comes to sleights, he can do all that hard crap, like expert palming and faro shuffles. He memorizes decks and thinks of devious ways to exploit that facility. He will use such underhanded subterfuges as sticky tape and gaffed decks. He will invent completely new methods, including those that employ complex origami-style engineering. He is a gifted raconteur who will disarm you with his stories. I wouldn't put it past him to bring along his pretty new bride to distract your vision. But above and beyond all these weapons, he loves to screw you with psychological ploys, and more than once has just killed me by exploiting my assumptions. He has a razor wit and you will bleed if he turns it on you, yet he is eminently likable. (As one friend, a victim of that wit, said, "I tried hard to hate him, but I just couldn't.") For those who don't already know him as the indefatigable writer of "Marketplace" or from his extended lecture series or his Workers books and videos or his stints at various restaurants or currently at the elegant Houdini Lounge at the Monte Carlo, Mike is the subject of a John Moehring cover story in the current issue of MAGIC. Don't pass it up.
Ooo la la.
FULL FRONTAL -- Because of his full-time job as Genii editor and because of his real full-time job as a new dad, it's something of an event for Richard Kaufman to publish a new book. This month Richard released the English reprint of James Hodges' 1973 French title, Sexy Magic. Sexy Magic is a book of close-up and parlor tricks featuring drawings of nude women and of illusions featuring real nude women. (I was going to say scantily clad, but these girls aren't wearing anything. ) James Hodges was born in England but grew up in and lives in France, and both his language and his sensibilities are French. For those familiar with his $200 The Great Stage Illusions, the drawings here are sexier, with more explicit nether regions. It would be easy to dismiss this as a coffee table book or collector's item, but the magic is actually rather cool and would play well in the right venues.
Two of the routines brought back great memories. "Strip-Pop" used to be Melinda's opening effect, and it's still my favorite opener in magic. I wonder if she or her advisors learned it from Hodges' original edition. The other was "Paddle Me," which Ken Allen sold in the sixties as "The Pin-up Paddle," for $1.50. I still own one. It was made of lucite with the picture of the girl on both sides. As a teenager, when Playboy was still not allowed to show "everything," I thought it was really sexy.
I tried in vain last weekend to persuade some female friends to assist me in several of the effects as written and as illustrated, but think I could have been more successful with a little re-staging and re-costuming. "Mental Strip," in which a girl under a sheer cloth removes items of clothing thought of by spectators, could be made more accessible simply by using an opaque cloth. "Will You Flatten Me," a sort of rabbit wringer with a nude girl, could also be made palatable if the girl ducks into the box before tossing out her apparel. If you're tired of reading the same old rehashes of "Matrix" and "Professor's Nightmare" in book after book, pick up a copy of Sexy Magic. With a little imagination and the right girl, you could create a serious stir at that next Blue and Gold dinner.
September 2002
The must-read, must-subscribe-to magazines (Genii and MAGIC) for September are out, and they feature two of my favorite magicians, Martin Lewis and Michael Close. Also in the mail this month (in a plain brown wrapper) is James Hodges' Sexy Magic and a small gem from Aaron Fisher, The Paper Engine. The latter arrived only yesterday, too soon for a full look, but the sleights I've sampled are a treat and the book lives up to its sky-high expectations. Out west, Milt Larsen is presenting It's Magic all over the place with a shifting team of magicians including Juliana Chen, Jeff McBride, Ray Pierce, Dana Daniels, Brad Cummings, David & Dania, The Gleasons, Bruce Block, Whit Haydn, and Magic Feets. Catch it at a theater near you. Milt himself will be hosting a seance at the Magic Castle on September 20 and appearing in Las Vegas in October, once again opening for Amazing Johnathan. Meanwhile, Paul Harris's "Deep Astonishment" continues to astonish as we head into magic's prime season.
MARTIN LEWIS, PAGE TWO -- One of the pleasures of contributing occasional pieces to Genii is that Richard Kaufman grants you plenty of ink with which to tell your tale. I think we may have set a record with the Martin Lewis issue, with 27 pages devoted to Martin plus a cover plus a nice mention in Genii Speaks. I think we also hit a record for style: This was the first issue designed by Richard's wife, Liz, and it's gorgeous.
Despite Richard's generosity, a few items not related to magic wound up on the cutting room floor (or whatever magazine editors call it), and I'll mention them here as they paint a larger picture. When I asked Martin about his youth in England, and particularly about his interests before magic, he responded, "I'm a pretty compulsive person, so whatever hobbies I had, I went into full tilt. I loved fishing, angling. I did that almost to the exclusion of anything else. This is highly unusual since I'm a night person. I used to sit up to two or three o'clock in the morning playing chess with Dad, many, many times. All of that changed because I had to get up to catch that early morning rise, and I would be up at five o'clock in the morning. I did that for many years, and won a few little awards and prizes for it. I won a set of encyclopedias for a spinner that I designed. After that, around about 16, I suddenly wanted to become a rock star. So I learned to play a guitar and built my own guitar in my dad's workshop. After that came model aircraft. That was all I did. I designed my own model aircraft and various things, and went flying around with those. I used to love to race motorcycles. Some friends and I would go out to a friend's garage and take these little junk motorbikes we would buy apart and rebuild them and race them." Later, when I asked him how he felt about being uprooted and moving to the United States, he referred back to these interests: "At the age of 19, I was thrilled at the opportunity of going to live in America, especially California. You recall earlier I told you I was very much into racing motorcycles. We used to drag race, which is just a quarter mile. Some of the great drag racing sites are right here in California, so for me this was like, 'Would you like to go to heaven now?' I couldn't wait. Yes, for me it was wonderful."
For a more complete look at Martin's current likes and dislikes, peruse:
MARTIN LEWIS--UP CLOSE AND PERSONAL
Q: What is your favorite stage routine (yours)?
A: "Tamasudare." (Manipulation of a bamboo mat, sort of a Japanese troublewit, that Martin uses to close his show.)
Q: What is your favorite stage routine (others)?
A: Jeff McBride's "Miser's Dream."
Q: What is your favorite close-up routine (yours)?
A: "Spelling Collins' Aces."
Q: What is your favorite close-up routine (others)?
A: Goshman's Coins.
Q: What is your favorite magic book?
A: Greater Magic. Anything by Professor Hoffman. Recently the Tommy Wonder books.
Q: What is your favorite non-magic book?
A: Non-fiction: Edward de Bono's Lateral Thinking. Other: The Rubaiyat of Omar Khayyam.
Q: Who is your favorite magician?
A: John Ramsay.
Q: What is your favorite movie?
A: Robin Hood (Errol Flynn version).
Q: What are your hobbies/interests outside of magic?
A: I love to cook.
Q: What is your magical pet peeve?
A: People who inadvertently expose magic.
STICKING IT IN DEEPER -- Many magic tricks read well but don't play well, and vice versa. You don't really know until you try one out on real people. Paul Harris's new "Deep Astonishment" reads well, but I didn't know how well it would play until a recent weekend in which I had the opportunity to try it on numerous groups. It simply devastates. I don't think it would "out of the box." That is, you'll need to make the adjustments Mike Close recommends in his review of the trick (this month, September 2002, in MAGIC), which I had anticipated and implemented, and several of which are on the www.deepastonishment.com web site. I rarely purchase and even more rarely like marketed card tricks, but "Deep Astonishment" can seriously damage the sensibilities of your audiences. Use it with care.