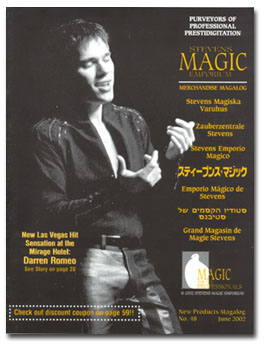 Vernon always thought combining magic and music was a great idea.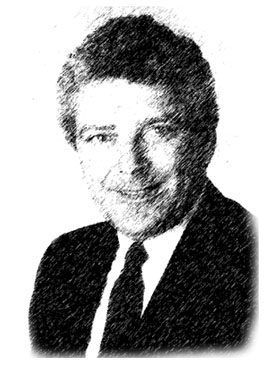 Gary Ouellet
GARY OUELLET -- I've always secretly harbored two retirement plans. One was to win the Lottery. The second was to quit my day job and go to work for Gary Ouellet. If I wasn't lucky enough to star in one of his many televised magical extravaganzas, then I figured I could work out some backstage roadie position, perhaps carrying his cameras to tape the most beautiful woman in Brazil, or some equally tantalizing endeavor. Alas, the dream vanished with Gary's untimely passing. It would have been enough if all he had done was give us those tv specials. I grew up with only three networks, and my home town accessed only two of those in the early years. Each Sunday I'd hope Ed Sullivan would have "something for the kids," and it would be Mr. Electric or Richiardi. It's Magic had its brief run on tv, and there was Mark Wilson and Don Alan, and then the long drought until Henning and Copperfield. Gary not only brought magic revues back to television, but did so in a way that understood the MTV generation and the ways of remotes. Each show was a dream convention of magicians, with Mac King tying it all together. The shows have developed lives of their own on Fox Family, a fitting tribute to a guy who, despite staying behind the camera, has recently been magic's Dick Clark. But beyond all this, he was a really nice guy who loved his family and loved magic, and he would talk with any of us on this ancient art. There wasn't a hint of snobbishness about him. I shall cherish my conversations and email exchanges with Gary, and I shall miss him.
ALOHA TO MORE NICE PEOPLE -- It seems to be the month for untimely obituaries. The Stevens catalog brought news of the loss of the very nice Gloria Marcom (aka Vampira), and our hearts are with Billy McComb over the loss of his son Sean.
June 2002
Ah, summer. Time for big conventions, big new books, and blockbuster movies. Me, I've loaded up my new iPod with the songs of my youth and am heading to Florida for the first extended vacation in years. If there is a July edition of this sheet, I'm doing something wrong. Although I hope the trip is more Jimmy Buffet than Jimmy Grippo, magic is seldom far from my consciousness, and I hope to have much to report on by August. Meanwhile, the current edition reports far too many untimely passings, notes media coverage of Darren Romeo's opening, hypes a fantastic card trick from Karl Fulves, drools over the summer's reading list, and muses on Carter the Great's love interest. As we always wrote in those yearbooks, have a bitchin' summer.
AND A ONE AND A TWO -- The new Stevens catalog sports a rocking image of Darren Romeo, continuing the cover story media interest in Darren that began last month with Genii and will no doubt grow if Darren's new show at the Mirage proves to be a hit. Heck, I'd probably travel to Las Vegas just to see Darren's fetching assistant Kristy. I happened to be in Chicago recently and dropped in at Magic, Inc., where Jay Marshall stood behind the counter, as he should forever. Jay had just returned from catching Darren's show in Las Vegas. It occurred to me that Jay was really the first singing magician. And he tried to do it without moving his lips.
MORE BURIED TREASURE -- Last month's David Regal article in Genii spurred considerable interest in hidden gems among our overabundance of magical literature. I hesitate to add my longstanding favorites to the list (I hoard them), but will let a new one slip. The latest issues of Karl Fulves's magazines Latter Day Secrets and Discoverie arrived this month. In the latter, "Nothing Just Happens" is one of the most diabolical card tricks I've ever read. It should fool anyone not familiar with its secret, especially magicians. Karl Fulves's material and views remain as fresh as ever, reminders of those heady days when Pallbearers and Epilogue and Chronicles burned brightly on the close-up scene.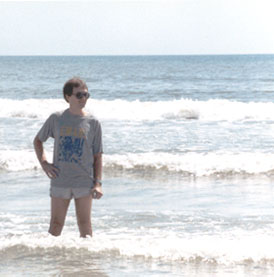 Ye editor thinking about beach beauties and Key Lime Pie.
ON THE BEACH -- While most of you are already on your way to magic conventions in New York City or San Diego, I'm biding my time with plans for a week on the beach at Daytona and a few days at Disney World. Although magic doesn't figure into these plans directly, I hope to be able to stock up on some serious summer magical reading, with new books promised from Aaron Fisher, David Regal, Darwin Ortiz, and Jack Avis and Lewis Jones. In addition Richard Kaufman has announced the reprinting of James Hodges' Sexy Magic, first published in France in 1973 and featuring images of or actual nude women. Those who purchased the two-volume The Great Stage Illusions of James Hodges know what to look for. See you at the beach!
CARTER REVISITED -- I finally eked out the time to read Glen David Gold's highly-praised (does praise come any higher than news that Tom Cruise has signed to play Carter?) Carter Beats the Devil. I confess to not liking Carter himself as much as I should have. Gold was stuck, I assume, with the fact of Carter's being a real person, but I disliked encountering a character more financially dense than I, or a magician who would launch big (and dangerous) illusions before audiences without having ever tried them. Yet Carter's love interest, the blind beauty, Phoebe Kyle, is one of the great creations in romantic literature, and her dialogue with Carter was, as the British would say, spot on. It's an exciting read and should make a terrific movie.