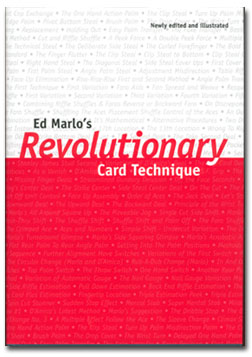 Groundbreaking card magic

A talent as big as Texas
A KISS IS STILL A KISS -- Magic tricks that lead to meeting girls are special; those that might lead to getting kissed by those girls are priceless. That just might happen if you spring Paul Harris's "LipSmacker" on an appropriate candidate. (It helps if you can also approximate Paul's boyish charm.) The effect is dead simple. You produce a container of breath mints and pour a couple into the young lady's open palm. She clearly has two mints in her hand. As you close the container, you instruct her to make a fist. With a clearly empty hand, you magically extract one of her mints and hang it in midair. Move your face to that spot and magically suck the mint from its invisible resting place so that it appears, for real, between your lips. Your volunteer thinks "No way!" as she opens her hand to find only one mint left. She is impressed, the two of you kiss, and life is grand. "LipSmacker" comes with three presentations that result in the vanish and reproduction of the mint, easily learned from eight pages of photographically illustrated instructions and of course the special something that makes it all work. Make yourself kissable for only $15.
April 2003
April -- time for spring break and for stocking up on summer beach reading. With a ton of stuff recently available and the Baker and new Giobbi books on the horizon, this is a pleasant assignment. This month takes a look at stuff by Peter Duffie and Robin Robertson, Ed Marlo, and Paul Harris along with a cover article on one of the nicest guys in magic.
CONSPIRACY THEORIES -- If you've been looking for the perfect book for summer beach reading, look no farther than Card Conspiracy Vol. 1 by Peter Duffie and Robin Robertson. I found this comb-bound 120-page collaboration far more fun to work through than some of the more heavily anticipated books of recent months. The layout is along the lines of Royal Road. That is, a principle is introduced, followed by several tricks that use it. Although the new tricks for familiar principles are excellent, the real pleasure in this book lies in being reminded of principles you have overlooked in the past or simply forgotten. My favorite of these was "Daley's Delightful Switch" and its accompanying "Hotel Daley." Try the switch in a three-card monte routine; it's perfect. The principles are distributed among 12 chapters and are in alphabetical order. As these chapters run from "Biddle Force" through "Hummer Principle," you may note that a significant chunk of alphabet remains. That's the even better news: a Volume 2 is in the works for later this year. $30, obtainable directly from Peter Duffie. I acquired mine in the U.S. from H&R Magic Books.
LONG LIVE THE REVOLUTION -- In P.G. Wodehouse's Blandings Castle novels, Lord Emsworth is never happier than when losing himself in a copy of Whiffle on The Care of the Pig, and all is right with the world. Magic offers us any number of such reference books to lose oneself in, but I've rarely come across one meatier than the complete Revolutionary Card Technique by Ed Marlo and just published in hardback (538 pp!) by Magic, Inc. All is right with the world. I must confess to have always found Marlo heavy going. When I dip into his world, and especially his Revolutionary Card Technique series, it is as though I have stepped into a fourth dimension where wonderful card sleights abound but which are different from anything I've encounted elsewhere and perhaps even out of range. (My range, that is. I had the great pleasure of seeing Ed Marlo do this stuff at a Desert Magic Seminar.) I spent my card magic adolescence with Harry Lorayne and Steranko and Vernon, always aware of Marlo but never quite in tune with him. I rather like it that way, knowing that there is this incredible world of card magic available to me if I only choose to look around the corner and accept it. Those of you new to Marlo should check out the article "Revolutionary Card Technique Redux" in the May 2003 issue of Genii, by Chris Marshall (Jay's grandson). Now, where was I? Oh, yes. Getting into palm position, ninth method: "Similar to the 8th Method except here the thumb and 2nd finger, which grasp the sides of the originally palmed cards ..." You can't make this stuff up. $50 from Magic, Inc.
MR. UNDERGROUND -- Anybody who knows Chuck Smith can't be all bad. As it happens, current MAGIC cover boy Roger Klause not only knows Chuck Smith, but has intimately known Faucett Ross and Dai Vernon and Michael Skinner and virtually all the other greats and the serious nobodies in magic. One of the true delights of attending a Desert/World Magic Seminar, which Roger and his Texas buddies helped spawn, is to spend some moments with this guy who is both generous to a fault but who also loves to screw with your head. Don't overlook this fine article by Lance Pierce, who also wrote Roger's 1991 Roger Klause in Concert and is working on a new Klause book to be called Reflections. One of the things I learned from the article is that I have been "in magic" three years longer than Roger has. The next time I see him, I shall have to give him some tips.