Wordplay.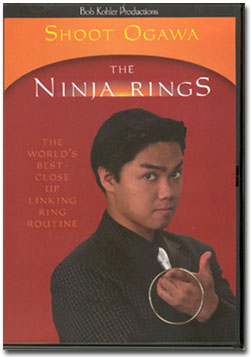 Lord of the Rings.
MAX SCAM -- Are titles that sound like palindromes allowed? I'll utilize one anyway, even if I can't get the U.N. Security Council to sanction it. Redivider, by Phil Goldstein from Hermetic Press, is a little gem of a book containing 24 tricks involving Palindromic or Stay-Stack stacks. The book is an exercise in high spirits that evidence themselves in both the routines and the writing. Among the routines I especially enjoyed are one in which the Stay-Stack and Gilbreath Principles combine to force a number, one in which Holmes and Watson help discern a villain's name, one a royal marriage routine with a great gag ending, one a poker deal that invokes Wild Bill Hickock's Dead Man's Hand, and one a comedic Psychic Poker routine that identifies a card in the spectator's possession. As to the writing, palindromes permeate the text: they turn up in the trick titles, in the first and last words of each trick (leading to such uncharacteristic lines from the author as, "If that doesn't suit you, invent your own, bub."), and in the titles of the illustrations; additionally the pagination runs both backward and forward. And speaking of Holmes, I'm sure any Sherlock Holmes-type readers will quickly deduce from this book that Max drives A Toyota, that his favorite rock group is Abba, and that his favorite expression, each time he is nipped by one of Pam Thompson's pooches, is "Goddam mad dog." I apologize, but the writing style of Redivider is infectious. $15 + $3.50 p/h from Hermetic Press.
LIKE RINGS OF SMOKE -- Last October, when some friends and I attended the Magic Castle's Houdini Séance, we were fortunate to catch the early Parlour show starring Shoot Ogawa. His charming magic captivated us, and the standout item in that show was his "Ninja Rings" presentation. Using only four rings in essentially a close-up setting, Shoot performed moves I've never seen before. You can learn these moves yourself (some I didn't think possible until I actually tried them) thanks to a superb teaching DVD featuring Shoot. The DVD and a set of nickel-plated rings are available from Bob Kohler for $29.95 each. The charm is extra.
March 2003
It's March Madness time again. I'm talking basketball (Go, Illinois! Oops. Went already, Illinois.) and my buying frenzy. My stressed-out credit card brings you a look at a cool book of card tricks, a fine trick deck, a very hip magazine, a very hot linking ring routine, and the slickest way I know to hover a few inches off the ground, along with some nice news out of Las Vegas and a birthday sentiment.
BIRTHDAY SURPRISE -- While fetching an empty box from the garage in which to ship my daughter a birthday present, I came across a delightful surprise, Docc Hilford's "Atta Girl" deck which had been sent to me for review (and overlooked). Docc has invented several trick decks over the years, and this one ranks with his best. Old timers will recall "Atta Boy," a card trick involving a plywood cutout of a bellhop. Docc's new deck allows you to achieve the same effect without the cheesy (now vintage) wooden doll. Using the deck alone, you allow three specators to select a card. After shuffling, you spread through the cards three different ways. Each time, a spectator stops you at his card. Very nice, and all self-contained in the deck. $25. And hey, Sarah: Happy birthday!
IDENTITY CRISIS -- Back in 1995, Bill Goldman launched a magazine called Bill Goldman's Magic Bar & Grill. He may think he launched a restaurant, but so far the thing looks more like eight issues of a magazine similar in color and trick caliber to Pallbearers Review but far funnier. Issue 8 just appeared, and, slow on the uptake as ever, I only now took the opportunity to acquire the entire set. What a find! There is plenty of humor and cool stuff to think about, along with such repertoire enhancing magic as a flashy napkin restoration ("Hot Plate Special"), a version of "Immaculate Connection," a "Chameleon Bill" better than most currently on the market, a page-in-magazine miracle ("Like a Bird on a Wire"), two newspaper restorations (both eschew the tearing part), and "Whatever," a "Confabulation"-type mental experience. Goldman takes extreme pleasure in fooling other magicians, and there are items in here for that low purpose as well. $73 pp for all from Bill Goldman. $11 pp for Issue 8 only.
YOU WILL BELIEVE A MAN CAN FLY -- That was the catchphrase for the first Superman movie, and it might just work for you if you pick up one of Peter Loughran's "Elevator" gadgets. You don't really fly, and you don't really levitate all that high: just a few inches. But a few inches was enough for David Blaine to elicit screams from three women on his first tv special, and now you can do it with far less concern over angles or spectator placement. You walk away from this soooo clean. What you get for $99.50 is a very well made gimmick, a mss, and a CD containing a Quicktime movie of Peter explaining the thing. I like this. I quickly worked out alternate presentations that make it more natural for me and less physically challenging. Now I float with ease. Patter suggestions: "Hey, how's the weather down there?" "Hey, if I lose a few more pounds, I might make it all the way to the ceiling." "Man, I hate it when that happens."
CLASS ACT – The Las Vegas Review-Journal recently named Houdini Lounge star Michael Close as its Staff Pick for favorite magician (Lance Burton, also of the Monte Carlo, was the Readers' Pick). This is a well-deserved accolade, and it's great to see Mike getting some name recognition in a town where you can't toss a casino chip without hitting a magician. Those of you who have visited the Monte Carlo's Houdini Lounge know it's one of the classiest spots to work in Las Vegas or any city, and Mike certainly measures up to the ambience. He also plays piano between card tricks, and you can sample that equally excellent material via a new CD he has just released. Check Mike's web site via our Favorite Links. P.S. The Monte Carlo's stage magician ain't bad either!