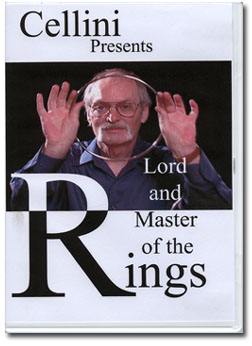 Ah, my precious...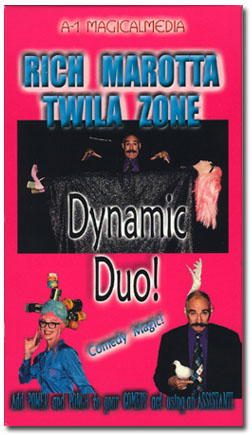 It takes two to tango ...
LIKE RINGS OF SMOKE -- I can recall with a thrill several outstanding performances of the Linking Rings over the years: 1. Richard Himber's 3-Ring Circus, on Don Alan's Magic Ranch. 2. Johnny Carson doing Symphony of the Rings on his show. 3. Jay Marshall and his 5-Ring Routine (various conventions, and probably Ed Sullivan). 4. Richard Ross and his beautiful routine, on tv. 5. Martin Lewis in a Seattle comedy club. 6. Dai Vernon on It's Magic. 7. Shoot Ogawa at the Magic Castle. To these add the astonishing 2-ring work of Cellini, performed and explained on his new video, Lord and Master of the Rings. In this refreshingly brief 18-minute instructional DVD, Cellini exhibits truly graceful and extraordinary moves using nothing but an ordinary key and a single. Most of the links and unlinks are silent, and the entire routine plays well to music. Whether you wish to learn this entire, extended 2-ring routine, or to simply add a few 2-ring moves to your existing routine, this DVD will take you to places the rings have never taken you before. Each move was a lovely surprise, and all are within your reach. Simply a must for anyone who does or wishes to do the Chinese Linking Rings. $24.95. A steal if you do the Rings at all.
AND THE WINNERS ARE -- Congratulations to Jason Latimer for bringing home the gold, as Lance Burton says, for the U.S. in Close-up Magic at FISM, the first year FISM has separately awarded the Grand Prix for Close-up and Stage Magic. Jason also picked up an award for Invention. The Stage Magic Grand Prix went to Norbert Ferre of France. Gregory Wilson picked up a second place in Card Magic behind Magomigue of Spain, and Danny Cole of the U.S. picked up a third place in General Magic behind Pat Perry & Archibald of Switzerland (first) and Simon Pierro of Germany (second). Wish all these acts and the other winners were available on DVD!
July 2003
Ah, July. For those who have followed our family exploits through the Little Egypt Gazette years, you know this is the month that my wife, Malificent, and I journey to Florida to visit our son, Urchin, and his family, featuring my flesh-and-blood grandson, Mad Max (see photo at bottom). (My daughter, Vixen, for those keeping tabs, is about to leave Chicago to attend grad school in California.) Indeed, it was a treat to spend a week in an ocean-front condo at New Smyrna Beach, dining on fantastic seafood and the spectacular French pastries of Mon Delice. Nearby Daytona Beach Magic provided one entertaining afternoon, and it was especially delightful to meet the store's new 10-year-old demonstrator, C.J. During the days lolling on the beach, I managed to peruse some of the items mentioned below and to finally begin the vaunted Kavalier and Clay. See you next month (actually, later in August) with, among others, the Flicking Fingers' excellent The Movie.
HOWDY, PARTNER -- One of the perks of being a magician is to get to work with a great-looking female assistant, or a bunch of them if you are David Copperfield or Brett Daniels or Lance Burton. If you have a parlor or comedy club act and your girlfriend/spouse has been wanting to break into show business with you, Rich Marotta and Twila Zone's new video, Dynamic Duo, will tell her how. I've been a fan of Rich Marotta many years, but have never seen him work with Twila. So, first things first: Twila is great. She's attractive, perky, and smart, and she makes both the act and this tape better for her presence. She handles many of the explanations and leads the interview segments with Rich. Second, this video is great. It's loaded with insights as to how and why a partner can enhance an act. Finally, the tricks are great. Rich and Twila illustrate their points with segments from the act. It was fun to see a Westgate bowl production exposed, some special design features of Rich's French arm chopper, and how to rip a girl's heart out with no cover. (And, hey, Rich: what you did with the microphone midstream saved my butt yesterday when a similar situation occurred.) Although I have no plans for a duo act, I frequently use an "impromptu" member of the audience for special situations. This video will make my next such occasion better. $34.95 on DVD (even cheaper if you screw up as I did and click on the VHS version, but I don't recommend doing that).
ALOHA -- In 1989, Bill Larsen put together a sort of Hoosier week at the Magic Castle, featuring Kevin King and me in the Close-up Gallery and Carl Andrews in the Parlour. Carl and Kevin have moved beyond Indiana to fame and fortune, with Carl moving all the way to Hawaii to establish a niche in Maui. If you'd like to follow in his sandprints, Carl's new book, Magic from Maui, will teach you how. Carl's magic is reduced to only the essential entertaining elements, and he tips his entire working repertoire here, first-rate material with coins, cards, flash paper, dice, cups and balls, and a Hawaiian lei. Carl also shares ideas with which to successfully market what is essentially close-up magic or close quarters parlour magic. Illustrated by Tony Dunn, edited (not quite perfectly) by Anthony Brahams. Perfect bound, 96 pp. $30.
THINK TANK -- One of my pet peeves over the years is book tests that cost hundreds of dollars but whose ads don't come close to describing the effect. It's usually something such as, "Spectator thinks of any word, and you name it." You know there has to be some procedure involved, but that is always omitted, like whatever the hell is omitted in those hair restoration ads. If Chuck Hickok's new book, Mentalism, Incorporated, serves no other purpose, I treasure it for revealing the gist of the methods behind Larry Becker's The Ultimate Flashback Set, Keith Fields' Insight Book Test, and Ted Karmilovich's Mother of All Book Tests (all with permission!). The good news is that there is finally enough info to make an intelligent book test purchase decision. The bad news is that you may want them all, as Chuck Hickok routines them all into one stunning demonstration in "Books Galore." But there is much more to this book, the complete how and why behind Chuck's corporate mentalism act. Chuck came to mentalism and magic late (age 35), and although he picked up on a couple of old mentalism saws I have always considered plain looney (such as aversion to playing cards), all his choices work for him, and those in this book will work for you. I greatly enjoyed a bonus routine on how to teach an audience to learn to say the alphabet backwards in under 5 minutes. A nicely done hardbound book, 184 pp. A tad expensive at $59.95, but a rewarding read.