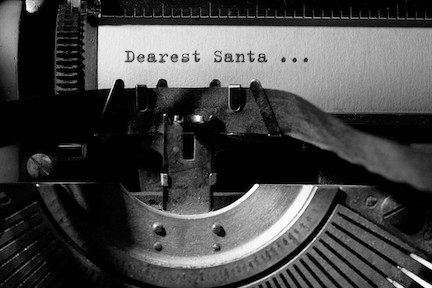 THE MAGIC THAT GOT AWAY -- Was there ever a magic trick, book, or collectible that you wanted but couldn't afford it or otherwise justify the purchase? A Super X perhaps? The Harbin book? A Super X was only fifty dollars when I was a kid, but hey, that was FIFTY %*-ING DOLLARS. Spendy apparatus was the stuff of dreams. "I think he is going to turn pro," one local magician said of a fellow magician-clown when the other acquired a Super X. (That didn't happen, but the illusion looked great on a parade float.)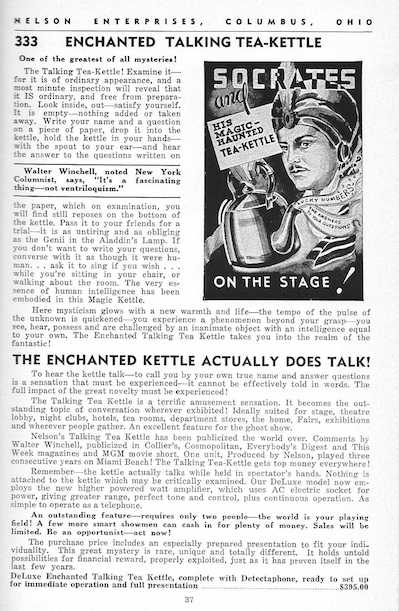 It's not ventriloquism!
My own unfulfilled desires tended toward the dark side of magic, much of it from Nelson Enterprises in Columbus, Ohio. I longed to speak with the dead through an Enchanted Talking Tea Kettle. Milt Larsen, in his recent bio of his father, recalled hiding in the bathroom at one of his dad's parties and being that disembodied, voice. Ah, but I was twelve, and the tea kettle was $395.
For another buck you could buy Mombo, the Talking Shrunken Head. I didn't end up with one of those either, but did acquire a number of shrunken heads. Some looked pretty good. Queue up your favorite gags from Disney's Jungle Cruise.
Nelson's Miracle Prediction of the Ages (a newspaper headline prediction) was an astounding fifty dollars, hence it had to be great. You could float a neighborhood girl for that! The future wasn't cheap. Nelson's Prediction Chest was $195. But did it ever look swell.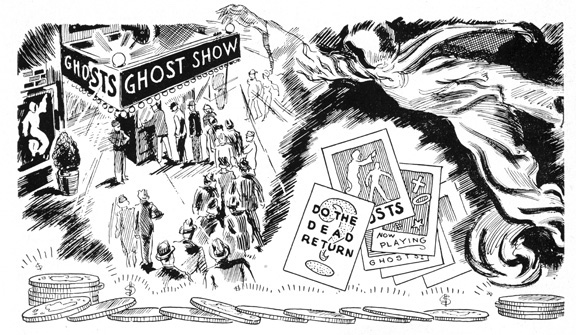 The complete London Midnight Ghost Show, only $165.
And what teenager wouldn't want to rent a movie theater and terrorize his fellow teens with a complete London Midnight Ghost Show? For $165 you received the complete package deal including "all necessary apparatus, spooks, etc." I wonder if any of the celebrities in Mark Walker's Ghostmasters started with this catalog item. (I came close to my childhood dreams, performing ghost shows in a Little Egypt bar and writing a children's novel, Lucas Mackenzie and the London Midnight Ghost Show.)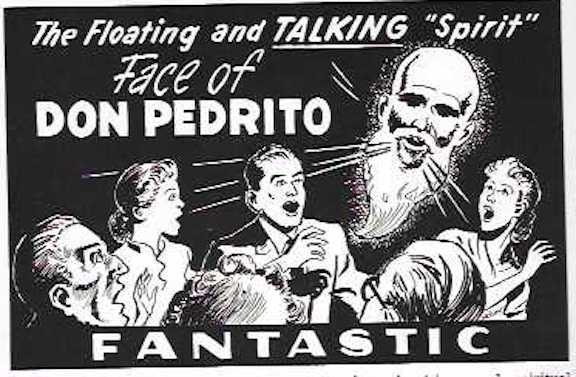 Is that Eugene Burger?
Sometimes comparative pricing stayed my check-writing hand. The Floating and Talking Spirit Face of Don Pedrito at $16.50 seemed too good to be true next to strong magic tricks for $3.50 from Douglas Magicland. And yet …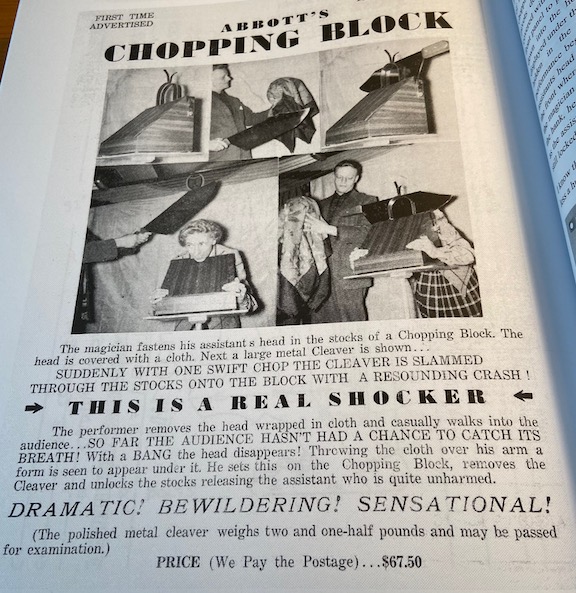 The head vanishes with a loud pop.
I rarely dreamed of owning illusions but always coveted Abbott's Chopping Block., at $67.50 back in the day. Alas, neither my mom nor my female classmates could bend their heads as I assumed would be necessary.
The Amazing Johnathan's Knife Thru Arm is the wickedest, most deceptive version since Discoverie of Witchcraft, but the $210 fee demanded consideration, and it was just too weird for me to buy a signature trick from a friend. Love to play with it, though.
Oh, there is still plenty on my wish list, but I'll keep that between me and Santa.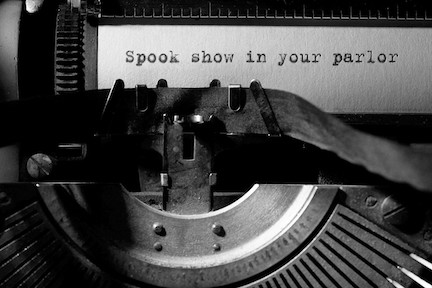 LET'S PUT ON A MAGIC SHOW -- When The Little Egypt Book of Ghosts surfaced in 2008, it contained material developed for over five decades of children and adult Halloween parties. You will learn how to teleport someone into a graveyard, to rip a girl's heart out, or to produce something ghastly from a bucket of swamp water. But the material doesn't stop there. Additional performance pieces have appeared here in Little Egypt Magic, enough to conduct a seance or host a Spook Show in Your Parlor. To summarize …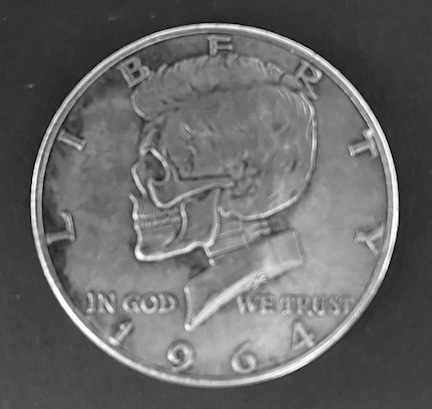 Heads you win, tails you die.
Heads You Win, Tails You Die is a spooky interlude involving six playing cards and a haunted coin. Introduced in "Heavy Metal" in March 2021.

A sence in your pocket.
Various uses are suggested for The Haunted Key Deluxe, reviewed and discussed under "A Seance in Your Pocket," October 2021.
"Let's Play Jaks" in October 2001 is a Dr. Jaks mentalism piece, contributed later as "Dr. Jaks Goes to Mexico" in Card Magic USA.
A routine for Meir Yedid's Ouija planchette (tie pin) is suggested in October 2020, one of the issue's "Devilish Deals."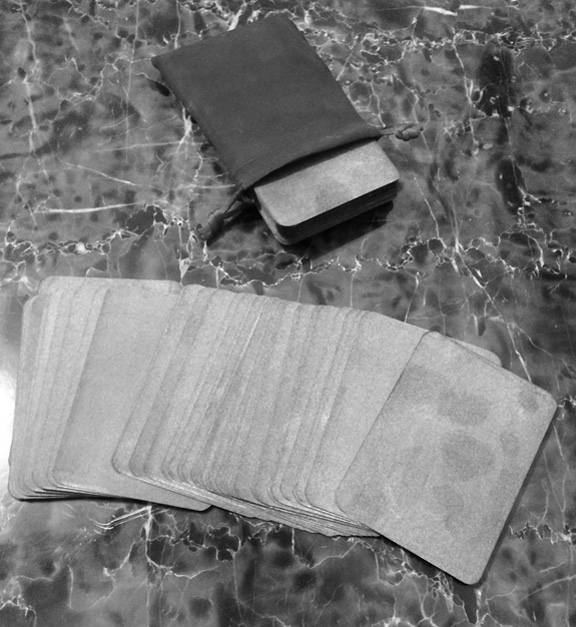 Spirit slates you can shuffle.
Aaron Smith's The Magic Depot's Deck of Slates is is reviewed under "Shock Theatricks" in May 2017. These are terrific ghost show props, like 52 little slates instead of playing cards. Five original tricks are included.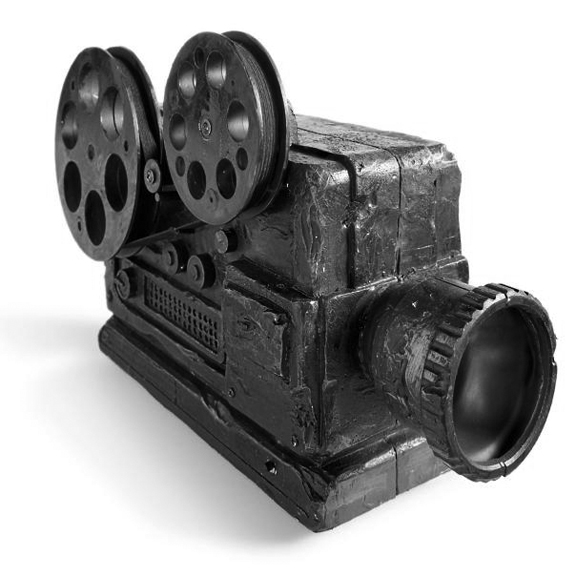 You will need a haunted antique movie projector.
"Halloween at Home" is my three-phase five-minute seance, involving an antique haunted movie projector, first published in October 2017. I later contributed this to the October 2020 issue of Genii, along with Crypt-ography from Book of Ghosts, a spooky poem, and a discussion of poetry in seances that contains a half dozen or so performance ideas.
All in all about 20 ideas to enliven your next Halloween party. Enjoy!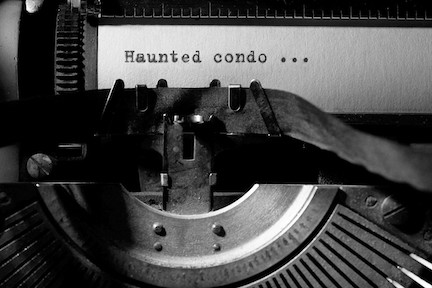 IT MUST BE OCTOBER! -- My digs here in Indiana are spooky most of the year, but Halloween brings out a few special pieces.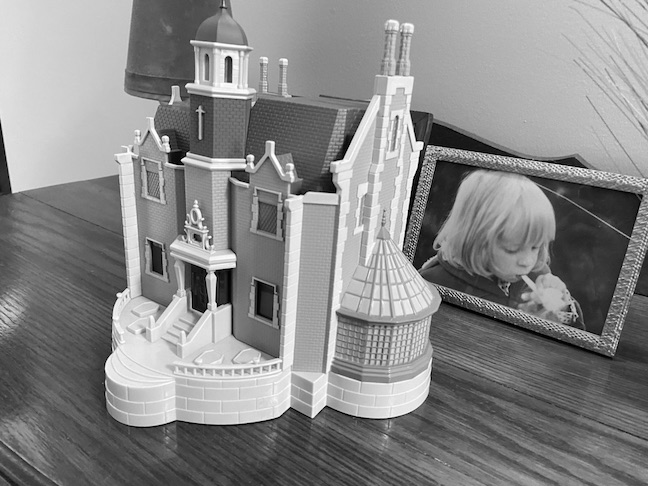 Welcome, foolish mortals.
This toy Haunted Mansion makes the spookiest sounds. from "Welcome, foolish mortals" to "I didn't mean to frighten you."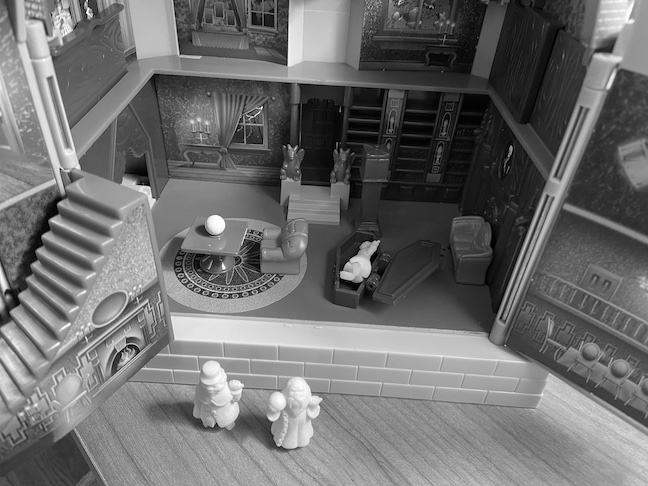 There's room for one more.
Inside it comes fully furnished, haunted by glow-in-the-dark ghosts.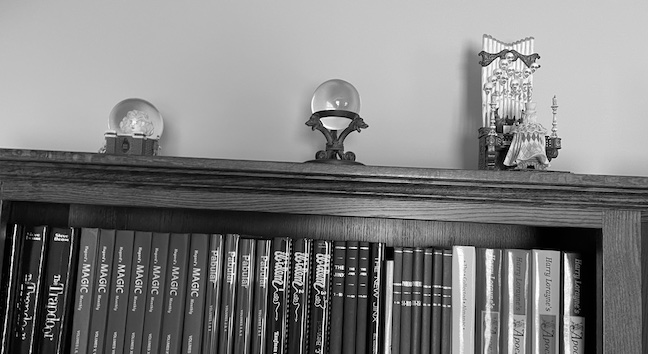 Magazine art.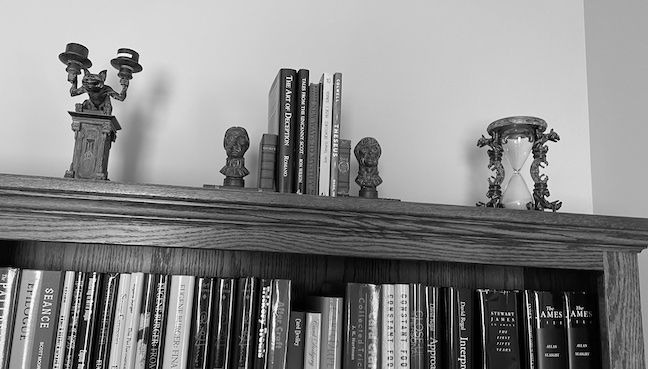 What's going on up there?
Haunted Mansion gizmos haunt the library shelves.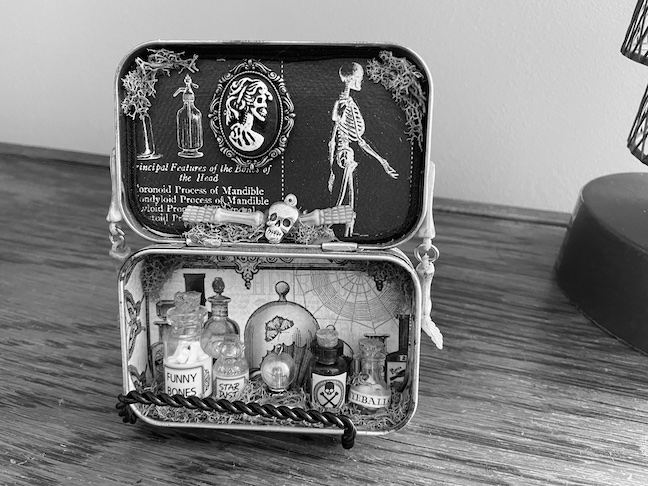 Haunted Altoids tin.
My sister-in-law can even make an Altoids tin look spooky.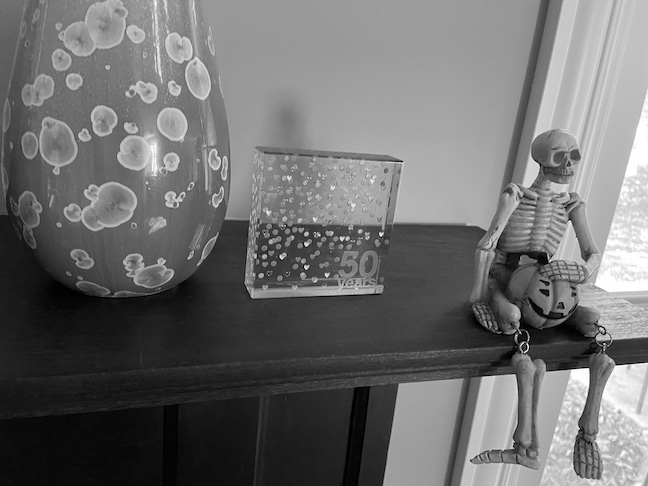 This guy visits every year.
You've been married how many years?
They should make Addams Family Legos.
As I recall, it took 2401 Lego bricks to construct this spooky domicile.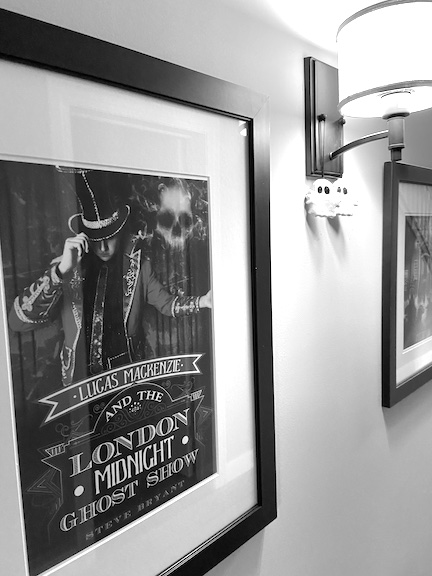 Lucas Mackenzie is coming to town.
Souvenirs from my nights of writing spooky novels.