A SEANCE TRILOGY -- It has been a while since I performed a Halloween show such as described in The Little Egypt Book of Ghosts. Often, it is a new spooky magic trick, a book such as Eugene Burger's Spirit Theater, or some unique Halloween prop that kindles my desire to "put on a show." This year, it's a delightful prop, an antique haunted movie projector. I first obtained mine through grandinroad.com, but they sold out in early September. I have also seen it elsewhere on line and in one of the Halloween super stores that open seasonally in empty K-Marts. (Note: it is not the projector sold at Target.) As pictured below, the projector is about 8 by 11 inches in profile. When you turn it on, its reels turn, and it plays Scott Joplin's "The Entertainer," rather loudly, as it projects a movie of a dancing skeleton on the wall. It runs for an eerie 45 seconds, and the whole thing struck me as ideal for a Halloween party. Because of the projected light, I decided I could use it as a spotlight, for such visual magic as card fan productons. As I can't do card fan productions, I decided on something else, hence the three-trick Seance for a Home Dinner Party that follows.
Atmosphere: Music from Midnight Syndicate plays softly from another room. (This was a tip from Leo Kostka.) The light at the dinner table is very dim. I place a candelabra with three battery-powered candles in the center of the table to begin the experience.
Possessed: This is the routine for Magic, Inc.'s Matchless Matchboxes (still available from Magic, inc. for only $9.95) as written up in The Little Egypt Book of Ghosts. The routine ...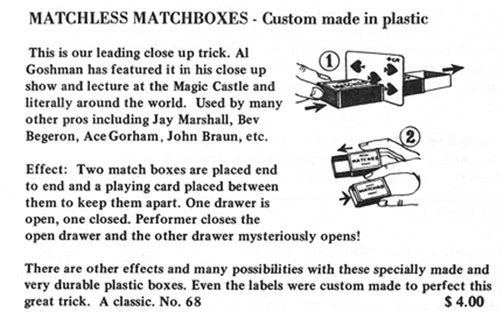 Still a bargain.
Introduce the matchboxes. They are adjacent, "back to back," with both drawers fully closed. The mechanics here, as best I recall, are those provided with the original instructions.
"When I was lighting these candles earlier, I ran into a strange problem. First, no matches … but that wasn't the problem. The candles are electric."
Push both drawers all the way out, so that they land on the table. Next place the sleeves onto the table, butted together end to end.
"It was this. When I placed one drawer in … everything seemed normal."
Insert one of the drawers and push it all the way in.
"But when I placed the other in, it was as though there were a physical mass between them. One goes in, the other goes out."
Demonstrate this phenomenon.
"I took this seven of diamonds and placed it between them … but it didn't stop! It began to shape up as a Class 3 paranormal manifestation."
Place the playing card between the two sleeves to form a barrier, as shown in the ad. Continue to demonstrate how one drawer seems to force the other out.
"It got weirder when I turned the boxes 90 degrees. One drawer seemed to actually repel the other."
Leave the card in place and turn the boxes 90 degrees to each other. One drawer will still push the other out.
"I separated the boxes completely … but it didn't help."
Toss the playing card aside and hold the boxes between your thumb, index, and second fingers, as if you were holding multiplying candles. Your index finger hides the line between the two boxes. (The boxes are held vertically, your fingers pointed toward the ceiling.)
"Put your finger here …"
Have the spectator place his index finger on the protruding drawer.
"Press down slowly. Isn't that creepy?"
When the spectator presses down on one drawer, the other rises in exact sympathy. Continue to demonstrate the sympathy by alternately pushing on each drawer yourself.
"It was later that I realized the matchboxes had a history of psychic turbulence … allegedly involved in an arson … and I knew there could be only one cure, the same antidote for vampires—garlic!"
Blow on the matchboxes, turn the sleeves back to back, and push both drawers closed simultaneously.
"Ah, that Caesar salad …"
And put the boxes away.
From Beyond the Veil: This is my favorite impromptu spooky card trick, from Peter Duffie. The complete routine appears in The Little Egypt Book of Ghosts. The routine first appeared here in The Little Egypt Gazette, the September 1997 "British Edition," featuring tricks from Peter Duffie and Simon Lovell, and it is still there. If you choose to look it up (see "Tutorial"), you may be asked for a user id and a password to access the secret material. If so, read the text that follows the link. It will tell you what to use. (Warning: it's one of my harder clues, but nowadays you have google.)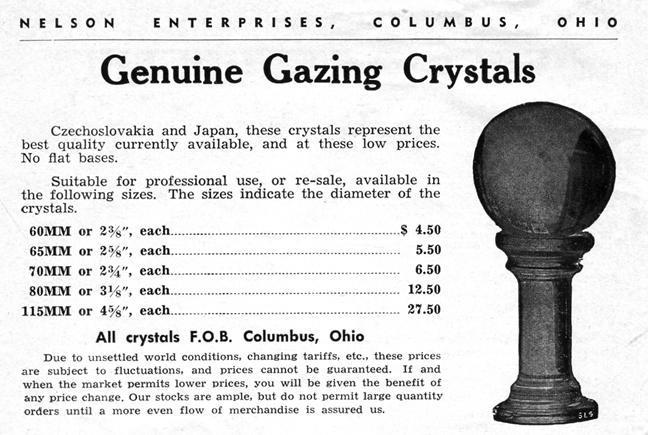 Did my crystal come from Czechoslovakia or Japan?
Actually, any strong card revelation will do [such as Gr(Eight) from the new Harry Lorayne book], as I wanted for nostalgia's sake to use a crystal ball that I purchased from Nelson Enterprises back in junior high school. It's smaller in diameter than crystal balls I purchased later, but much clearer. I enjoy using it.
Movie Night: Ah, now for that haunted projector. As suggested, I wanted to do something visual, so decided on a spirit slate routine.
"Back in the silent movie days … mediums attempted to contact ghosts through spirit writing on children's school slates."
Number the surfaces 1, 2, 3, 4. (I make small numbers in the upper left corner, not full-size numbers as in the photos from Eugene Burger's Spirit Theater.)
"I thought perhaps, with the help of an antique movie projector … we could turn back the clock to that time … and demonstrate what that looked like."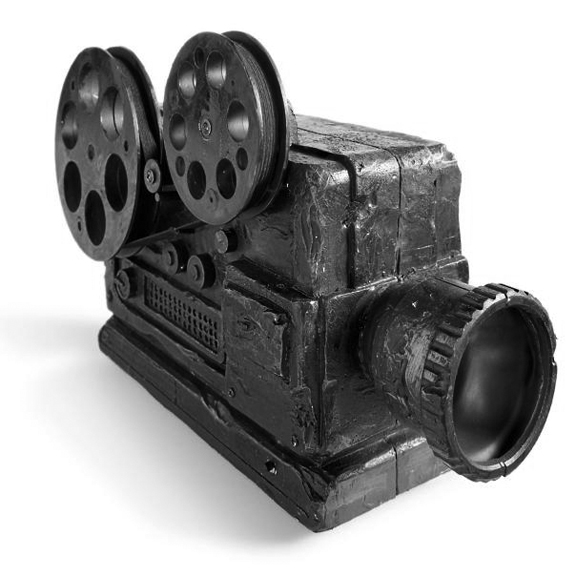 Haunted antique movie projector.
Introduce the projector and turn it on. After a few seconds of a dancing skeleton, use the projected light as a spotlight. Show both sides of the slates, sandwich them, flip them over:
"If we summon the spirits …"
Gesture (I wave a piece of chalk over the slates), then separate the slates to reveal the first message:
(Note: this wording comes from from John Lovick's "Little House on the Scary" slate routine, in The Performance Pieces & Divertissements of the Famous Handsome Jack etc.)
"You can say it with me: WHO'S THERE?"
Audience says, "Who's there?"
Medium peeks at message and says: "Nooooooo body."
Turn over second slate to reveal its message:
(Note: I'm not sure why I thought of this gag. Perhaps from a Disney cartoon. Or from the hero of Neil Gaiman's The Graveyard Book, Nobody Owens.)
Ta da.
I hope I have posted this edition in time for you to acquire one of these projectors. Sometimes really cool props appear for one season only. It's wise, when this happens, to buy fast and to buy a spare. Ask any of my friends who have been searching for just the right rubber snake.
DR. EVIL, I PRESUME -- The sad news continues: spook show legend Philip Morris passed away September 25th. Born Philip Morris Daniel Smith in Kalamazoo, Michigan, Philip Morris encountered magic at Abbott's by age six. I shared a birthdate with Mr. Morris: January 8. More precisely, Morris shared the exact birthdate of Elvis Presley: January 8, 1935. According to Walter Hudson, writing in Abbott's spooky web site Creepy Magic, Morris began as a magician touring Michigan in the early 1950s. By 1953, he transitioned to the South, hooking up with the appearances of cowboy film star Lash LaRue. Working with LaRue introduced him to the agents and theater owners he would revisit with his famous spook show. (A personal note: As a boy, I was a big fan of Lash LaRue and Whip Wilson, and I owned a bullwhip. Although Lash never came to our hometown, we did one day welcome the Cisco Kid.)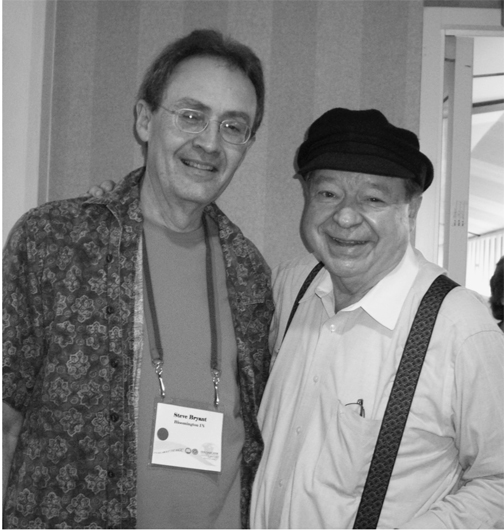 Getting to meet a legend.
Although most of the midnight ghost shows folded by 1959, the Philip Morris show, starring Morris as Dr. Evil, continued into the 1970s. Morris toured Canada in 1973 and, citing Mark Walker's Ghostmasters, gave his last perfromance in Huntington, West Virginia, on New Year's Eve, 1977. Over the years he was a magician, a ghost show operator, a ventriloquist, both a TV kid show performer and a late-night TV horror movie host, and, most recently and successfully, the nation's largest supplier of Halloween costumes. I was thrilled to meet him at the IBM/SAM combined convention in Louisville, 2008.
---