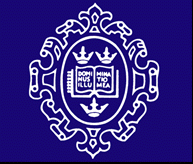 Welcome to our third Back to School issue of The Little Egypt Gazette. This year I'm bestowing on all of you the rank of Rhodes Scholar, and we're off to England for a look at some of the best in contemporary British magic.
It's Michaelmas term at Oxford, and we'll be reading for our DPhil in Modern British Card Magic. Along the way we shall encounter the best of modern and classic texts, try our hands at some exciting laboratory exercises, and enjoy tea in the company of our two distinguished faculty members.
Because this is a special issue, a few of the pages are graphic intensive. Please be patient during the downloads; I think you will find them worth the wait. Now, for our first magic trick of the day, just click the British Airways logo below, and we're off.