100 YEARS, JUST LIKE THAT -- The legendary British comedy magician Tommy Cooper would have turned 100 on March 19, an event commemorated by a two-hour-plus Facebook tribute from The Magic Circle Foundation.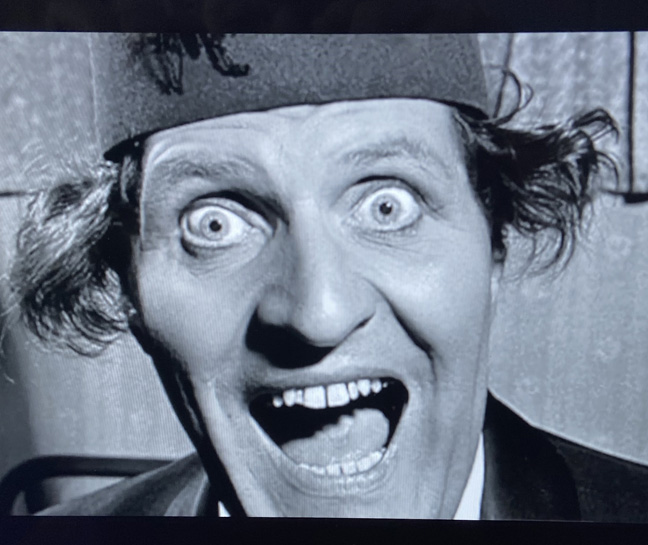 They call it Tommy Cooper's 100th Birthday, subtitled A 'Fez'tive Happy Birthday to Tommy Cooper, sub-subtitled A Career of Comedy Conjuring and Confusion. A mouthful! Hosts Noel Britten, Peter Nardi, and Michael J. Fitch oversaw a delightful compilation of biography, clips, anecdotes, and tributes, a few from folks introduced by Tommy himself. The guests included Stuart Scott (with Tommy's biography), Mark Shortland (who drew an original Tommy Cooper cartoon live and given away as a prize), Raymond Crowe (who cut a Tommy Cooper silhouette live, another prize), Anita Harris (actress and singer who starred in the Carry On Doctor comedies of my college days), Ian Adair, Royston Mayoh (director and producer, "The Tommy Cooper Hour"), Vince Hill (singer), David Berglas, Paul Hendy (director and writer, see notes later), Damian Williams (actor), John Archer interviewing Tim Vine (actor, writer, comic), and Jez Rose (broadcaster).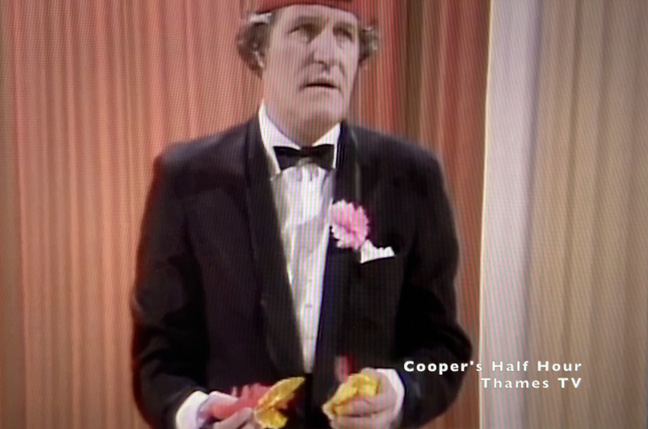 Embedded in the tribute was a short film, The Last Laugh, by Paul Hendy starring Damian Williams as Tommy Cooper, Simon Cartwright as famous comic Bob Monkhouse, and Bob Golding as famous comic Eric Morecambe. As the trailer says, "Three legendary comics …, One very unusual dressing room ..." As most readers know, Tommy Cooper died onstage, and this ghost story of sorts presages that passing. "You look terrible," the Bob Monkhouse character says to Tommy. "Oh, no, you really look pale."It's an affecting tale of these three legends discussing their jokes and legacies. I found it both disturbing and brilliant.
Some of the faces and names above were new to me, so apologies re anywhere I got it wrong. For a while you can enjoy the entire tribute here, and you can enjoy The Last Laugh on its own here. And of course, you can have a most enjoyable day catching up with Tommy Cooper on Youtube. Have fun.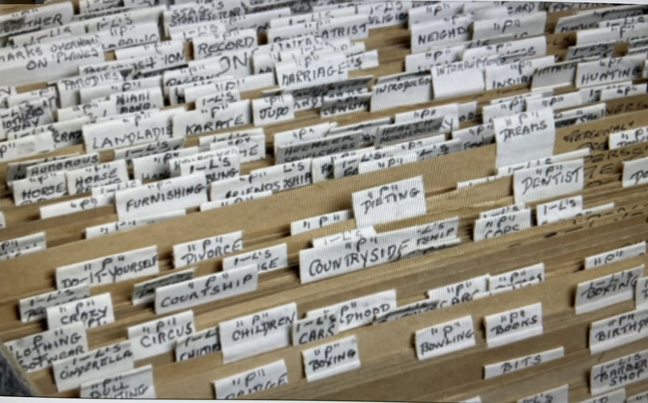 I'll close with a few Tommy Cooper jokes:
When I was four years old my father caught me smoking. I'll never forget how he yelled at the kid who set me on fire.
I got a new car for the wife yesterday –Not a bad swap!
Remember when you drive, don't drink--you may spill it!
The man said, "What does your father do? I said, "He was a conductor." He said, "Musical or the buses?" I said, "Neither. He was struck by lightning."

Warning: This may not be for everyone.
HEADS YOU WIN, TAILS YOU DIE -- In The Little Egypt Book of Ghosts (2008), I published a routine called Prime Cuts, a spooky card trick based on some body parts that were available at Hallmark stores one Halloween. (I also, originally, ran the routine in The Little Egypt Gazette, for Halloween 1996.) Recently, a new spooky prop has emerged, at magic stores, and I note that it too lends itself to this macabre application.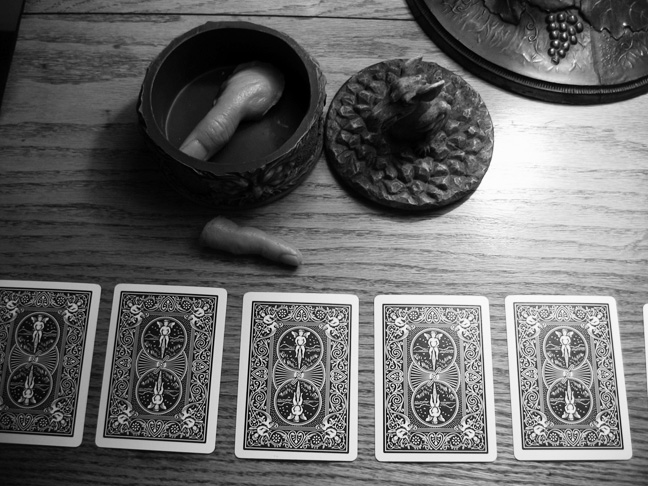 "Let's try something spooky."
You deal eight cards into a face-down row on the table. You invite the spectator to point to any of the cards, and you drop a coin (we'll use a half-dollar in this example) onto his selection to mark it.
Gather the remaining cards and slowly show their faces to be all red cards.
"This always happens. Even though you could have selected any of these red cards, the coin always lands on this black one, the color of death."
The chosen card is indeed the only black one.
"Do you know why? It's because this isn't an ordinary half-dollar. It's a Dead Kennedy half-dollar. Take a look."
Scoot the coin toward the spectator. He picks it up and discovers that President Kennedy's head is a skull!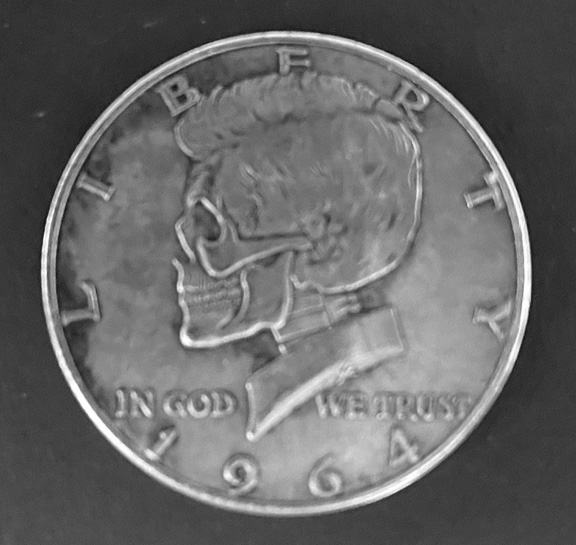 The new prop, in case you haven't seen it yet, is Skull Head Coin from Men Zi Magic, for only $8.95 each. I bought mine from Vanishing, Inc. To quote from the ads, "These remarkable coins have been carefully forged with stunning skeleton-themed designs and unrivaled craftsmanship. With a perfect size (30.6mm) and ideal weight, each one truly looks and feels like a real silver coin. They are the perfect addition to any of your favorite coin tricks."
The coins in hand live up to the hype. They come in a variety of denominations, hence you can easily introduce a Dead Washington quarter, for example. You of course first present the coin tail side up, then let the spectator reveal the chilling face to himself.
The card trick is of course Nick Trost's Eight-Card Brainwave. Half the time the selected card will be red, in which case your patter is
"Even though you could have selected any of these black cards, the coin always lands on this red one, the color of blood."
Other tricks where the selected card is marked by an object will work. Clock tricks come to mind. And R. Paul Wilson teaches an excellent version of The Red Card Prediction that will work fine. (No cheesy spelling!)

The internet continues to supply magic to enjoy, this month including a new talk show from Mac King and his friends, a return of Harrison Greenbaum's Who Books That?, and lots from the Magic Castle's AMA, including Saturday night Virtual Magic Shows, occasional lectures, and twice-weekly Behind the Bookcase events.
HOWDY FROM LAS VEGAS – Mac King and five of his virtual croquet playing buddies entered the talk show fray with Don't Everybody Leave a weekly hour or so on Tuesday afternoons. The posts to date from Mac, Jason England, Vinny Grasso, Jacob jax, Nick Diffatte, and Michael Goudeau have been great fun, the voices blending together nicely.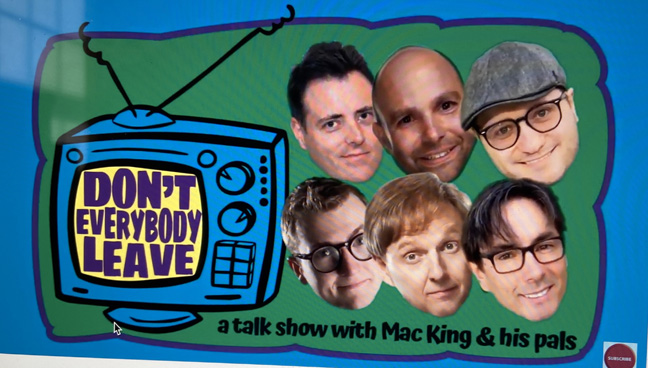 Guests so far, not limited to magicians, include Derek Hughes, Adam Rubin, John Lovick, Max Maven, Rich Ross (marine scientist), Earl Turner (singer), and Lance Burton. There is so much to learn about, from Lance's encounter with the Queen of England to swimming with octopi to what it feels like to do center deals while weightless to Mac King's grandpa jesting "You've got something on your tie" to Max Maven to what a great book Harpo Speaks is (this book lured me back into reading years ago, just after college) to a Mark Wilson reference in One Night in Miami. Such an interesting group!
RETURN TO WHO BOOKS THAT? – Harrison Greenbaum has posted two more episodes, with Adam Rubin and Richard Kaufman. Adam is my hero because he sells books to the general public plus has carved out a unique niche in magic. Surprises this interview? Adam studied magic early on under Brad Henderson. He aspires to be both as fooling and as entertaining as Mac King, Harry Anderson, and Tom Mullica. He hopes to write a Caveney-style book called 10 Good Magic Tricks. He is in a book club in which the members are reading Greater Magic 100 pages at a time. Surprise guests included Dan Buck, Gabe Fajuri, Noah Levine, and Adam Elbaum. Good advice: Never get your nose hairs waxed.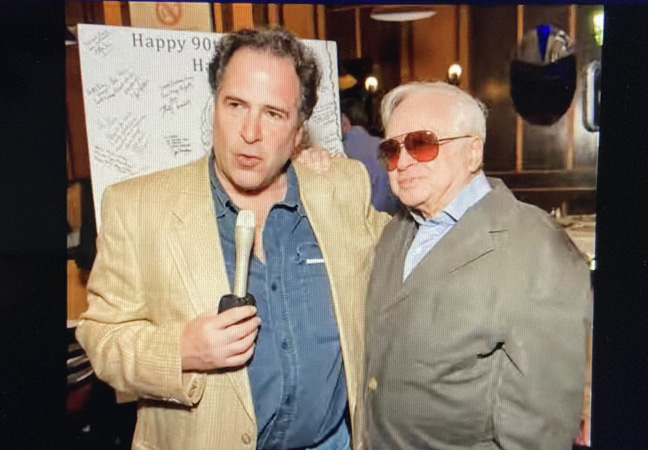 I thought I knew everything about Richard Kaufman after all these years, but was surprised by how much I didn't know about his life outside magic. Such as – during his college days he studied acting for 2.5 years under Stella Adler, when he always got the lead. Picture him as Danny Zuko in Grease, or as Conrad Birdie in Bye, Bye, Birdie. Or as an archery instructor at summer camp! His surprise guests included Harry Lorayne and Randy Pitchford.
RETURN TO VIRTUAL MAGIC SHOWS – I wasn't planning to comment on this Castle offering, a magic show every Saturday night, but some of the shows have been especially compelling: Jon Armstrong with his Tiny Plunger (and a tiny human nearby), the Evasons whose feats seem more amazing to me virtually, Derek Hughes performing the Neff rope trick (I used to do this but had never seen anyone else do it), Ruben Vilagrand who swallowed a hodgepodge of fish hooks and safety pins instead of just needles, and Woody Aragon himself performing his baffling creation, How to Find Your Other Half. And much more. Each performance draws an interesting crowd. You don't have to be an AMA member; 20 bucks gets you into any show.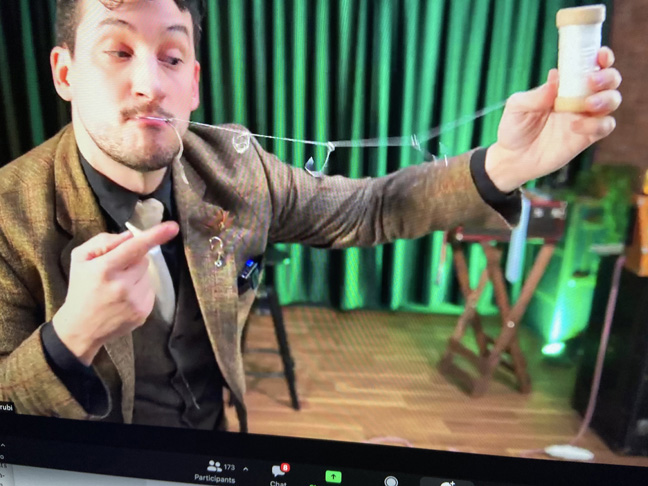 LECTURES MAKE HOUSE CALLS -- There was a time when I enjoyed Magic Castle lectures at the Masquers Club and at Brookledge, before the Castle could host them in its own building. Now the Castle Is hosting them at my home, via Zoom. Previous lectures, still available, have been by Dai Vernon, Steve Valentine, Bruce Kalver, and David Kaye. Of new lectures, I especially enjoyed:
Joshua Jay's Mission Impossible-scale method for Any Card at Any Page in Any Book;
Jon Armstrong's forces over Zoom;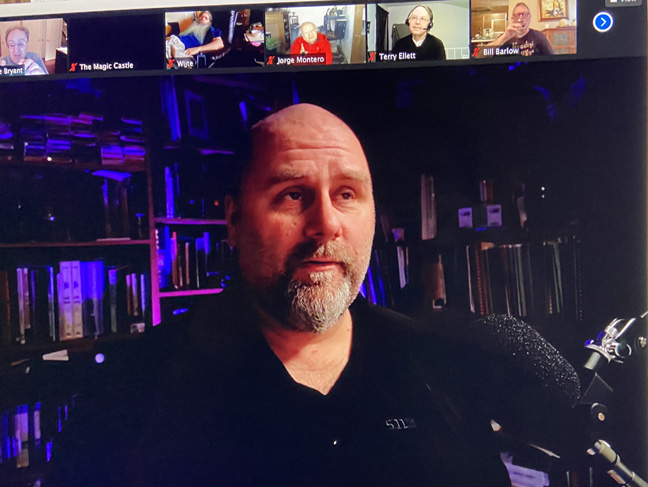 R. Paul Wilson's self-working card tricks (GTFM is the one I alluded to in the coin trick) and his take on Slow-Motion Larry that he calls Phantom Aces.
RETURN TO BEHIND THE BOOKCASE -- Thursdays and Sundays continue to be special, thanks to amazing broadcasts from the Magic Castle's AMA. Let's denote them by episode.
Episode 82: Rob Zabrecky hosted a panel discussion A Conversation on Character. I had a brief but valued friendship with Woody Pittman, and it was great to see him again. Fellow characters in the discussion included Ed Alonzo, John Lovick, and Tina Lenert. The sentiment of the guests was that host Zabrecky should also have been on the panel.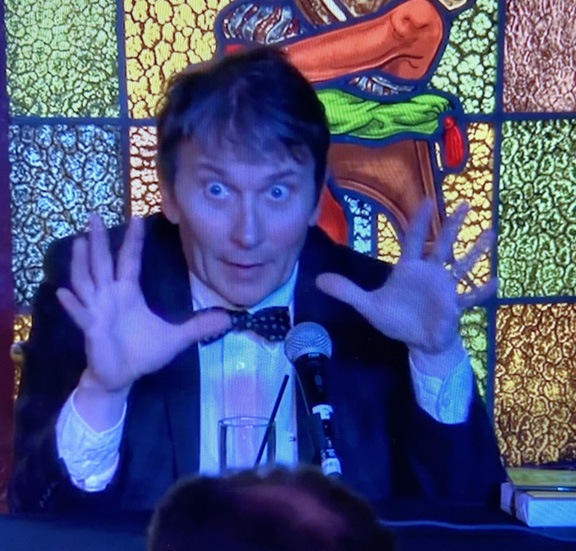 Episode 83: Mike Caveney and R. Paul Wilson introduced Paul's full-length documentary, Our Magic. What an intro this makes for Muggles who watch it.
Episode 84: Christopher Hart introduced the Who's Hoo episode with Jason Alexander. My favorite gag was that Jason put together an act to beat out Lovick for Parlor Magician of the Year
Episode 85: Shoot Ogawa conducted a long-distance interview with Henry Evans. Somewhere among my belongings are the necessaries to perform Ten ExactCuts that, alas, I never perfected, exactly. But it was fun to see it done properly again.
Episode 86: In a reprised airing, late night talk show host David Williamson introduced the world to Mr. Mysto. Mysto is one of my favorite magicians, hilarious straight out of the chute.
Episode 87: Jonathan Levit, Christopher Hart, and a most accomplished Blaire Larsen introduced Blaire's full-length documentary, Women in Boxes. There was endearing footage of Dove, Irene Larsen, Deanna Shimada, Stacy Jones, Jan Jones, Pam Thompson, Luna Shimada, Telller, Eugene Burger, Cathy Daniel, Frances Willard, Gay Blackstone, Tammy Calvert, Moi-yo Miller, Coral Reveen, Carol Roy, and Dazzle. One hundred copies on DVD were made available to viewers with a quick trigger finger. Plenty of material is left over for a sequel or a coffee table book.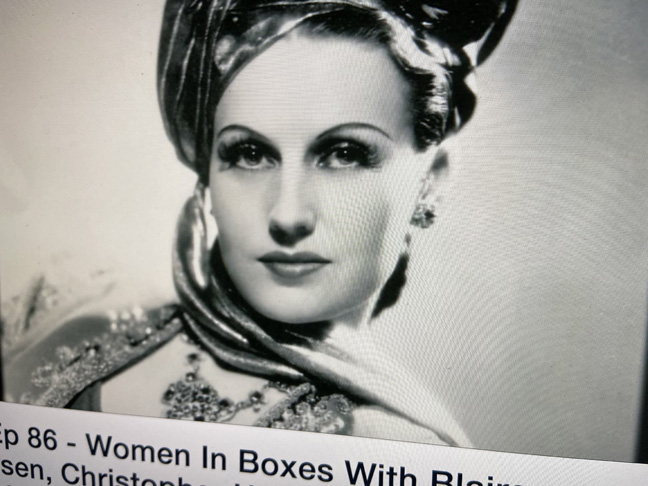 Episode 88: A reprised episode of John Carney interviewing Mike Perovich about the Magic Castle circa 1968. I probably watch this more often than any other episode. Mike arrived at the Castle the same year I did, but he mined far more memories.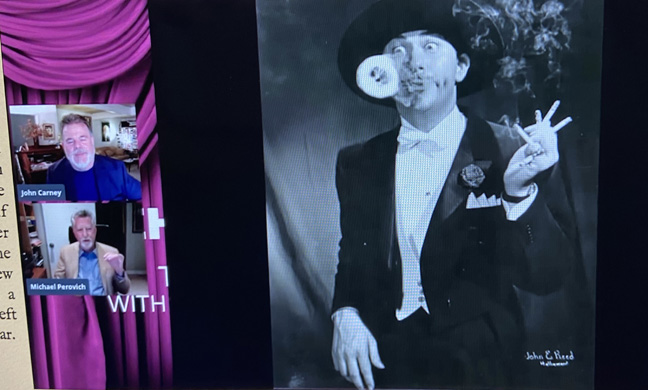 Episode 89: John Carney's latest Dream Show included brilliant work by David Roth, Rene Lavand, Tommy Wonder, Harry Anderson (the SNL Skippy routine), and 20 minutes of Tom Mullica.
Episode 90: A brief, reprised episode of Fitzgerald's Who's Hoo with guest Paul Green, who performed Professor's Nightmare with three green ropes. I was surprised to be reminded that Paul started hanging around the Castle in 1968, the same year as I. He looks so young, but then he was lying about his age.
Episode 91 was one of the most eagerly awaited: John Carney interviews Bill Malone! I love origin stories in magic, and Bill related two of my favorites—how he got into magic in the first place, and how he met Marlo. The latter always sounds like something from a movie.