SUMPTUOUS -- Steve Cohen's new coffee table book, Confronting Magic, is a lavish production, a fitting tribute to his first 20 years of Chamber Magic. Here in this grand 208 pp volume are the Chamber Magic origin story, an appreciation of Steve's hero Max Malini, highlight stories from the Chamber Magic arc, and musings on the next 20 years. Quite a career based on a deck of cards, a few coins, some rope, and a teakettle.
I love origin stories, and magic is full of them: Lance and Mac, Siegfried and Roy, Doug Henning and David Copperfield, It's Magic and the Magic Castle, and so on. No less fascinating is Steve Cohen's. Inspired to recreate the salon magic of Johann Hofzinser, Steve gambled on a three-month rental of a parlor in the National Arts Gallery in Gramercy Park. Just as that venue was about to close for the summer, he met Holly Hoppe, who would become his manager and who would connect him with the Waldorf Astoria. A perfect venue, but how to fill seats? He tried begging friends to attend, he hired a publicist. After two years, he was still losing money. But then a food and entertainment website did a story on him, followed by a seven-minute spot on CBS Sunday Morning. Within a week, he sold a million dollars in tickets!
To the frustration of Steve Cohen wannabes who see themselves performing a one-man show in a swanky hotel space, Steve was the perfect fit to the Waldorf. (He starred for 17 years at the Waldorf, and 3 more so far at the Lotte New York Palace.) He had branded himself as the Millionaires' Magician. He imposed a dress code, and his own attire was Savile Row. He has been illustrated by Hirschfield. His magic is as classic as his dress, and the venue, is worthy of the Hofzinser salon goal. He is at home among the beautiful people: he boasts an Ivy League education with additional studies in Japan, where he is admirably fluent in the language. (He has translated all the Tenyo instructions since 1997, and his wife, Yumi Morishige, is Japanese.) And of course, he is a really fine magician and a really nice guy.
Career highlights include updating Think-a-Drink from David Devant's time to our own (Steve owns Devant's original teakettle), teleporting a pair of twenties into suspended sneakers for the CEO of Reebok, finding a selected card sewn into the lining of a Harvard professor's jacket, performing a two-hour show at Carnegie Hall, causing Michael Bloomberg's signature to appear on a dollar bill as Secretary of the Treasury, predicting how many red cars a reporter would see on his way to an interview, starring on Magic Week for Letterman, filming the Indian Rope Trick in India, performing a too-death-defying instance of the Bullet Catch, and seeing October 6, 2017, proclaimed as Chamber Magic Day in NYC.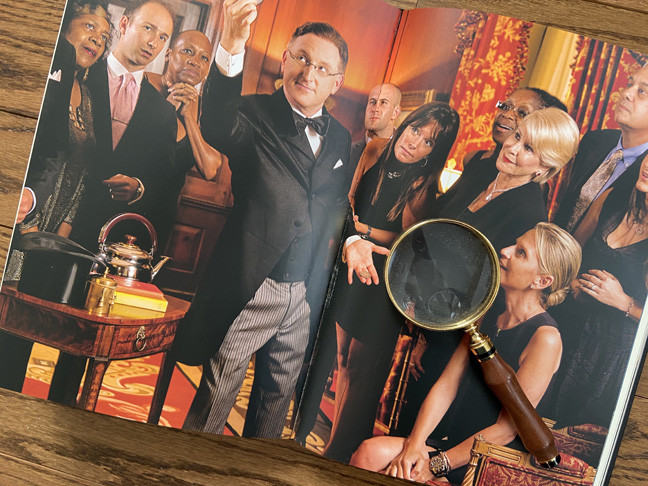 The book itself is dreamy. Guillermo del Toro wrote an elegant foreword. (Steve will soon appear in del Toro's movie Nightmare Alley.) The pages are rich with photos, not only of Steve, but of the many delighted, amazed, upscale audiences that have populated his shows, with credits to fifteen photographers. I was pleased to see my friend David Linsell among them. He would have loved this photo-laden book. Also note photographer Clay Patrick McBride, who I believe to be Jeff's brother! Mark Levy is Steve's longtime collaborator with the magic. Holly Hoppe is not only Steve's manager but also edited the pages with her red pen. As Steve writes, "What remains is lean, delightful and charming." I agree.
Enhance your coffee table! Published by Assouline Publishing. Available from chambermagic.com, hardback, 208 pp, $60.
Prior publications include Win the Crowd, Evergreen, and the graphic novel The Millionaires' Magician. A 500 pp book on Malini is in the works, scheduled for publication August 1.. Excerpts will appear in the next issue of Magicol.

I KNOW WHAT YOU ARE THINKING – Regarding Kreskin's new book The Adventures of the Amazing Kreskin, I can do no better than to recite Meir Yedid's description: "It reads like a superhero origin story, memoire, and graphic novel, with some lighthearted adventures that Kreskin experienced throughout his career." Given that Kreskin's earliest ambitions in mental magic were fueled by Mandrake the Magician, I feel certain this graphic novelization of his key adventures must thrill him. His set of "powers" and adventures are eclectic: He is a thought reader who can find the check for his performance fee. (Has there ever been a better hook for a live performance? Memorable hiding places included the roof of a senior citizen's mouth, a lamp off a balcony, and deep inside a fire hose.) Or can find Robin Leach in a city. He has applied his intuition to solving crimes. Through his powers of suggestion (he decries the term hypnotism) he can make a high school teacher become Liberace or make Johnny Carson stiff enough to support Bette Midler as he lies between two chairs. (He appeared on Johnny's show 88 times and jokes that, during Johnny's last year, he was on more than Johnny.) He is the model for The Great Buck Howard. He has used his heightened hearing to eavesdrop on crime figures. He is a speed reader (12 to 14 minutes per novel). He enjoys blackjack and holds a casino record for 22 hands without busting.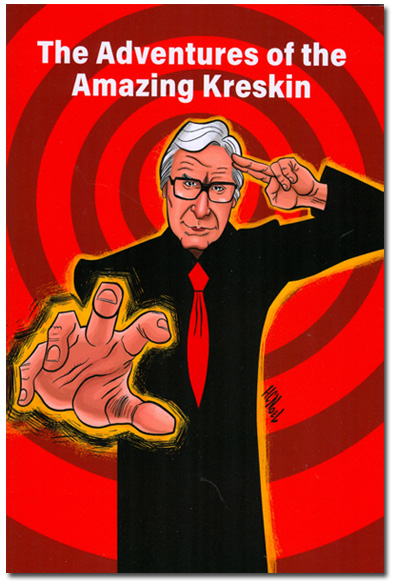 But mostly, from my perspective, he is a gifted entertainer and a really nice guy, who currently owns four cats (Sugar, Spice, Spooky, and Pumpkin). I attended his show back in October 1997, and he kindly consented to an interview for The Little Egypt Gazette. For those who may have never seen Kreskin perform, I will close by reprising my review of his show. Meanwhile, my favorite response to the interview questions was the following.
Q. What are your hobbies/interests outside of magic?
A. Camping, all over the world. Cross country skiing. Reading. I have over 8000 books. Music. Playing cards: pinochle, hearts, blackjack. Chess.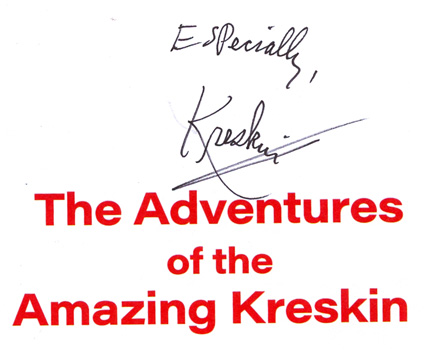 The Adventures of the Amazing Kreskin is a bright book, an easy read, available from Meir Yedid Magic (mymagic.com), perfect bound soft cover, part text, part photos, part graphic novel, 88 pp autographed, written by Kresin and Howie Noel, and illustrated by Howie Noel, for $25.
On with the show, from way back in 1997 …
KRESKIN AT SKI WORLD – (Reprinted from The Little Egypt Gazette, October 1997) The Country Time Music Theater at Ski World, Nashville, Indiana, is normally the weekend home of The Lloyd Wood Show, a high-energy country-western band. The facility is also just down the road from Nashville's Little Nashville Opry, which features the same big names in country music as does the real Grand Ole Opry in the real Nashville. This would seem as unlikely a place as any for The World's Foremost Mentalist to attract and impress an audience, but The Amazing Kreskin did just that on Friday and Saturday, Oct 3 and 4.
I attended the Friday 8:00 P.M. show. The audience was a mostly older crowd (old enough to have remembered Kreskin's syndicated tv show from the seventies). Four female senior citizens sat to my right, while a young family of four sat to my left. There were couples in their forties, very few children. Dress was casual; I assumed it to be the same crowd as for the Lloyd Wood Show. Except: prior to the show there was a communal apprehension, and more than a few folks talking about the fact that Kreskin "really reads minds."
The printed programs and the opening voiceover contained disclaimers that are masterpieces of double talk. Whatever you wanted to believe, you could find in these messages.
Kreskin appeared promptly at 8 in a dark suit with a bright red plaid vest, at once looking showbiz yet non-threatening. Despite having been up since 3 A.M., he exuded energy and enthusiasm and kept it up for a show that ran over two hours. The audience in turn greeted him with enthusiastic applause and maintained its end of the deal for the duration.
Kreskin opened by talking for 20 to 30 minutes. He is an unabashed name-dropper who drops more names than Harry Lorayne as he mentions the various talk shows on which he has appeared and celebrities with whom he has worked. I knew in advance that this was how he opens his show, but I wasn't prepared to enjoy it as much as I did. I quickly realized that I was witnessing a wonderfully delivered comedy monologue. The "name-dropping," along with various jokes about being a mentalist, are simply the subject matter of this very funny routine. Kreskin's comedic persona harkens back to such comics as Jack Benny and George Gobel and Edgar Bergen: he is self-deprecating and gentle. There is no chip-on-the-shoulder or I'm-hipper-than-you attitude, just warm humor. He seems to genuinely like all the people he's met in television. It's a very nice opening.
It's also sneaky: all this talk about being on so many talk shows translates into a heightened credibility, while joking about the methods of fake mentalists (radio sets in their glasses, etc.) prepares the audience to accept whatever a real mentalist might do.
To further put the audience in a receptive mood, Kreskin segued into the "amazing" portion of the show via the linking finger rings. Again he engaged the audience through considerable comedy and through discussions of how more mortal magicians accomplish the linking and unlinking of borrowed objects.
A card revelation effect followed, with Kreskin playing the piano as a gentleman from the audience repeatedly cut the deck. Vernon used to say it would be effective to combine magic and music; Kreskin has figured out how. (For magicians familiar with the plot of this particular card revelation, there was a nice magician-fooling climax to the piece.)
An extended billet reading session came next, for which Kreskin chose to spend part of the time seated in what I can only call an illuminated isolation booth. It was a Chinese screen affair that allowed him to sit and write his impressions on a pad without anyone observing him from behind or the sides. This chamber also provided a focal point for various humorous observations prior to its use. (My only disappointment here is that it looked as if it could have been used for a spirit cabinet, which alas did not occur.) From this vantage point Kreskin "received" the important names, dates, and other significant bits of information the audience members had written on billets. And we all received a billet -- the responses were evenly spread throughout the audience. Kreskin eventually asked a child to stand and choose one billet from among several to concentrate on. When asked not to reveal the information on the billet, opened at last, the child cracked up the audience and the performer by announcing, "I can't read!" With the help of a nearby adult Kreskin brought this segment to a convincing conclusion by duplicating the writing on the scrap of paper.
He closed the first half of the show with his celebrated ability to find his paycheck that was hidden by an audience committee. (A few months back, Kreskin appeared on The Bob and Tom Show, a popular Indianapolis radio spot. A caller deftly turned the tables on this feat by saying, "If you can find me, dude, I'll buy you lunch!") The check was found, despite my fears that the audience guy had hidden it too high for the performer to reach.
An ample intermission gave me the opportunity to purchase the saltiest bag of popcorn ever concocted.
Kreskin returned after intermission sans jacket, and wearing a dark solid vest instead of the red plaid. A wisp of his white collar above the vest gave him a priestly look. An emphatic murmur of approval rippled through the audience. Chairs had been arranged on stage for the hypnotism segment of the show. I should point out that Kreskin makes a firm point to deny the existence of hypnotism, calling it instead merely a state of heightened suggestibility, but the term suffices here to convey the nature of the entertainment that followed, so I'll stick with its traditional interpretation.
As mentioned earlier, the audience was a mostly older crowd, and I felt Kreskin would have a difficult time luring any of them to the stage to participate in what they knew could make them look silly. How wrong I was! They flooded to the stage, and Kreskin had no difficulty sifting out a quorum of perfect subjects. It was back to the piano, this time a rendition of Elvis Presley's "Love Me Tender," for the trigger that induced a convincing trance-like state. (In viewing the Eddie Fields video, I noticed the ad for Nate Pessaro, the Singing Hypnotist. What is it with hypnotism and music?) In a final brilliant piece of staging, it was the spelling out of K-R-E-S-K-I-N that released the subjects from the grips of a post-hypnotic suggestion (or whatever K-r-e-s-k-i-n might call it).
In all it was a most entertaining two hours, and while the magic and mentalism left most of the audience in a state of respectful awe, for me it was the boundless energy and the first-rate comedic delivery that produced the always happy feeling of an evening well-spent.

The internet continues to supply magic to enjoy, this month including more of The Magic Dave Show, a Vanishing Inc.-sponsored performance by Lucy Darling, and continued Magic Castle offerings, of which I am only reporting on Behind the Bookcase.
MORE MAGIC DAVE – Dave's fourth installment features an interview with Chris Cox, a British comedy mind reader who shared stage time with Dave on the Illusionists. I hadn't heard of him before, but he had me smiling throughout. (I am trying to catch up. Here is a great Chris Cox bit.)The magic included efficient palms and replacements plus Cakewalk, a self-working item that employed the matrix force. Check the magicdaveshow.com.
STILL DARLING – Showtime! The always entertaining Lucy Darling with her assisting characters Marcie and Lawrence (and cat Goosey) entertained for an hour with a new interactive close-up set (the only bit from her standup show was the Chop Cup), flowed by a half-hour of Carisa, Miranda, and Richard fielding questions. Things that fooled me (that Carisa generously explained) included the vanish of her earrings and necklace (change blindness) and anamorphic drinks. Over 160 ticketed participants enjoyed the show. The next Vanishing Inc. Showtime (March 4) will feature Joshua Jay himself.
RETURN TO BEHIND THE BOOKCASE -- My chronicling of the AMA's Behind the Bookcase resumes with Mike Caveney's interview with everyone's favorite magician, Mac King. Old friends discussing many topics: keeping the show fresh after 10,000 performances, the Tombstone Junction years, driving across the country multiple times during the pandemic, memorizing the Mnemonica Stack (!), swimming, playing virtual croquet with five friends, working on a new talk show with those five friends (to be called "Don't Everybody Leave"), the time everybody did leave thanks to David Williamson, taking the bus to Colon at 15, entering the contest next year, the Wrong House in Colon story, the Naked Lady story, and more.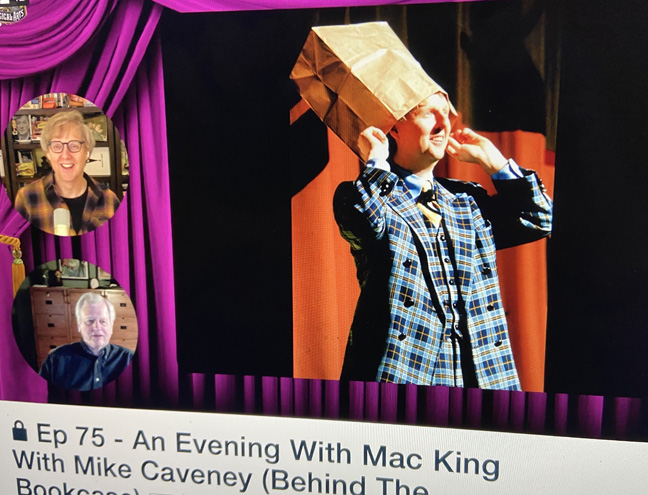 Thursday 1/28 featured a Who's Hoo Fitzgerald visit with Bill Goodwin. While denying that he is an underground master (Erika interjected, "Wouldn't it be just like someone from the Underground to deny there was an Underground?"), Bill at least demonstrated the master part with a couple of card pieces. My favorite, , caused a selected card to vanish from a packet of four aces only to be found in a pocket, but no! Now the four aces are in the pocket, and the selection has returned to the hand. A seasoned card guy might work out a method, but not necessarily as cool as Bill's brilliant version, in Penumbra. An impressed Shoot Ogawa hosted.
Various episodes seem special, as it was in Episode 77 (Sunday 1/31) when Christopher Hart interviewed Diana Zimmerman. I had forgotten what a fine performer she was, and it was great to see her back in action, including the Gramophone Illusion that wound up in Lance's show. She met Bill and Irene (plus a guy named Dick Zimmerman) at 13, arrived at the Magic Castle before 21, and became a favorite of Cary Grant. Cary helped her launch the Castle Juniors program, which she has Mother Henned ever since and turned out a great number of today's stars in magic. Her mantra is to let magic be your foundation, not your ceiling, and following that has made her a success many times over in various fields. A delightful chat.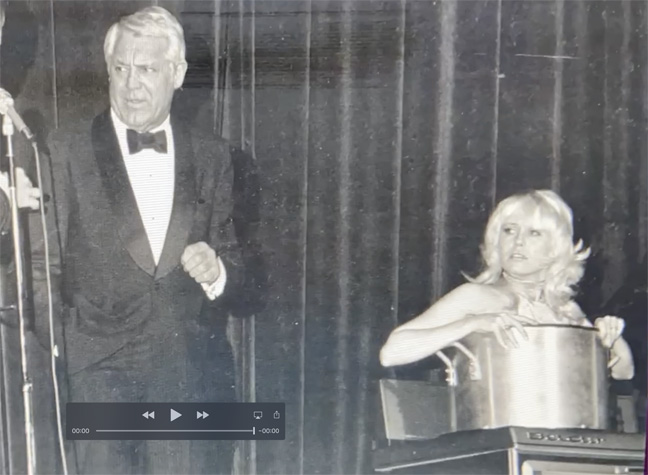 The most troubling Behind the Bookcase recently (not that any have been) was Jonathan Levit's interview with Ice Macdonald and Kevin Bethea, mostly on the subject of racism. Ice is heading a new committee on diversity, which begins with education. We are all students.
Continuing in a series that keeps topping itself, Jonathan Levit hosted (Super Bowl Sunday 2/7) a special evening with Castle Close-up award winner Asi Wind. Asi has been a favorite ever since he noticed, in Las Vegas, that I had my iPad case on wrong, and he fixed it for me. He fools me as badly as any other magician. Surprises in the talk: Asi once did birthday parties in NYC dressed as SpongeBob SquarePants. Like Derren Brown, he is an extremely accomplished portrait painter. His favorite mentor is Juan Tamariz. (This explains why I have so often seen Asi garner Tamariz-like crowds.) He met David Blaine while walking his dog in NYC, leading to all-night backgammon, shared laughter, and a live tour relationship. Lots to learn. Oh, and, in case no magicians noticed, some quarterback named Brady won the Super Bowl.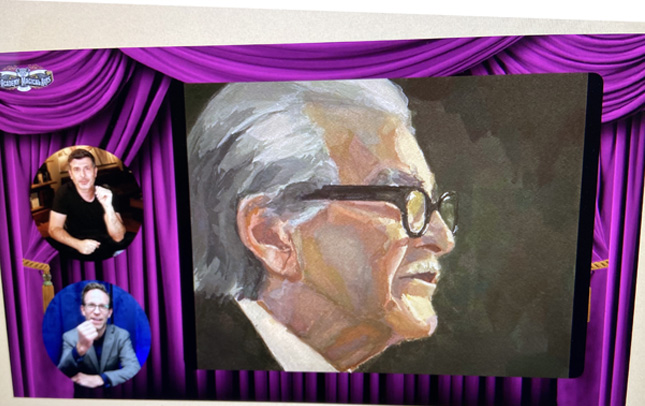 Valentine's Day (Sunday 2/14) inspired Gay Blackstone to host a show on couples in magic, with photos and clips of Bill and Irene Larsen, Danny and Stacy Cole, John and Kathy Daniel, Paul Daniels and Debbie McGee, Harry and Bess Houdini, Chuck and Jan Jones, Peter and Coral Reveen, Johnny and Pam Thompson, Mark Wilson and Nani Darnell, Marvyn and Carol Roy, Siegfried and Roy, and Jarrett and Raja. The extended clips were of Mark and jinger Kalan and of Mike Caveney and Tina Lenert. It was fun to learn how these two couples met and married.

MYSTERIOUS AND SPOOKY– One of the delights of life with Maleficent is that she still bestows gifts on me for Valentine's Day, and this year she couldn't have made me happier, thanks to a new collection of Charles Addams cartoons. The handsome book is Addams' Apple/The New York Cartoons of Charles Addams. Not New Yorker, where most of the cartoons first appeared, but New York. The cartoons in this batch are all set in the New York experience, in its museums, its department stores, its skyscrapers, its apartments, its street corners, its subway. The collection evolved from a 2010 exhibition ("Charles Addams' New York") at the Museum of the City of New York, to which Addams had been contributing artwork since 1948. Sarah M. Henry, Deputy Director and Chief Curator of the MCNY, is one of the authors and provides an enticing foreword.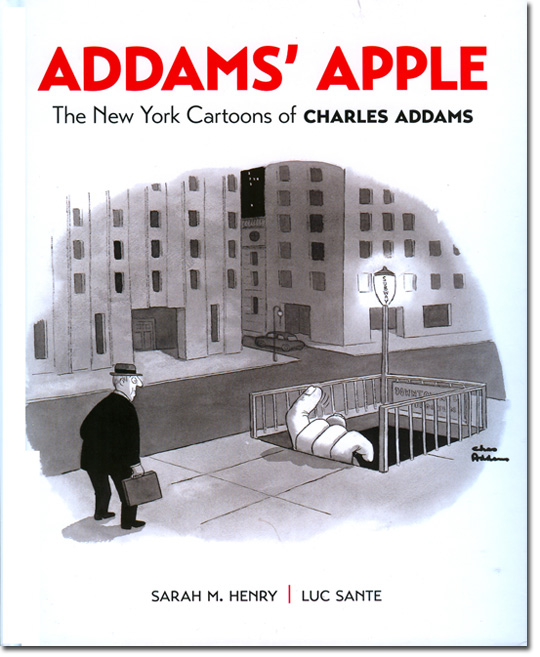 I mention this book in a blog about magic because, as most readers know, I am as interested in the spooky side of life as I am of its magic side. But it is not just Addams' iconic art and gags that I praise, but also the one-page preface by writer Luc Sante. This may be the finest prose I have encountered in decades and is now an indispensable part of the Charles Addams story. Check it out.
Addams' Apple, Pomegranate Communications, Inc., hardback, 160 pp, $29.95.