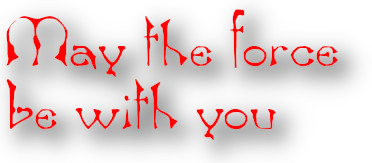 TAKE A CARD. THIS ONE, DAMMIT! — "All a card man needs," Matt Schulien is reputed to say, "is a force and a steal." If you want to lean to force, you can do no better than Dani DaOrtiz's new hardback, Freedom of Expression. Newly available in English (it appeared in Spanish in 2009), the book is subtitled "A Study of Psychological Forces and the Psychology of Forcing." Unlike tomes that teach the mechanics of forcing, this one concentrates on such aspects as attitude and the concept of the force occurring before the trick begins.
Freedom of Expression plays out in three chapters. Chapter 1 is "Attitudes and Concepts." Chapter 2, the meat of the book, is "Psychological Forcing and the Psychology of Forcing." Here are such topics as the Classic Force (great detail), the Seventh Card, Miscellaneous Forces, Working with Small Groups of Cards, Verbal Forces, Magician's Choice, Deceiving Via Visual Deception, Forcing from a Fan, Fishing, Sequence of properties, Psychological Forces, Mistakes and Outs, Mistakes in Technical Forces, and Mistakes in Verbal Forces. Chapter 3 is "Forces and Strategies in Action" containing ten or so complete tricks in eight titled items. Here are some of Dani's impossible-looking plots, including his sometimes closer, Triple Intuition.
This is the first time I have encountered Dani DaOrtiz in book format. It's a handsome volume illustrated with photos of Dani (or of his hands where technicalities are made clear). Fernando Rosal provided the translation, John Lovick the pristine editing. Although I normally prefer books to DVDs or downloads, I am not so certain in this case. The perfect translation takes away the broken English that is part of Dani's impish charm and infectious good humor. (There is, however, a great gag on page 9, similar to that of Woody Aragon, that made me laugh.) And technique that relies on attitude and psychology is perhaps best conveyed in video. Indeed, Dani's Classic Pass work is taught on his DVD collection Utopia. That collection also includes a great semi-automatic force (not in the book) as part of the trick 3 Opportunities. If you know the trick, you know that the spectator deals a pile of cards from a shuffled deck. You invite him to peek at the bottom card of the pile and to remember its identity. (This is the force card.) As an extra idea, you could give him the alternative of remembering the top card. If he does so, have him cut the packet and complete the cut. (This uses your force card as a key card.) He then loses the packet in the center of the rest of the deck, and you conclude as you wish.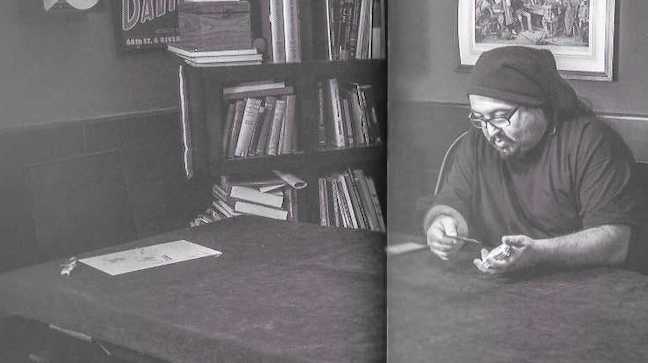 The new book is wonderful, and its range of forces should thrill you. After reading it, I watched several of my favorite Dani DaOrtiz downloads and Utopia, and it was fun to notice when Dani was using some of these techniques. (Check my table of contents for prior Dani DaOrtiz reviews.) Hardback, 154 pages, 8.5 by 7 inches, most attractive, $100. I bought mine from Vanishing Inc.

A MAGICIAN IN THE PALACE —- Out of the mists of time and beloved stories that gave us King Arthur and the Knights of the Round tTable, a new king reigns in England. While King Charles III is the descendent of his amazing mother Queen Elizabeth II, it might also be said that Charles is also a descendent of Merlyn, England's premier court magician. As is well known, Charles became a member of the Magic Circle in 1975, auditioning with a Cups and Balls routine. (Might it have been Dai Vernon's?) According to Yahoo Sport!, he was introduced to the esteemed organization by his great-uncle, Earl Mountbatten, who had been a member for 20 years.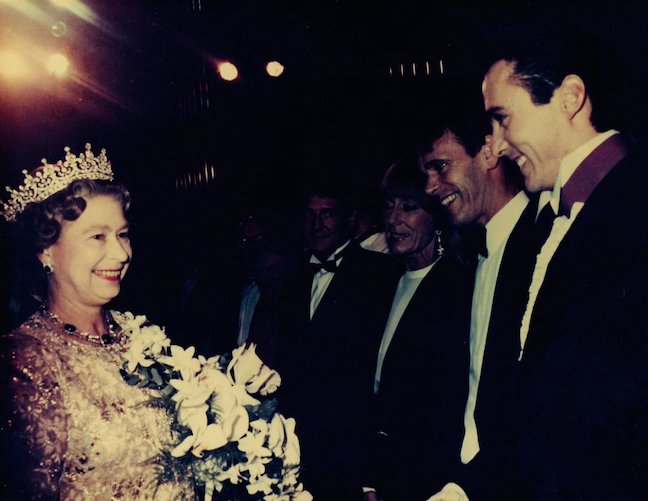 Some 43 years after joining the Magic Circle, Prince Charles celebrated his 70th birthday in 2018 by attending a magic show at the London Palladium, featuring Dynamo and Penn and Teller. Titled "We Are Most Amused and Amazed," it was broadcast on ITV. Given his long interest in magic, I have always wondered if Charles ever performed a little magic to impress the ladies in his sphere or to amuse his children. I hope so, and I hope King Charles III still has a few tricks up his royal sleeves to show his grandchildren.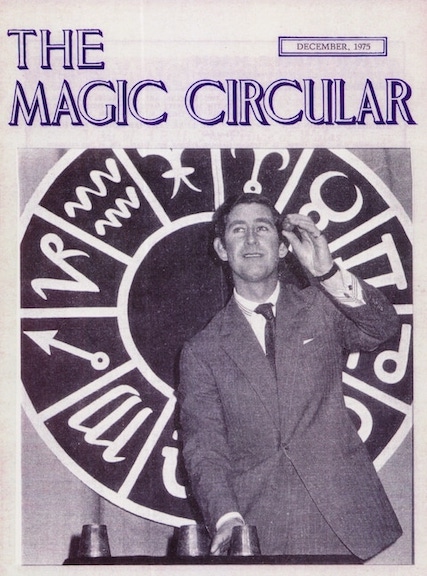 Condolences to him and his family. I have been a fan ever since I witnessed Queen Elizabeth's coronation on a shaky black and white television as a child, and I treasure memories of my two visits to the Magic Circle.

IT WAS 20 YEARS AGO TODAY — When I eventually met Martin Lewis, and praised the Linking Ring routine with which he opened for Harry Anderson, he acknowledged the compliment and said, "My father always said to learn to do a few things well." Martin came to do many things well, a hero to me as inventor, performer, and as one of the coolest human beings I've been privileged to know. News of his passing on August 26 shocked me, and I fond comfort in turning back to his Genii cover issue of September 2002. Richard Kaufman gave Martin plenty of space, with a 20,000-word interview, a two-page Postscript by Jon Racherbaumer and Harry Anderson, and nine pages of original routines by Martin. The issue marked the first time that Liz Kaufman had done the layout for Genii, and her two-page opening was the most lavish and I think the finest of her exceptional contributions.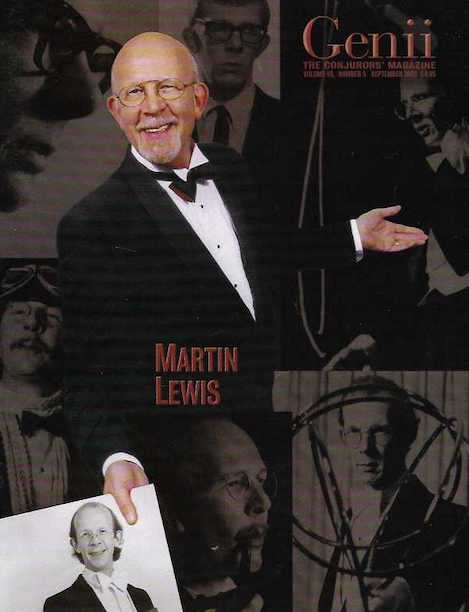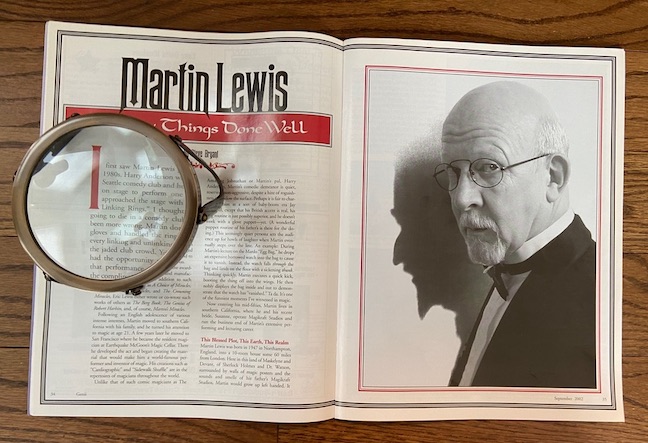 I invite you to revisit that issue and enjoy Martin's stories. A few random highlights you will discover:
Despite being the son of Eric Lewis, Martin didn't dive into magic himself until he turned 21, entered the Magic Castle, and witnessed Albert Goshman.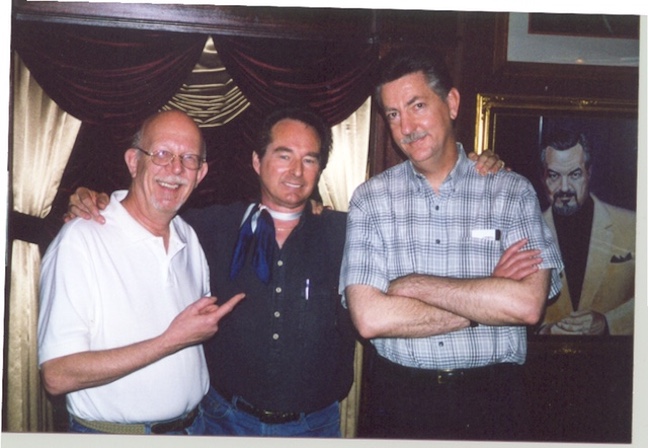 He was a member of both the Unholy Three (with Bruce Cervon and Michael Perovich) and the Left-Handed League (with Harry Anderson, Mike Caveney, Jay Johnson, and Turk Pipkin).
He proposed and contributed to the mock magazine Wenii.
He was the first resident magician of the Magic Cellar, at Earthquake McGoon's in San Francisco.
He performed on TV, in comedy clubs, and on cruise ships. He opened for Debbie Reynolds, Ricky Nelson, John Stewart, Hoyt Axton, and of course Harry Anderson.
He performed an off-color magic act for the cast party of the off-color sci-fi movie spoof, Flesh Gordon. (Details in the article!)
He uttered a scatological faux pas upon meeting Cary Grant.
He met his lovely Austrian journalist and business executive wife Susi at the Magic Castle.
He invented tricks that have become standards, including Cardiographic, Sidewalk Shuffle, Undivided, and Stampede Second.
He continued to keep Magikraft Studios successfully in business.
When the Martin Lewis Genii issue appeared, 20 years ago this month, I supplemented it with a special issue of Little Egypt Magic. The following words are verbatim from that issue in 2002. Aloha, Martin. We all loved you. I'll let our past conversations take it from here…
When I asked Martin about his youth in England, and particularly about his interests before magic, he responded, "I'm a pretty compulsive person, so whatever hobbies I had, I went into full tilt. I loved fishing, angling. I did that almost to the exclusion of anything else. This is highly unusual since I'm a night person. I used to sit up to two or three o'clock in the morning playing chess with Dad, many, many times. All of that changed because I had to get up to catch that early morning rise, and I would be up at five o'clock in the morning. I did that for many years, and won a few little awards and prizes for it. I won a set of encyclopedias for a spinner that I designed.
"After that, around about 16, I suddenly wanted to become a rock star. So I learned to play a guitar and built my own guitar in my dad's workshop. After that came model aircraft. That was all I did. I designed my own model aircraft and various things, and went flying around with those. I used to love to race motorcycles. Some friends and I would go out to a friend's garage and take these little junk motorbikes we would buy apart and rebuild them and race them."
Later, when I asked him how he felt about being uprooted and moving to the United States, he referred back to these interests: "At the age of 19, I was thrilled at the opportunity of going to live in America, especially California. You recall earlier I told you I was very much into racing motorcycles. We used to drag race, which is just a quarter mile. Some of the great drag racing sites are right here in California, so for me this was like, 'Would you like to go to heaven now?' I couldn't wait. Yes, for me it was wonderful."
For a more complete look at Martin's likes and dislikes, peruse:
Martin Lewis --- Up Close and Personal
Q: What is your favorite stage routine (yours)?
A: "Tamasudare." (Manipulation of a bamboo mat, sort of a Japanese troublewit, that Martin uses to close his show.)
Q: What is your favorite stage routine (others)?
A: Jeff McBride's "Miser's Dream."
Q: What is your favorite close-up routine (yours)?
A: "Spelling Collins' Aces."
Q: What is your favorite close-up routine (others)?
A: "Goshman's Coins."
Q: What is your favorite magic book?
A:: Greater Magic. Anything by Professor Hoffman, Recently the Tommy Wonder books.
Q: What is your favorite non-magic book?
A: Non-fiction: Edward de Bono's Lateral Thinking. Other: The Rubaiyat of Omar Khayam.
Q: Who is your favorite magician?
A: John Ramsay.
Q: What is your favorite movie?
: A: Robin Hood (Errol Flynn version).
Q: What are your hobbies/interests outside of magic?
A: I love to cook.
Q: What is your magical pet peeve?
A: People who inadvertently expose magic.