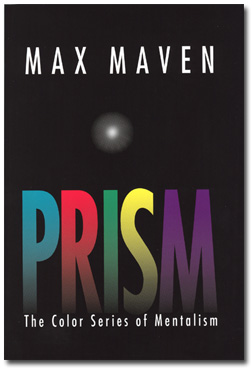 How to read minds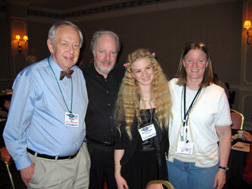 Hi from WMS: teen contestant Krystyn Lambert and three who wish they were teenagers
FULL SPECTRUM -- If speculative pricing on eBay is any indication, Max Maven's Prism must be one of the most eagerly awaited volumes in many a day. As all must know by now, Prism is a handsome hardbound compilation of Max's long unattainable color series on mentalism (The Blue, Red, Green, Yellow, and Violet Books of Mentalism). While it has been my misfortune to be among those who have been waiting, I am more than pleased to finally have the material in my hands. The writing is refreshingly concise, and the material itself is reminiscent of those practical, entertaining nuggets one used to encounter in The Jinx. This series began in 1976, along with Max's reputation, and, as Max notes in the foreword, the material has held up well. (As has the reputation!) Among my favorites: "Desire" melds a Living and Dead test with Pseudo Psychometry methodology (and a little more) for an effective piece that is anything but Living and Dead. "Satan's Nightmare" is a sort of signed Tarot card to envelope with the feature that all evidence of chicanery is destroyed, literally, before the final revelation. "Vision Version" is one of several items for which Max developed a new "ESP deck," featuring two design duplications and one strong prediction. "Nucleus" will fool those familiar with Gary Plants' "Magnetized Cards." (You can apply Mike Close's interesting presentation from Closely Guarded Secrets to this effect.) Finally, I close my own set of card material with an item that has its genesis in these pages, "The Spirit Is Willing (To Write)." That item was later varied by Eugene Burger and Rick Maue and eventually myself, but it all started with Max. There is much more of interest among these 53 items, but what I've just described would make for a most interesting set of dark experiments. As for production, this book is one of the best Stephen Minch has put out, a pleasure to read and behold. I hope both he and Max are rolling in moolah as a result. If so, can a consolidated lisp series be far behind?
THE CHOP CUP AT 50 -- For the past several years, Ron Bauer has been releasing monographs on individual magic tricks, some by himself, some by others. He's just released the best of the lot, The Complete Don Alan's Chop Cup. I've been a fan of the Chop Cup since I bought my first copy of Don Alan's Professional Presentation of the Chop Cup for 50 cents from Magic, Inc. (That mss also appears in Lots of Lawton.) I went through my Larry Jennings phase when Larry's routine appeared in a 1965 Genii, and then through my Ron Wilson phase when The Uncanny Scot appeared. (Ron fooled me badly the first time I saw the ball penetrate the silk, which doesn't happen in Larry's routine.) But eventually I returned to the simplicity of Don Alan's routine, studying the heck out of the Joe Stevens Don Alan video. It was only then that I learned how truly devastating Don Alan's load was. Jon Racherbaumer documented the routine in print in In a Class by Himself, but it wasn't until the subject Ron Bauer mss that both the history and the true details, the real work as they say, have been available on the page. Simple is only how it looks; the details are demanding. Fortunately, Ron Bauer's text rises to the occasion: it's all here, the history, how Don gets into the routine, what to do when things go slightly awry, and the incredible loading sequence. This mss is now a must for getting the magic down. As with the Vernon three-cup routine, the mechanics still offer considerable opportunity for personal interpretation. My favorites, both very personality based, are Dan Dygert's and Bodine Balasco's. Perhaps, after you learn the stuff in Ron Bauer's booklet, yours will become one of my favorites. $15 at dealers everywhere.
AS THE WORLD TURNS -- To many, Paul Curry's "Out of This World" is the world's greatest card trick (I side with Dai Vernon's choice of "Three Card Monte," but I digress). Dozens of methods have since appeared, most of them quite amazing, but I doubt that any of them look as amazing as Dean Dill's and Michael Weber's co-invented version, "A New World." Both ads and internet chat make it clear that a gaffed deck is somehow involved, and this gave me some concern until I beheld what Dean and Michael had concocted. The handling is so exceptionally clean that laymen should never suspect any funny business. Great thinking from Dill, Weber, John Kennedy, and others, along with superb photos by Pete Biro, make this an item well worth your attention. A very fair $30.
EXPERT AT THE CARD TABLE -- Richard Turner is the real deal. On his dvd The Cheat, this San Diego card sharp demonstrates over 100 techniques for cheating at cards. Be aware that this is not a teaching dvd; the techniques are merely demonstrated, as one would demonstrate to laymen so they can avoid being cheated. There is no in-depth instruction. Also be aware that, even though this is a dvd, the producers were very lazy and did not include a menu so that you can click to any item of interest. You must scan through it as if it were a vhs tape. For shame. These things noted, this is still a dvd you should own, as Mr. Turner possesses otherworldly skill that is a joy to watch. The highlight for me was a 30-minute act performed by Mr. Turner in the Magic Castle's Close-up Gallery. The card handling is awe-inspiring and the presentation most entertaining. Just getting to see this act was well worth the $34.95 asked.
TAMARIZ IN THE 21ST CENTURY -- Was it that long ago? It was way back in the July 1997 issue of The Little Egypt Gazette that I first reviewed Juan Tamariz's three-video set, Lessons in Magic. Now released in dvd format (with a decent menu!), the material is as fresh and baffling as ever. Check the original review. I particularly enjoyed revisiting Juan's TPC version of an impromptu card rise and his "Doubly Ambitious," a cool Ambitious Card routine in which two cards continually rise to the top. $80 for the set from Hank Lee.
February 2005
Valentine greetings to all the girls (in magic and out) I've loved before. You know who you are (which I assume is why you never call!). This month we've just returned from WMS 2005 with a rather full report, along with songs of praise for Max Maven's Prism, Ron Bauer's Chop Cup mss, Dill's and Weber's take on "Out of This World," Richard Turner's The Cheat, and Tamariz on dvd. Enough already!
WMS 2005 -- For me the World Magic Seminar 2005 began in the airport at Indianapolis. Sitting across from me, a young lady pulled out a deck of cards, executed a Charlier cut, snapped a card with one finger so that it whirled out of the deck, following which she caught it with her other hand. Damn it! The girl was Shayna Reed, who would be competing in the teen stage challenge. The entire Reed clan (three daughters, the parents, one grandparent, and two doves) would be making the flight. I hope they had as much fun as I did. Highlights for me included:
Jeff McBride -- A triple threat: I enjoyed his new Mainstreet Electrical Parade take on his mask act, his lecture, and especially his open house showing off his Magic School.
Performances -- Many stood out, but particularly Jeff Sheridan with his wonderful street magic at the opening night party, Mickey Silver with his incredible Retention Vanish, Chipper Lowell with his Rip Taylor-like sight gags, and Lennart Green with his otherworldly card control. The second night of the Close-up Show, Bob Sheets wrapped Lennart's head in tinfoil, which led to more laughs and mystery than usual. Best single trick on a show: Rich Bloch with his fly-on-nose card discovery. Several years ago, the Amazing Johnathan told me he thought Rich Bloch was the funniest act around (well, second-funniest). I thought, Rich Bloch? The attorney? Can lawyers be funny, except as the butt of jokes? I stand a believer. Or more correctly fall over laughing a believer. I'm not sure where to stick it, but I must say I also enjoyed David Copperfield's cameo appearance.
Gambling secrets -- Loved Paul Wilson's and Jason England's inside stories on the making of Shade, especially Paul's efforts at convincing his wife he really was working on a movie with Sylvester Stallone.
Adult contest -- My favorite was wacky balloon expert John Cassidy. No disrespect to the other fine acts intended, but this is one area I think has been weak in the past 10 years or so. The contest used to bring you the next Kevin James, the next Rudy Coby, the next Brett Daniels. It hasn't been that way for a while. The next big deals (Criss Angel would be an example) have been choosing different paths to the top. John Cassidy -- who didn't win -- partially restored my faith and easily earned my vote.
Teen (stage) contest -- I stayed awake through all 14 interesting and usually entertaining acts, despite a 3:00 AM bedtime the night before. I thought the three female contestants were quite good, but my favorite moments went to Dan Crook. His act went horribly awry, but his banter with Pete Biro after was hilarious. Here, I think, is a guy who has the personality and talent to actually make it in show business.
No contest -- The best show of the convention was the Cabaret featuring Bob Sheets (a longtime favorite), Johnny Fox (incredible sword swallowing act), and Docc Hilford (delightfully weerd). One chickened out on a Russian roulette trick, one swallowed a rifle barrel and then fired it at a card on his assistant's head, and one stuffed flies up his nose. My kind of show.
Emotional highlights -- Seeing Siegfried and Roy standing together on stage, the Sarmoti award (plus a stack of Geniis from Richard Kaufman) going to the incredible group of kids from South Africa, and Lance announcing that he is about to be a grandfather.
Laughter at midnight -- What happens in Vegas stays in Vegas. The midnight Joke-Off featured master joke tellers Penn Jillette, Mike Close, Max Maven, Johnny Thompson, Amazing Johnathan, Mac King, Jay Marshall, and Rich Bloch telling some of the funniest dirty jokes ever told at a magic convention. I was already laughing from hearing Max and Michael telling each other jokes even before they went on. The funniest would have to go to Penn with a Siamese twin joke you'd have to see as well as hear. Um, this is just something you won't ever see at the Columbus Magi-Fest.
The workshops -- Badly in need of morning sleep, I failed to attend any of the workshops, but heard terrific reports from those who attended the sessions with Lennart Green, Mike Close, and Jamy Ian Swiss. These were very modestly-priced extra pay events, and I hope such offerings continue.
Camaraderie -- Each year at this convention I run into many old friends, some famous, some just regular guys the public hasn't heard of. All are fantastic people. On any day you can spot the creme de la creme of the magic world strolling through the dealer room. Creating a stir on the final day of the convention, even among so many vaunted others, was Criss Angel, who proved to be as nice and accessible as you might hope.
Low point -- My least favorite moment was experiencing (fine magician) Kozak's preaching. I had been looking forward to Kozak's appearance, and now I'm sort of sorry he was there. I don't want to hear Penn Jillette's views on religion or anyone else's. Just do your damn magic shows, guys, and save the religion and politics for Sunday School or election rallies.
High point -- I love it when a magic convention completely re-charges my interest in magic. It happened this year, and specifically it happened in the context of three card tricks, none of which were part of the scheduled events. These were casual moments I was fortunate enough to witness. In no particular order: (1) Mike Close with a stunning Cards Across routine, virtually self-working but what a killer; this fooled many well-posted magicians badly, (2) Eugene Burger's incredible work on Dai Vernon's "Trick That Cannot Be Explained," and (3) master thief Apollo and especially Apollo's girlfriend reading the minds of anyone who selected a card from a poker hand dealt by themselves from a shuffled deck; this created a sense of wonder one seldom sees in a mere card trick. And while I promised only three, I should add that Eugene's card in envelope prediction also dropped another guy and me to our knees.
Non-convention highlights -- Vegas is so cool. I loved The Mac King Show at Harrah's (Mac's new illusion will startle you), The Amazing Johnathan Show at the Riviera (you must see his new Bad Karate Theater with awesome co-star Penny Wiggins), Constantine at the Orleans multiplex, and Mamma Mia at Mandalay Bay.
The competition -- Back when WMS was DMS at the Tropicana, there were golf and tennis tournaments. This athletic spirit was reinstated this year thanks to the Orleans hotel offering a first-rate 70-lane bowling alley. Those who participated knew that the real competition wasn't the stupid afternoon magic contest, but up here on the lanes in the middle of the night. Here you could find such fierce talent as Bill and Becki Wells, Arlene Larsen (cheered on by Milt and Irene), Deana Murray, Glenn Farrington, Rich Bloch, Amazing Johnathan, and James Dimmare. Only here could you see AJ solve the problem of a 7-10 split by rolling two balls simultaneously. I am pleased to report that my stalwart teammates (Bob, John, and Ed) and I took home the silver medal, and modesty forbids this 130-average bowler (do you even have an average if you only bowl once every 10 years or so?) from saying who posted the night's highest single-game score. That was magic. I daresay more fun was had here than anywhere else at the convention.