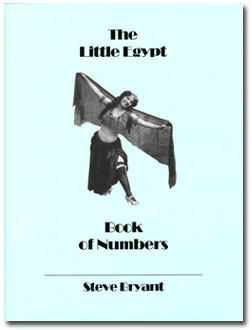 For adults only! ID required!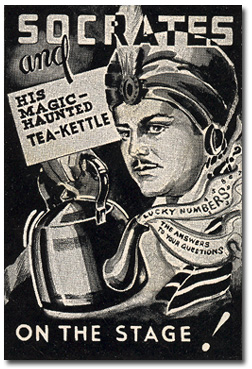 Before there were cell phones
WORDPLAY -- In January 2000 I reviewed Life Stories, a collection of New Yorker profiles edited by David Remnick. Chief among the celebrity bios was that of Ricky Jay, by Mark Singer, in a piece titled "Secrets of the Magus" that originally appeared in the magazine in 1993, shortly before Ricky's Broadway appearance in Ricky Jay and His 52 Assistants. I continue to believe that this is the finest piece on a magician ever written, and was a wonderful way to roll out the red carpet for Ricky's show. It was fun to read this again. My favorite factoid about Ricky that I had forgotten? He [as a boy] loved to play basketball. My kind of guy. (The entire article is available on Ricky's excellent web site at www.rickyjay.com.)
Elsewhere in the same book is a Kenneth Tynan profile on Johnny Carson, when Johnny was 15 years into "The Tonight Show." The article touches on Johnny's interest in magic, my favorite anecdote involving Johnny volunteering during WWII in San Diego to be sawed in half by Orson Welles.
BACK TO THE ZONE -- It was way back in July-August of 2002 that I first viewed Bill Malone's On the Loose dvds, an L&L set of four performance and instructional volumes. Bill is just so funny and so talented. I recalled how good "Sam the Bellhop" and his highly original take on the "Invisible Palm Aces" were, but there were two items I had overlooked. In his "Multiple Selection" routine, Bill's method for losing the selections is brilliant and should fool anyone. And it's impossible to study his "Slydini Silks" routine and not learn all the details of one of the finest tricks in magic. Good news: Louis Falanga is currently selling a pair of Slydini silks along with Bill's instructions on dvd and with the annotated Slydini text, all for only $40.
OH, DOCTOR! -- One of the thrills in magic is being fooled, especially if you've been in it for a long long time and are fooled by something you thought you knew. This will happen to you when you watch Doc Eason do the old newspaper wrapped "Glass Through Table" on his "... After All These Years ..." dvd, first reviewed here in December. This remains a must purchase, with new material you have not seen Doc do on his previous releases. Hey. It's worth it just for another look at Doc's spectator/assistant. Still a low $25.
July 2004
Earlier this month, a few days' forced convelescence gave me the opportunity to revisit some materials reviewed here long ago. Specifically, we spend time once again with Ricky Jay, Johnny Carson, Bill Malone, and Doc Eason, along with a new look at David P. Abbott, voices from the past, and a sneak preview of the, ahem, book of the year. (At least in Little Egypt!)
SOLD OUT -- A few years ago, at some magic convention or other, Mike Close was selling one of his Workers books, and someone asked him if he had sold out. He retorted, "I sold out when I wrote the book." I now know exactly how he feels, because some of my favorite magic is exposed in The Little Egypt Book of Numbers, new from H&R Magic Books.
Joe Stevens fans will be aware that the book began as a work in progress on Joe's Gemini web site, appearing approximately monthly for 12 installments. It was a period of intense creativity for me (relative to my usual zero state) as I attempted to concoct miracles that would play in bars for my friends. I had exposed them only to the best material in magic for several years, so the bar was high. I sought material that was shocking and memorable, something that they would consider out of the ordinary. The creative period extended beyond my commitment to Joe, and the "book in progress" eventually grew to 20 items. The "Little Egypt" refers of course to the part of Illinois that I frequent, and the "Numbers" is because some number plays a part in each of the trick titles.
It would be unfair to suggest that all the items became standards in my repertoire. One of them, a mini-play, I have never performed, and yet it is one of my favorites. One of these days I'll work out the logistics of bisecting my naked assistant while surrounded in a Little Egypt saloon. On the other hand, I have a library full of wonderful books, by all the usual cast of Vernon and Marlo and Elmsley and Hamman and Lovell and Lorayne and so on. Despite this, I can honestly say that I routinely perform more items from The Little Egypt Book of Numbers than from any of these books. There are items that should baffle anyone, items that get people wet, items that are sexy, items that are seriously frightening, one that will get you kissed, and one that might result in your mom washing your mouth out with soap.
As I stated in the Introduction, "I want the audiences to feel they are witnessing a once-in-a-lifetime event, perhaps something untried and dangerous, or something outlandishly spontaneous and funny, or (gasp!) something real." If you would like to share such experiences with your audiences, or if you would simply like to learn the most f***ing amazing card trick you have ever encountered (sorry, but there is no other way to describe it!), send H&R Magic Books an order ($35 plus 10% for shipping). Richard and Charlie just love to sell retail! I am not selling the book through Little Egypt Magic. Please order directly from H&R, or through your favorite dealer. For mature (or seriously immature) readers only.
This just in! I received my copy yesterday (7/21/04), and H&R their copies today. Some joker is already selling the book on eBay for $39.95 and up. Only in America.
IT'S HOUDINI ON LINE TWO -- I've been fascinated with the idea of the "Enchanted Talking Tea-Kettle" ever since Robert Nelson used to advertise one in his catalog, "complete with Detectaphone, ready to set up for immediate operation and full presentation." A pre-miniature radio version of this effect plus numerous other spooky effects are the subject of a compelling article on David P. Abbott in the current (August 2004) issue of Genii. The article is by Teller and foreshadows a beautiful two-volume set on Abbott due out soon from Todd Karr. Check the ad in Genii for a pre-publication offer. (Also in this issue are a very funny book review column by David Regal and the always amusing "Inquisition" quiz by Max Maven.)
RADIO MIND READERS -- I trust that most readers of this sheet also log into the Genii Forum on occasion. One correspondent recently provided a link to a BBC radio program on mentalists, which features Dunninger, the Piddingtons, and Chan Canasta among others. A delightful program. Go to http://www.bbc.co.uk/radio4/progs/ listenagain.shtml and then click on "Men of Mystery." Catch it while you can.