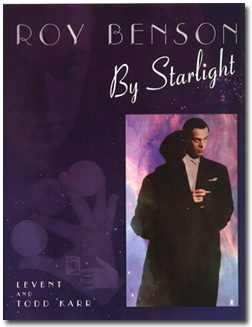 Roy Benson: The Book.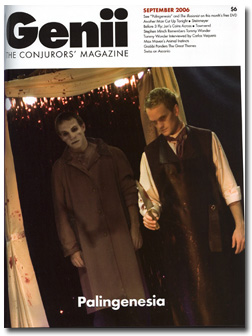 Doogie's new scalpel.
ROY BENSON GOES POSTAL -- By that I simply mean that, after quite a wait, the 800-page latest release from The Miracle Factory, Roy Benson by Starlight, finally made it through the US mail to this address. For many of us growing up, Roy Benson was known mainly for his Bowl Routine and his coin vanish and recovery (Banished) from The Phoenix. Those of us fortunate to witness Levent's presentation with video at the last MAGIC Live got to see the boy actually work, and it was a treat to behold his charm as he did such simple core items as his Chinese Sticks, Billiard Balls, and Psychiatrist routine, the latter a comedy bit worthy of the hippest comics of his era (a playbill on page 59 lists four acts at The Blue Angel: Ruth Olay, Roy Benson, The Smothers Brothers, and Woody Allen). The complete Roy Benson story is in these pages, including his mentoring under Nate Leipzig; his show business career; his interweaving of skilled manipulation, apparatus tricks, and comedy; his various self-invented tricks; and, my favorite part, his thoughts in his own words on such topics as routining, entrances and exits, acting, audiences, wardrobe, music, television, amateurs vs. professionals, peer, children, and presentation. This book by Levent and Todd Karr is simply marvelous, its contents and its staggering physical presence what we have now come to expect from The Miracle Factory, a proud addition to such works before it as the David Abbott and Al Baker books. $150 pp directly from The Miracle Factory.
DOMINIQUE GOES UNIVERSAL -- Way back in 1996, we ran a feature in The Little Egypt Gazette called French 101: Introduction to Dominique Duvivier. The feature included a review of Jon Racherbaumer's Magie Duvivier, still one of my favorite books, and brief reviews of some of Duvivier's marketed props, most available at that time only through Jeff Busby. The props were expensive, with the result that I didn't actually get my hands on them, and could only wish. Wishes are sometimes granted, and thanks to Murphy's I now possess a Mayette Magie Moderne version of The Deck That Shuffles Itself. It's a dream to use and is eye-popping magic. With this deck you can, at any time, instantly show the deck with cards facing all the same way (both faces and backs can be shown), mixed face up/face down a la Triumph, or as all the same card. Then put the deck away, tap it as a smoker taps his cigarettes, and show that the printing on the case has smushed to one end. Absolutely no skill required and no worries (such as rough/smooth cards not separating nicely, etc.). If you can ribbon spread a deck, you can do this trick. This deck was once $53.50 from Jeff Busby in 1996 dollars (with his own instructions); it's now $36 from your favorite dealer. By the way: I'm still wishing. I hope The Duvivier Deck soon follows.
Note: click here for something cool to do if you own Duvivier's self-shuffling deck.
August 2006
As summer dwindles, all too soon, we consider the upcoming It's Magic!, a gaffed deck from France, a surprise dvd from Genii, news re Mac King and Max Maven, the Roy Benson book (at last), a hottie on the internet, and an apology to anyone I failed to mention in last month's SAM review. We hope you enjoyed your summer and are looking forward to fall. The "season" is upon us!
DOOGIE GOES SWEENEY TODD -- Most of us do not get invited to the Los Angeles Conference on Magical History, the biennial conclave hosted by Jim Steinmeyer and friends, with past outings including such demonstrations as the Blue Room and Hooker's Rising Cards. In 2005 the conference featured Palingensia or Another Man Cut Up Tonight, in which the limbs of a spectator are severed from his body only to regenerate themselves later. It was a macabre seven minutes. In addition to resurrecting the unusual "it's done with mirrors" mechanics and optics of the effect, Steinmeyer wrote some excellent dialogue (the original presentation didn't exist) and had the whole thing acted out by the extraordinary talents of Neil Patrick Harris and Jonathan Levit. The big news is that the powers that be taped the event and have made it available on dvd for free with the September issue of Genii. As always, there is no better time to subscribe to Genii.
SAM GOES ANOTHER MONTH -- After reading my SAM review of last month, I noticed that I failed to mention several excellent performers, commenting mostly on stuff that struck me as unusual and overlooking guys I expected to be good. Three of these were on the Thursday night show at which I arrived late from my Bobbie Ann Mason excursion. Fortunately, I arrived in time to see Stephen Bargatze do his hilarious turn as a sort of human Mortimer Snerd in a straitjacket, Ardan James turn mime into magic, and Gene Anderson rip, snip, and fold his way through the act that has made him to newsprint what Marvyn Roy is to light bulbs. Delightful magic in a delightful city. Book now for 2008!
IT'S MAGIC! GOES GOLD -- By the time the next issue of this sheet appears, the 50th Anniversary of It's Magic! will have been held at the Kodak Theatre in Hollywood, on Sunday, September 17, at 7:00 PM. For this special outing of Milt Larsen's long-running stage show (produced recently and, including this time, with Terry Hill), Jason Alexander will emcee a cast that includes Rich Bloch, Lance Burton, Juliana Chen, Dimmare, Michael Finney, Kevin James, Kalin & Jinger, Jason Latimer, Mac King, Jeff McBride, The Passing Zone, The Pendragons, Darren Romeo, and Rick Thomas. Wow. Tickets will range from $29.50-$69.50.
MAC GOES LONG -- Excellent news for Las Vegas visitors is that Mac King has signed a five-year extension to his Harrah's contract, meaning that he will be making people laugh at 1:00 and 3:00 each afternoon until well into 2011. Ever since Mac began his family-friendly show in 2000, this has been the best show deal in Las Vegas. Tickets remain at only $19.95 plus tax, available by phone at (800) 392-9002 ext. 5111 or by checking in at www.harrahs.com.
MAX GOES ROTARIAN -- On the Magic Castle web site Gay Blackstone posted this happy announcement, which says it all and begs no re-phrasing: "I am pleased to announce that at the Board of Directors meeting on July 6, 2006, Max Maven was unanimously appointed pursuant to the By-Laws to fill the vacancy on the Board of Trustees created by Billy McComb's death. Max was the unanimous recommendation of the Board of Trustees and we are all confident that Max will make an excellent addition to the Trustees. Max will serve out the remainder of Billy's term and be eligible for reelection in 2008." This was one of the most encouraging bits of news I've heard from the Castle in a while. I voted for Max a few years ago and no doubt jinxed him, as virtually no one for whom I vote ever gets elected to anything. It's nice that good things eventually prevail. Perhaps it's simply that Billy is watching over us.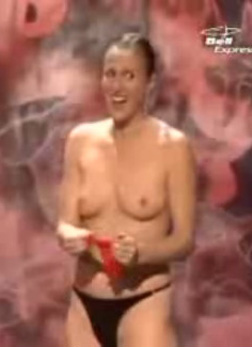 Ou est le foulard?
URSULA GOES AU NATURELLE -- French Canadian comic Ursula Martinez takes the old magician's claim "nothing up my sleeve" to the limit with her hilarious repeat silk vanish routine. Her appearance on the internet this month set the magic forums ablaze with praise and condemnation (incredibly, some magicians were criticizing her technique). As an expert on the matter (a sufficient number of viewings makes you one!), I charge that this is one of the great comic acts and novelty magic acts of all time. Despite her taking off enough clothes to make Janet Jackson look overdressed, Ursula's act is anything but sexy. It's all attitude and insane mugging, from the second she walks out to the second where there is just nowhere left to hide that little red hanky. While it lasts, check it out yourself at Ursula's magic show.