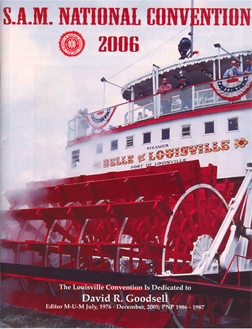 Welcome to Louisville.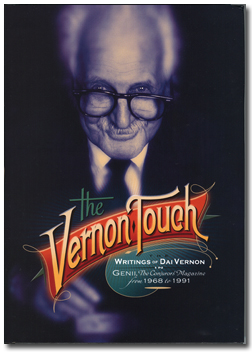 Best new book.
SAM'S TOWN -- For four steamy days in July, the Society of American Magicians hosted its annual convention, in Louisville, a mere two-hour drive from The Little Egypt Gazette publishing complex. It is my pleasure to note a few highlights:
Best New Book: Richard Kaufman's Genii booth was hopping, with deals on Genii subscriptions (the Peter Warlock book deal is still in effect), nonstop coin tricks by Al Schneider, and, most importantly, stacks of fresh copies of The Vernon Touch. Technically, as a longtime Genii subscriber, I have already read every word of this book. But the sum is greater than the parts, by far: This is a sumptuous 608-page whopper of a book, lavishly produced on heavy glossy stock and gorgeously laid out by Michael Albright, with a detailed index and scads of new photos of Vernon and his brethren. But the real treasure is having Vernon's thoughts on record from 1968-1990 (my own presence at the Magic Castle began in 1968, so in many ways it is a chronicle of things I witnessed). Kudos to Bill Larsen for cajoling Vernon into keeping his column going (the column was surely the longest "job" Vernon ever held) and to Richard Kaufman for having the vision to realize what a fine book this could be -- and now is. A steal at only $69, direct from Genii.
Second Best New Book: It's a Dai Vernon summer. Publisher Gabe Fajuri was on hand with copies of the new David Ben book, Dai Vernon: A Biography. This 366-page book reads like a novel and, I assume, is aimed at the public as well as at magicians (secrets in general, commonly known to magicians anyway, are not revealed). Note that the book covers Vernon's life only from 1894-1941, so magicians will soon be clamoring for Volume 2. Volume 1 is an entertaining and highly-informed read. One poignant note: Here in mid-July, as an indication that this book is hot off the presses, it seems all too soon to be reading such phrases as "courtesy of the late Billy McComb." $40 from your favorite dealer.
Best Pat on the Back: In 1989, David Goodsell reviewed Little Egypt Card Tricks in MUM with praise that made a young(ish) author very happy. I was only too glad to rise early to attend his tribute for serving as MUM editor for 30 years. The session was delightful, with a slide show that informed me that David was a Harvard grad, a college professor, husband of a major babe (and father of one!), and once the young owner of a dazzling convertible sports car. Only he knows the relative importance of those accomplishments, and how he was able to fit in 30 years of editing a monthly magazine remains a mystery. Not one to rest, David now edits Oracle magazine; check details at www.oraclemagicmagazine.com.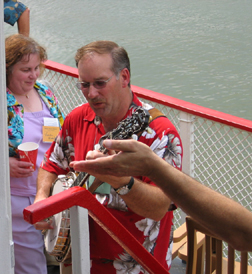 Entertainment on the river.
Best River Cruise: Okay, there was only one, but the Belle of Louisville cruise was a pleasant way to while away a couple of hours, with strolling magicians and a great banjo player/troubabor. And for me a trip down memory lane: in the early sixties, this same vessel, then known as the Avalon, used to dock in Little Egypt and take us out on moonlight cruises. Those were the days.
Best Adventure: A apocalyptic thunderstorm erupted the night of the All Gal Gala, making the five-block walk to the theater perilous. Teen baseball magician Michael Platt and his mom joined me for an incredible odyssey through secret hotel tunnels, parking garages, and locked, dark buildings until we made it safe and dry all the way to the Galt Hotel, only a block from our destination. Alas, the storm's fury continued unabated, and we had to slink into the taxi we should have started with. But what fun!
Best Stuff I Missed: I wanted to see teen star Sterling Dietz perform, but my tardiness caused me to miss his show. Maybe next time. Even worse: on three different occasions, Muhammad Ali showed up in the lobby and posed for photos with the attendees lucky to be on hand. Although I had my camera ready, I missed all three opportunities.
July 2006
This issue is devoted solely to the S.A.M. convention in Louisville. I've no idea of the attendance numbers, but I'd guess that virtually all had a fine, relaxed time, as I did. My favorite dealers were there (Genii, H&R Magic Books, Joe Stevens, John Rogers, Andy Greget), and it was fun to hang for a few days with new friends and old. Louisville will host the combined IBM-SAM convention in 2008, and I encourage all to consider attending. You won't find a friendlier city.
SAM'S TOWN, CONTINUED --
Best New Dealer Trick: Fukai's "Wow." $55 is a lot for a card trick, but was no obstacle to runaway sales. The "wrong" card is slid into a see-through plastic sheath. Slowly and visibly the card morphs into the correct, signed card. The card is then removed from the see-through sheath for inspection. (Or, you could make any message appear on a card.)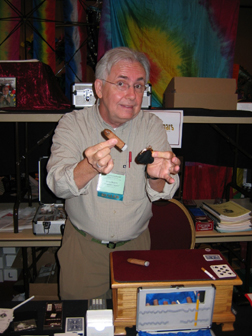 Best dealer trick.
Best Dealer Trick: Not new, but great, is John Rogers' eye-popping multiplying lit cigar routine, now taught on a dvd produced by Guy Camarind. All the beautiful hand-made wooden cigars and accessories and the killer routine for $130. Check it out at woodencigars.com, and don't overlook the amazing pencils that John sells. The paddle move was never this easy or this magical.
Best Reasons to Think Magic Is in Good Hands: The youngsters were great at this convention, including many on the opening night stage contest (all fine acts), especially from China, Korea, Japan, Singapore, and Argentina, as well as on the Stars of Tomorrow show. I particularly enjoyed Shari Nelson's bird act, and Kayla Drescher was a charming emcee who did a great running short-change gag with Duane Laflin and who, on the Stars show, wore more cute outfits than Roy did on the first Siegfried and Roy special.
Best New Face: We all hoped the Friday night All Gal Gala would be great, with Arian Black (and her incredibly cute and talented assistant, Joanie), teen yoyo sensation Farrah Siegel, Luna Shemada, and Juliana Chen. It was, but the surprise hit of the night and the convention was emcee/ventriloquist Lynn Trefzger. A beauty with amazing vocal talents and a first-rate wit, she scored her biggest hit by bringing three audience members on stage (one of whom happened to be Mac King) and throwing voices into them. It was a riotous interlude that earned her a long, long standing ovation. It's a shame this bit wasn't taped.
Best Impromptu Magic: It's usually in the after-hours sessions that you see the best magic of any convention. For me it was twofold: (1) Ricky Smith's "Cherry Control" is, in Ricky's hands, a beautiful and invisible way to move a card from the center to the top of the deck (published in The Penumbra, issue five). Ricky is a new employee at H&R Magic Books with incredible skill and just a great cardguy personality. (2) On the final night's reception, Richard Osterlind borrowed a penny from me, Richard Kaufman and I both scratched our marks on it, and then Richard O proceeded to warp it with his mind powers while surrounded at close range by some of the nation's top magicians, all of whom were decidedly fooled.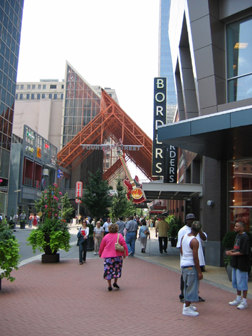 Louisville rocks.
Best Stuff Going on Outside the Convention: The Mariott which housed the convention was a fine, comfortable hotel and only a block from Fourth Street Live, a congregation of shopping, dining, and street dancing that included such features as a two-story Borders, a Hard Rock Cafe, a food court, and free music from the likes of the Marshall Tucker Band. But my favorite moment was Thursday evening, at another Borders across town, where I attended a Bobbie Ann Mason reading and book signing. For those unfamiliar with Bobbie, she is a novelist and New Yorker short story writer who has put western Kentucky (very close to Little Egypt) on the literary map. If I had known I was going to be so excited that I would lie awake until 4:00 A.M., I would have gone downstairs and found someone to do card tricks with.
Best Reason to Attend S.A.M. 2006: Two words -- Mac King. Having Mac close a convention should be reason enough to compel any magician to attend, but having him close the show in his home town was special. The locals honored Mac by re-naming the Louisville Assembly as the Mac King Assembly, and the organization provided Mac a strong opening line-up with Tony Chapek, Losander, and emcee Terry Seabrooke. But it was Mac everyone wanted to see, and it was like watching a rock star play his favorite hits: virtually everyone in the audience knew Mac's show by heart. And they loved it. Arian Black and her assistant, Joan (did I mention she was incredibly cute?) sat directly in front of me, and even these Las Vegas veterans ate up every gag. In addition to performing all his classic bits -- the Thumb Tie, the Aerial Fishing, the Hiccup Cure, the Cloak of Invisibility -- Mac got off some funny callbacks to his night as a vent dummy and he contended very well with some audience kibbitzing from his mom. It was a great night, a great show, and a bit of Louisville magic those in attendance will never forget.