HAUNTING A BOOKSTORE NEAR YOU -- To make it clear to his Little Egypt Magic readers what he had been up to (publication of Lucas Mackenzie and the London Midnight Ghost Show), Steve posted the following interview with zombie correspondent Gus Grime from radio station WZMB. His transcript is repeated below, modified from its original wording to accommodate a more general readership.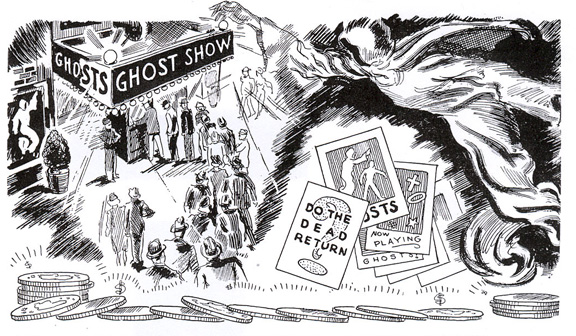 The ad that got Steve interested in ghost shows.
GG: I am on the air with Steve Bryant, author of The Little Egypt Book of Ghosts and the Genii article "Zombieland," about magician Jack White and his Dr. Blood's Zombie Show. His latest offering is Lucas Mackenzie and The London Midnight Ghost Show. Tell me, Steve, what is your new book about?
Steve: It's a middle grade novel about friendship, family, and phantom romance.
GG: Are you being cryptic or just alliterative? Tell me a little more about your book. What is the story?
Steve: Hmmm, I should probably issue a spoiler alert if we are going into details. How about this:
Emerging from four years of postmortem amnesia, young Lucas Mackenzie comes to realize that he is dead and his family is alive, and he yearns to get in touch with them. But Lucas is a ghost in the company of a traveling midnight theater ghost show, and contact with the living is against the rules.
Lucas keeps his attempts at contact a secret as he and his fellow phantoms hobnob with the celebrated dead at Forest Lawn, party in abandoned funeral homes, watch movies outdoors in cemeteries, vacation at Lily Dale, bowl in all-night bowling alleys, and frighten teenagers in old theaters on Saturday nights.
Can Lucas keep the show going despite dwindling audiences and a dedicated ghost hunter? Can he capture the heart of the incomparable Columbine, the show's enchanting fifteen-year-old psychic? Can he find his way back to his once-forgotten family? Keep reading long, long into the night, to the final act, when the London Midnight Ghost Show plays in Lucas's former home town, to surprising and afterlife-altering consequences.
GG: Delicious. Where is this story set?
Steve: As my magician friends know, the midnight theater ghost shows flourished in America from 1929 to 1960 or so. My story is set in 1959 Americana, near the end of that era. It was a fertile year for those of us who lived through it and loved all things spooky. It was the year we grinned over Charles Addams cartoons, cringed at classic and contemporary horror movies, searched for Bridey Murphy, scanned the skies for UFOs, worshipped Forrest J Ackerman and his Famous Monsters of Filmland, and anticipated Disney's Haunted Mansion. My cast of spooky thespians interacts with many of these elements as they crisscross the country giving performances.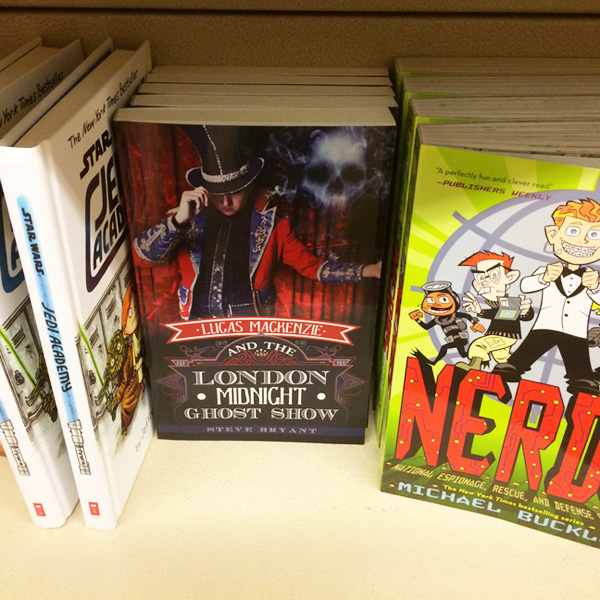 Lucas at Barnes and Noble.
GG: I'm salivating. How did the book come to fruition?
Steve: My agent is Anna Olswanger, and she's fantastic. If you hang out in the children's section of any Barnes and Noble, not that you should, you will find that many of the top titles are represented by her. That includes the recent Newbery Honor book Paperboy, by Vince Vawter. Anna hooked me up with Month9Books, the perfect home for Lucas and his pals.
GG: What is Month9Books?
Steve: Month9Books is a young publishing house (it will turn two on October 31, 2015) that specializes in spooky and fantasy fiction for teens. Its motto is "Speculative Fiction for Teens & Tweens ... Where Nothing Is As It Seems!" Month9Books is one of three imprints under the amazingly multitasking Georgia McBride. Georgia has completed over 100 publishing deals in the past two years. You might like Dead Jed: The Adventures of a Middle School Zombie, by Scott Craven. For Lucas, I spent about a year working with one of Georgia's top editors, Jackie Kessler, who has credits in the Buffy universe, and the book is scheduled for release February 24, 2015. You can preorder it today on Amazon.
GG: Now that the book is coming out, does this mean you'll be devoting more time to your web site?
Steve: Not quite. I signed a two-book contract, and the second book is due out in the fall of 2016. So the fun continues. Meanwhile, I hope everyone enjoys Lucas.
GG: I look forward to reading it. It would be faster for me to absorb it, of course, if I could just skip the reading and feed on your brain.
Steve: Thank you for having me on your program. I'll be going now.
Links to additional interviews with Steve Bryant: