While everyone agrees that magic is best experienced live, experiencing it on the internet is better than not at all, and many magi have been especially creative and generous with their time. I love you guys. In March we "indulged" with Lucy Darling. Last month we cited the Portland Magic Jam, links provided by friends, the Magic Castle's AMA archives, and Vanishing Inc.'s ShareMagic: Live2020. First-rate content continued to flow during April and early May, the following of which I particularly enjoyed. (And if you have a contribution I have overlooked, don't despair. I hope to get there.)
THE MAGIC CASTLE MAKES HOUSE CALLS -- True, you can't say the magic words and pass through an enchanted bookcase, but thanks to the AMA its members can still enjoy plenty of magic from the Magic Castle. The Video Galleries continue to be enhanced, with Rob Zabrecky's seminal 80 episodes of Who's Hoo being added to Fitzgerald's 64. I had missed these brief early versions with their funky sixties commercial breaks. Welcome back.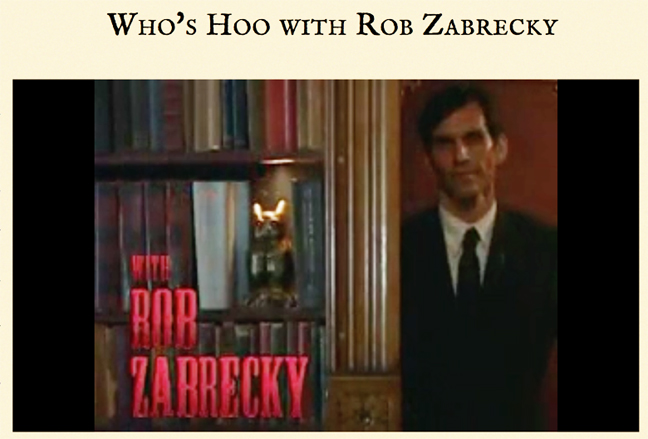 The original Who's Hoo is back.
And members are rightly thrilled with the new Behind the Bookcase series broadcast twice weekly. The first I enjoyed was Max Maven's Story Time, in which Max provided amazing, often funny anecdotes about the likes of Joe Berg, John Scarne, Orson Welles, Eugene Burger, Max's own start in magic, Senator Crandall, Goldfinger, Heba Haba Al, Lou Derman, Albert Goshman, Bill Bixby, and Harry Blackstone Sr. Delightful. Joe Furlow provided a stunning tour behind the scenes at the Magic Castle, including both modern and vintage refrigeration equipment that Milt had cobbled from a battleship. (A Joe Furlow note: it normally takes him an hour and a half to drive from his home in Long Beach to the Castle; it now takes him 20 minutes.)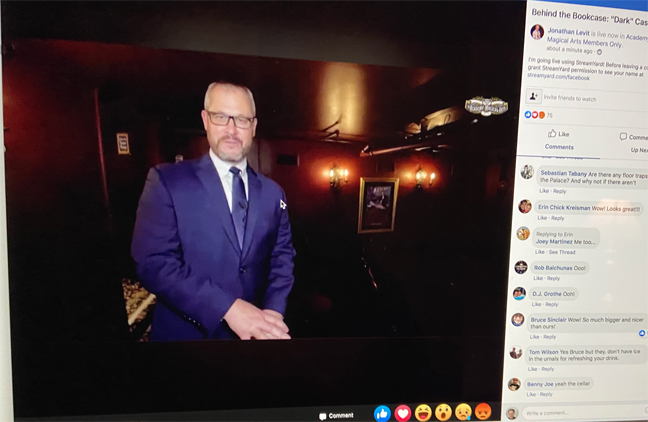 Behind the scenes with Joe Furlow.
John Carney hosted performance clips of Charlie Miller, Al Flosso, Al Goshman, Carl Ballantine, Suzy Wandas (maybe), Orson Welles, and Cardini. What a night of magic. (My favorite thing to learn from John: Flosso performed at Ricky Jay's 16th birthday party.)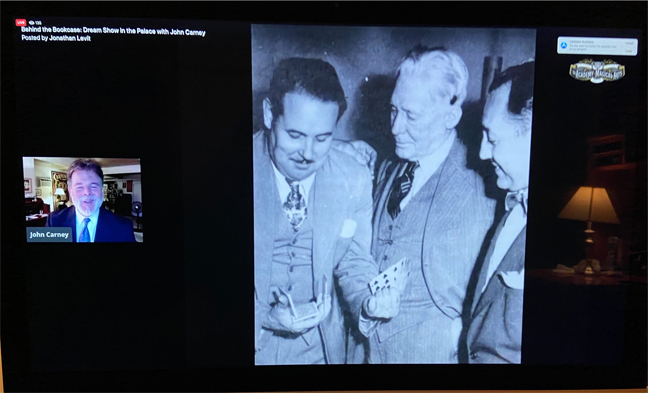 John Carney hosts a night of stars.
Mike Caveney conducted an hour tour of his fantastic collection in Pasadena, all beautifully organized, and he showed clips from the Sale of the Century when he and George Daily disposed of their "overage" from the Egyptian Hall purchase.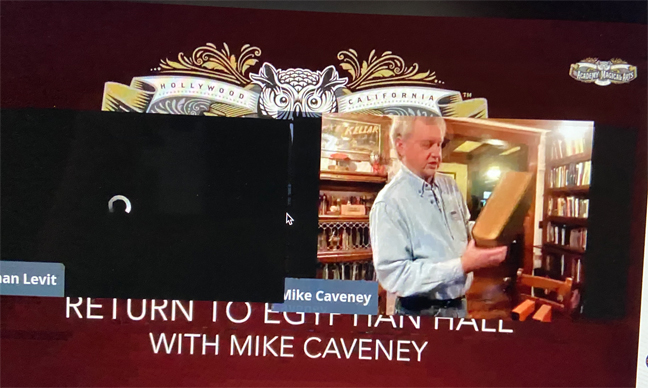 Exploring Egyptian Hall.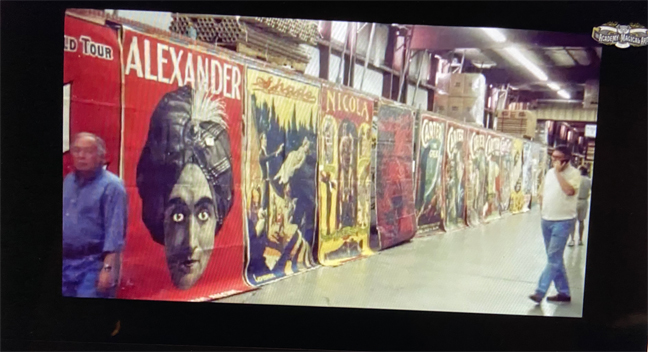 Sale of the Century.
And John Gaughan showcased his collection of magic tricks and clockwork mechanical gizmos, including a human-scale automaton clarinetist that once played Beethoven pieces. Holy moly. These initial evenings have been beyond special.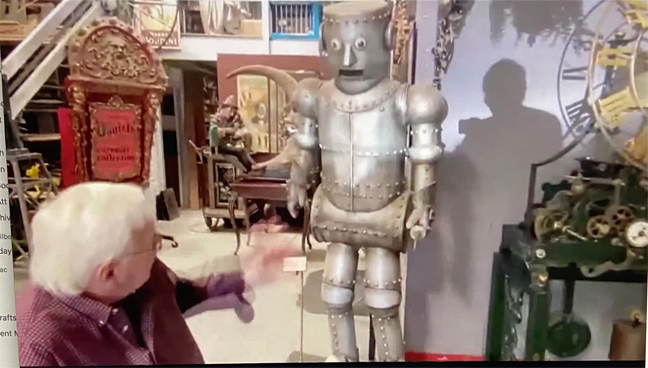 Straight from a Houdini movie.
THE COLLECTORS -- I cannot rank myself a collector. I am old and have accumulated a lot of stuff, but that is just life, not a serious, educated pursuit. Occasionally though, I get a peek into the world of collectors, and such was a Zoom night hosted by David Sandy, aka Magic Collectors Corner, April 26. My favorite bits were seeing Ken Trombly's Chung Ling Soo poster (and magic room) and hearing Jim Steinmeyer provide details of Soo's life ... and death.
MAGIC FROM DOWN UNDER AND ALL OVER -- Another recent favorite is the Laneway Live broadcasts from Tim Ellis in Australia. Nearly 50 are available, interviews with famous magicians following a cool opening trick by Tim. I thoroughly enjoyed my first two: Carisa Hendrix (Episode 44) and Rudy Coby (Episode 46). Carisa at time of taping was back in Canada, and Rudy was isolating in Randy Pitchford's home in Texas. There is great joy on Tim's face as he conducts the interviews. I look forward to more, and have Max Maven (Episode 48) queued up. Prediction: We are going to be in quarantine long enough for Max to organize his bookshelves.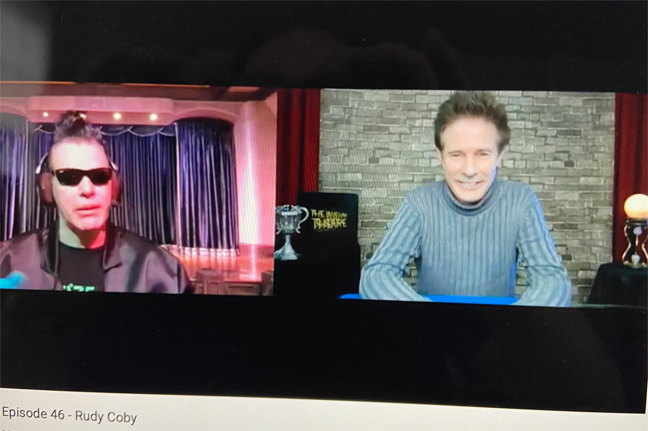 Rudy and Tim safely converse.
BPPFLIX -- What? Ah, here is an odd option for your time. Several times on Little Egypt Magic, I have reviewed performances I enjoyed at the BPP, or Bloomington Playwrights Project, whose magic-friendly director Chad Rabinovitz showcases original and contemporary plays only.
Like most facilities that require live audiences, BPP is currently dark. To maintain interest and make a few dollars, BPP is offering a service called BPPFLIX, a video stream of 25 of their favorite past shows. Two of these are complete magic productions, including Max Major's Mind Tricks and Simon Coronel's Glitches in Reality. There is also a comedy called The Banana Tree about a young lady convenience store clerk who aspires to be a Las Vegas stage magician, and the autobiographical The Life and Slimes of Mark Summers, starring Mark Summers.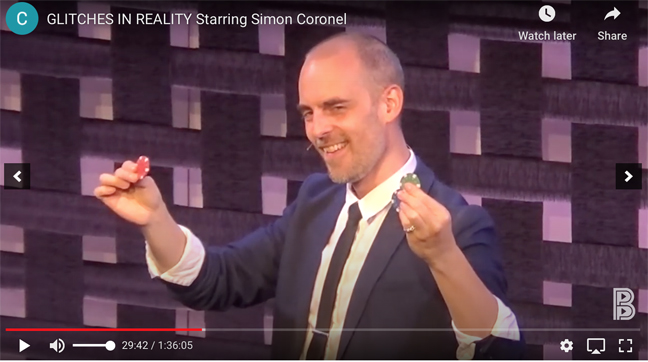 Simon Coronel tinkers with reality.
To access the 25 shows, go to BPPFLIX and make a donation. There is no minimum amount, but I would encourage you to contribute what you usually would to support local theater. A single donation covers all 25 shows. Access will cease on September 1. I can vouch for the four shows I mentioned, and you can find more complete reviews if you search the Table of Contents at Little Egypt Magic.
So many interesting options keep cropping up! Enjoy.