YOUR ROOM IS READY -- McGrave's Hotel is Steve Bryant's second middle-grade novel from Month9books ("Speculative fiction for teens and tweens ... where nothing is as it seems"). To celebrate the publication of McGrave's Hotel, Steve welcomes back zombie broadcaster Gus Grime from radio station WZMB. Gus recently appeared among the gravestones and cenotaphs of a Bloomington, Indiana, cemetery to interview Steve, and the transcript follows.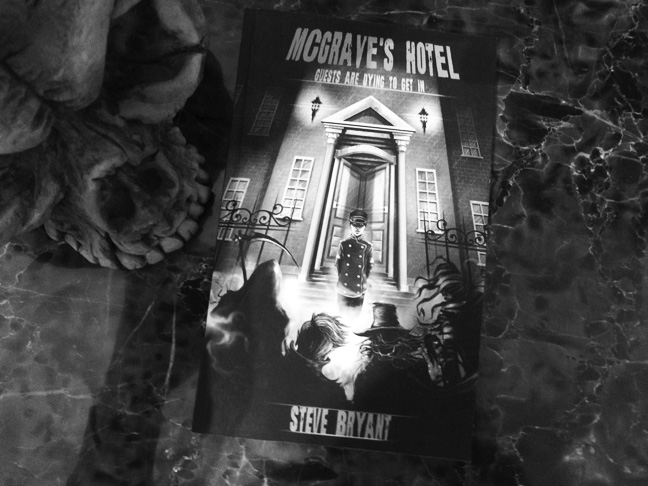 Happiness is a new ghost story.
GG: Hello, afterworld. I am on the air once again with Steve Bryant, author of Lucas Mackenzie and the London Midnight Ghost Show and his new book, McGrave's Hotel. Lucas was the surprise hit among the undead in 2015. Tell me, Steve, is McGrave's Hotel a sequel?
Steve: No, not really. There are similarities, but McGrave's is more a straightforward adventure tale. For those old enough to spot the inspiration (and I don't expect this of my young readers or their parents), McGrave's Hotel is a takeoff on the Academy Award-winning movie Grand Hotel. That is, it's a story about a single night in a large hotel in which some characters interact and others don't. In both stories a narrator proclaims that "nothing ever happens." In truth, something extraordinary happens every night. Which you might expect at McGrave's, because it is haunted. It caters to ghosts, vampires, werewolves, and the like. It's set in New York City in 1936, in the dark days before World War II.
GG: I'm all a-tingle. What is the story?
Steve: My young hero is James Elliott, almost twelve years old, a bellhop at McGrave's ever since his parents were killed on a spying mission into Nazi Germany. James craves a goodbye message from his parents, deals with three sets of troublesome guests (a ham actor auditioning actresses for Dracula, Egyptian museum officials whose priceless mummy vanishes, and a bridegroom whose head goes missing), and strikes up a romance with none other than Death's daughter, Fawn. James and Fawn risk death themselves as they resolve the guest situations and team against monsters and Nazis in a climactic rooftop battle.
GG: Busy boy! So it's a love story too?
Steve: As was Lucas. All my books, one way or another, are about young love.
GG: You said that there were similarities with Lucas Mackenzie. Can you elaborate?
Steve: Anyone who enjoys Lucas should enjoy McGrave's. Although not a sequel, McGrave's is related in that a repertory company of actors could play the lead roles in both novels. Lucas and James share similar ages and temperaments. Each boy has special skills. Each boy is "orphaned." Each craves communication with family on the other side of the life-death divide. Each has a love interest that is impossible. Each encounters hostile vampires. Each "grows" at the end of the story. Then there are totally unexpected coincidences. Each book features triplets. Each has animated skeletons. Each has someone dressed in black and white stripes.
GG: Weird. Most of the main characters in Lucas Mackenzie were ghosts. Are the main characters in McGrave's dead as well?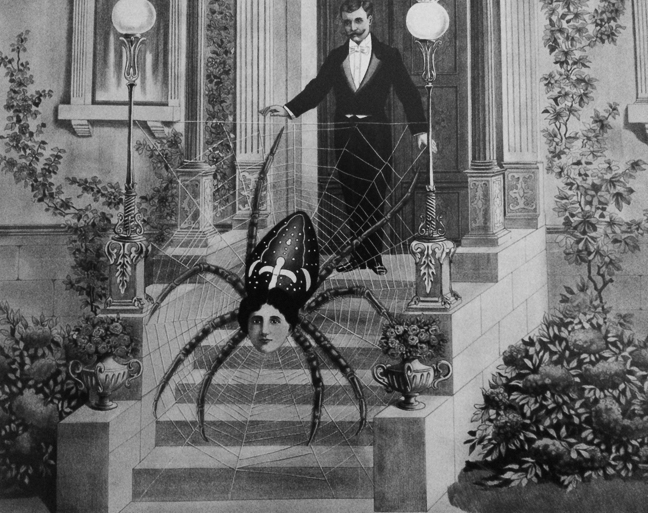 Can a magic trick inspire a story character?
Steve: Oh, no. James is a normal, living boy, as are the other bellhops. The night manager, Martin Nash; his assistant and psychic, Miriam Charles; the hotel's medical advisor, Dr. Otto; the newspaperman, Walter Quinn; and three sets of guests--all are quite alive. We can't quite say the same about Death himself; his daughter, Fawn; or the Beaumonts, a pair of society ghosts who dance at McGrave's nightly. And have I mentioned the problem of a mutant Nazi spider as big as a desk? Alas, she seems to have it in for James and Fawn. Spoiler alert: not everyone survives the night.
GG: Ah, I love arachnids. What inspired you to write this story of love, death, and spiders?
Steve: It's a tribute to my parents, who lived through the big band era of dining and dancing and danger played out in hotels and night clubs. As I mention in the book, I also found inspiration at the movies, especially the Saturday matinees of my childhood. I particularly loved the classic black and white horror films that featured multiple monsters, sometimes Frankenstein's monster, Count Dracula, and the Wolf Man all in the same feature. It is no wonder that I would one day write a story that contained vampires, mummies, oversized spiders, and assorted ghosts and ghoulies. I hope everyone has as much Saturday-afternoon-type fun reading it as I did writing it.
GG: I'm sure we will. Um, this cemetery is lovely after midnight, don't you think? Care to lie down and rest your eyes?
Steve: You zombies are such kidders! Um, thank you for having me on your program again. I'll be going now.
Links to additional visits with Steve Bryant and McGrave's Hotel:
Chapter by Chapter / Guest post: Steve's Seven Things I Now Know About Writing
W Momma Readers Nook/ Guest post: Steve's Top 10 Spooky Books
Never Too Many to Read/ excerpt
Lisa's Loves/ Guest post: Steve's world for McGrave's Hotel