MISSION ACCCOMPLISHED— Congratulations to Charlie Randall, the late Nick Trost, and everyone else involved in Nick Trost's Subtle Card Creations series.
Volume 9, from H&R Magic Books, is now in print and completes Trost's massive nine-book compilation of original card magic.Subtle Card Creations is one of the largest and finest posthumous collections in magic, and it has been a pleasure to watch it arrive, from H&R Magic books, every few years nice 2008.
Nick Trost, whose name rhymes with ghost, was a prolific creator of card tricks. The quantity and quality of his contributions invite comparison to the likes of Ed Marlo, Stewart James, Max Maven, Harry Lorayne, and others. He began publishing hs original magic in 1955 with two one-man Parades in The Linking Ring. He branched out into publishing marketed effects and manuscripts, and in 1961 began a monthly column in The New Tops that ran until 1994. (I looked forward to it every month through high school,) His first hardback, The Card Magic of Nick Trost, appeared in 1997.
Much of the material is relatively new Trost material. As he states in the introduction to Volume 1, "Since December 1994. after ending my card column in The New Tops, I began recording my ideas for card effects in a series of 21 notebooks.Many of these tricks you will find in this book."
The title Subtle Card Creations is earned. Trost's magic consists of easy-to-do card effects that require little or no sleight of hand to create a maximum effect with a minimum of effort: "I have tried to add something special to every trick in the book—-a novel application, better handling, a surprise ending, and so on." Contrary to some modern thinking, he would "start with a method and work forward to an effect, not the other way around." For Trost, combining a principle with other principles and working out th handling could lead to a new piece of magic.
Because he passed away in October 2008, Trost would not live to see the second and later volumes of this series. But he needn't have worried. He had already developed the card tricks, had planned their publication order to assure consistent quality and variety, and he had worked out the design features that would define a first-rate library of card magic. Under the steady editorial hand of Charlie Randall and the talented pen of illustrator Tony Dunn, it would all come to pass.
Let's consider those features. Trost dedicates the entire series to Stewart Judah, "a connoisseur of subtle effects."
Each book begins with a Foreword. Over the span of years, there were words from Karl Fulves, Peter Duffie, Martin Gardner, Roy Walton, Aldo Colombini, Richard Vollmer, Reinhard Miller, Paul Gordon, and Howard Adams. Each of these is followed by an Introduction from Nick Trost. Trost describes what the reader is to find in each book, in simple language and no hyperbole. The elegant Tony Dunn illustrations clarify the written instruction fas necessary.
As to style touches, each chapter begins with an epigraph from the literature, and vintage artwork from magic books and catalogs is sprinkled liberally throughout the books.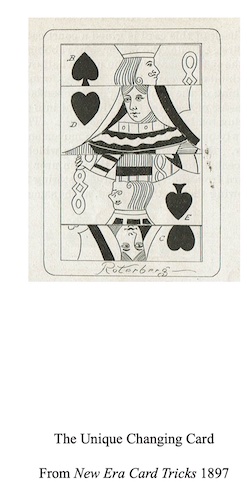 The card tricks themselves are spread evenly through the series, each book typically containing over 100 tricks combined into a dozen or so themed chapters. For themes that encompass more tricks that conveniently fit into one chapter, they are spread from chapter to chapter as, say, Gilbreath Plays Poker Part 1, Gilbreath Plays Poker Part 2, and so on. In all, there are some 2179 pages, not counting the frontal matter that is in Roman numerals.
Volume 1 also includes an Appendix: Sleights and Subtleties. This is a handy compilation of moves and ruses for accomplishing most intermediate-level card magic. Unless you re Jon Armstrong, you are probably not going to master every sleight in the Giobbi series. But these moves are in your reach, and rehearsing them should give you authority with a deck of cards. A portion of this Appendix also appears at the end of Voume 8, for the benefit of those who no longer have access to Volume 1.
But for now, let's take a look t the new Volume 9!
TROST 9? IT'S FINE! — With sequential books, Nick Trost has postponed publication of his final routines for a long time. The final chapters in the series include Unique Card Effects, More Coincidences, More Court Card Capers, More Gambling Tricks, Gilbreath Plays Poker - Part 6, More Predictions, Further Triple Dealing Effects, Further Pinochle Puzzlers, Still More ESP Tests, Tricks with Two Decks, and More Cards and Dice Die-Ceptions.
Of these, I especially enjoyed …
Queens and Kings, fromTrost's final pair of More Court Card Capers, looks oh so clean and requires nothing more difficult than a Braue Addition and a Diminishing Count. The deck is cut into four piles and a queen is dealt atop each. The queens reassemble atop one pile, and a king is discovered atop each. (In shorthand, it's a queen assembly that ends with a kings production.)
Five Tens, from Unique Card Effects, is one of my favorites. It looks like trick photography, and suggests specially printed crds. Five cards are cleanly shown to be tens, then all change to a royal flush. You could make this even easier, for example with five Diminishing Counts, but pay attention to how Trost displays the last few cards. Very clever.
Trost 9 contains the sixth installment on Gilbreath Plays Poker, with 25 more routines. Any routine that features a poker deal from a spectator-shuffled deck should baffle any layman. I liked Poker Player's Picnic, Revisited because it plays out like the card tricks we learned as a child, not from magicians but from other kids in the neighborhood.(And later from The Royal Road to Card Magic.)
Soapy Smith Deals Again is yet another poker deal, as discovered in previous volumes, where you justify a Klondike shuffle because "your fingers are so cold, this is about the only way you can shuffle."
Cutting to Straight Flush III (I and II appeared in Volume 8) reveals a selection and four more cards cut from a spectator-shuffled deck to be a straight flush. It's like a flashy four-ace four-ace production but from a shuffled deck.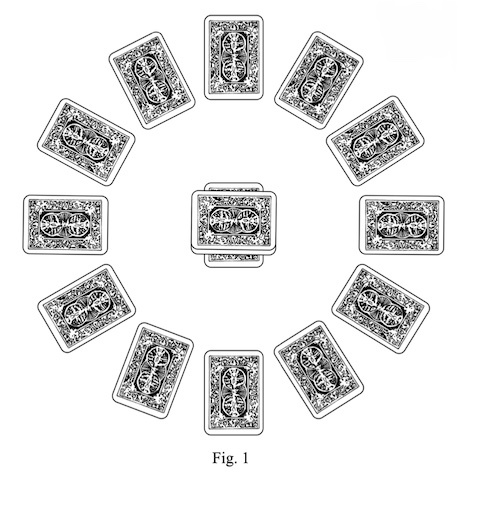 Around the Clock, from More Predictions, is an excellent addition to the canon. I adore clock tricks (with 12 cards thusly laid out). In this one, a card randomly cut to reveals a randomly chosen hour of the day. The card at that location on a clock dial proves to match prediction card chosen by the performer before this all begins. This is another fine use of the clock principle, but my favorite remains Triple fClimax Clock Trick from Volume 2.

Because I don't own or routinely use an ESP deck, I have paid only scant attention to the ESP tricks that Nick Trost has featured since Volume 1. Charlie Randall assures me that there are some fine tricks among them. A case in point from Volume 9 is Still Another ESP Routine. After a fair(?) shuffle, a packet of 2 ESP cards is then fairly(!) cut into unequal piles. Each pile is then Klondike shuffled (top and bottom cards are milked off). When the top cards of each pile are simultaneously turned up, each pair matches.
For phase 2, the performer and spectator take 10 cards and then deal them to the table. At truly random points, each dealer stops dealing, turns the remaining cards over, and drops them on top. It is irrelevant how many times each does this! Again, when the top card one each pile are simultaneously turned up, the pairs all match!
For phase 3, one pile is placed upon the other, the packet is cut, and then redealt ini two piles. As the performer looks away, spectator takes one card from either pile into a new stack on his hand, alternating at will. When he has a total of six cards, the performer runs back, places his hand on the stack to get an impression, and correctly names the cards in the stack.
In the chapter More Cards and Die-Ceptions, Straight Flush 10-Hand Poker reminds me of Allan Slaight's wonderful Heavy Breather, but uses no crimps. In phase 1, five piles are formed from a shuffled deck. The cards are then mixed up according to the values of five dice. When the top card of each pile is turned up, a straight flush s revealed. In phase 2, the spectator loses the winning hand by cutting its cards into random locations. When the piles are reassembled and ten hands are dealt, the magi once again gets the straight flush.
PARTING THOUGHTS—AND A MAP! — So there you have it, more than 2179 pages, in nine books, beginning in 2008 with Volume 1 and concluding in 2023 with Volume 9. Some of us have grown old in the duration, ever more reliant on Nick Trost-like subtleties to achieve miracles. We welcome them.
My favorite book of the nine? That would be difficult to say because Nick Trost has spread the wealth so evenly among his volumes. Nevertheless, I am partial to Volume 3 for its unusual routines, such as Significator Cards, Shuffle Tracking, Al Thatcher's Affinity Cards, nd Oscar. Even Martin Gardner mentions a couple of favorites. Give them s try.
But wait, there's more. Volume 9 provides an Afterword, a sort of treasure map from Michael Weber with clues to items he found special in each book. He calls it "X marks the spot." Look closely, maties. There be magic there.
Nick Trost's Subtle Card Creations Volume 9, hardback, 128 pp, $50 from H&R Magic Books.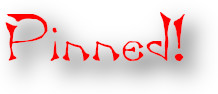 BLING—It was in the pages of Genii, of course, that I first learned of the Magic Castle. Bill Lrsen couldn't praise his brother's pet project enough, and I lapped up every word. (This was 1963. A mere eight years earlier, I had been similarly enchanted y talk of a new amusement park in California; it was called Disneyland.) With California in my sights I attended college, learned enough about physics to be employable, and accepted a job in what seemed like seemed a magical destination: Pasadena. That amusement park and that Castle on a hill would soon become part of my life.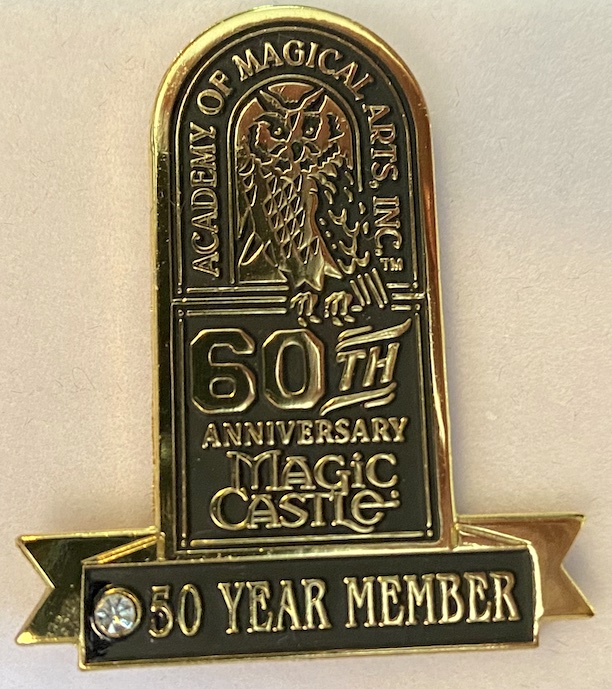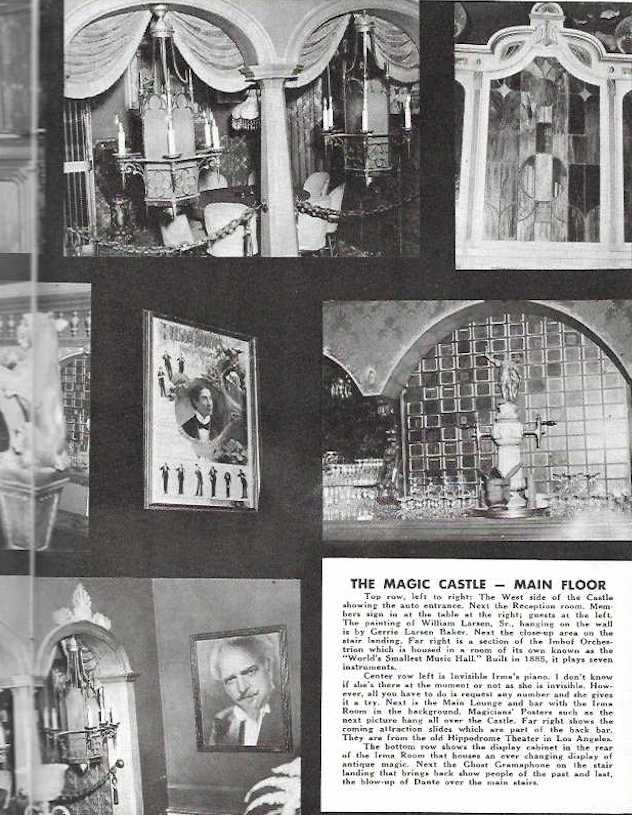 Fast forward to the here and now. About a week ago, an unexpected package arrived here in Indiana. I eagerly opened it to discover an Academy of Magical Arts pin, the 60th anniversary edition.What made it really special to me was the 50 Year Member inscription at the bottom, shoulder to shoulder to a small stone. This is way cool. It has been a delightful life being a member of the AMA. or Magic Castle. Huge thanks to Milt for creating the place and to the AMA for populating it. And as for this classy new pin, as Poooh's friend Eeyore would say, thanks for noticing me.
(The photos of the early Magic Castle above are from a six-page photo tour of the Castle, printed on special paper in the January 1965 issue of Genii, my candidate for the most enjoyable issue of Genii ever.)